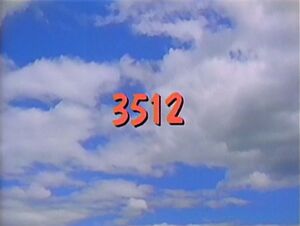 Picture
Segment
Description




SCENE 1
Ruthie meets Zoe in Finders Keepers, and they witness Joey and Davey Monkey sliding down the store's pole. Once the two monkeys head off for their usual treat, a banana, Zoe excitedly wants to slide down the pole, but Ruthie explains to her how unsafe it would be for little monsters. Zoe isn't sad, however, but happy instead. Ruthie asks why, and Zoe says she's going to become a monkey, leaving Ruthie confused.

Cartoon
A bird watches as two monkeys climb above and below each other in a tree.
(First: Episode 2965)

Muppets
The Oinker Sisters sing "The Boogie-Woogie Piggies."
(First: Episode 2922)

Film
What sound does a sheep make?
(First: Episode 3416)

Cartoon
Monster in the dark (finding a light switch)
(EKA: Episode 0823)

Muppets
Big Bird exclaims "Amazing!"
(First: Episode 3191)

Song
"We're All Growin'"
(First: Episode 3141)

Cartoon
Ball-dribbling characters count the feet on a wall ruler.
Artist: Bill Davis
(First: Episode 3227)

Muppets
Monsterpiece Theater
"Monster in a Box"
(First: Episode 3117)

Cartoon
A photographic couple ballroom-dances on, in and under a plane.
Artist: Fred Garbers
(First: Episode 3155)

Insert
Celina invites Benny to dance with her and the kids and he declines, as he only likes doing his own dance - "The Benny Hop." He reluctantly shows them how the dance goes and finds himself having a great time.
(First: Episode 3301)

Cartoon
Lots of bunnies are needed to pull the huge carrot from the ground.
Artist: Irra Verbitsky
(First: Episode 1473)

Film
Three girls clap rhythms while naming vegetables.
(First: Episode 3051)

Cartoon
A lizard sings about how she likes to be "Above it All" as well as below.
Artist: Sally Cruikshank
(First: Episode 2559)

Muppets
Big Bird is between what we just saw and what we're about to see ...
(First: Episode 3145)

Animation
The letter M appears on buildings.
(First: Episode 3385)

Muppets
The Sublime Miss M performs "The Sublime Ms. M."
(First: Episode 2837)

Animation
A clay man hikes up a letter M.
(First: Episode 3413)

SCENE 2
Zoe comes across the two primates giving "monkey lessons" by the Park, and asks them to teach her to be one. The first lesson is showing what a banana is, but Zoe already knows. They move on to lesson #2 - acting like a monkey, which consists of jumping around and making chattering sounds. Zoe's first attempts don't exactly put the two elements together, and she becomes frustrated.

SCENE 2 cont'd
The two monkeys holler for more help, attracting Luis, Carlo, and some kids. Davey requests for all of them to act like a monkey, and after everyone demonstrates, Zoe gives it another chance. She starts getting better, making the monkeys impressed. (Joey: "By George, she's got it!" Davey: "Uh, the name's Davey.")

Film
"SCHOOL!" (high speed footage)
(First: Episode 3278)

Cartoon
Which footprint doesn't belong?
(EKA: Episode 1092)




Muppets / Celebrity
Hoots tells Ernie to "Put Down the Duckie".
Celebrity version #2; this version replaces Paul Reubens, Mookie Wilson and Keith Hernandez of the New York Mets, New York Giants, and Pete Seeger's appearance with Phil Donahue, Robert MacNeil, Barbara Walters and Gladys Knight and the Pips.
(First: Episode 3076)

Cartoon
Kids count one duck in the pond
(First: Episode 3095)

Song
"We're Talking 'Bout the Number One"
(First: Episode 3154)

Muppets
Big Bird says, "Let's see that number one more time!"
(First: Episode 3247)

Cartoon
A girl's mom gives her a 1 from the shelf. "My 1 and only!"
Artist: Fred Garbers
(First: Episode 3469)

Song
Joe Raposo sings "What Do You Do With a Fruit?"
(EKA: Episode 2275)

Cartoon
Lightning bugs make shapes.
Artist: Fred Garbers
(First: Episode 3150)

Muppets
Prairie Dawn hosts a Sesame Street Pageant about things that are heavy and light. Monty displays a boulder, and Merry displays a feather.
(First: Episode 3311)

Animation
Luxo Jr.: Heavy and light
(First: Episode 2860)

Animation
The letter M in various typefaces.
(First: Episode 2864)

Film
Kid jungle explorers sight a wild letter M.

Cartoon
Melba spells her name and her brother's name on their robot, Meltro.
(First: Episode 3363)

Film
Footage of kids playing professions, alternating with footage of analogous real-life jobs.
(First: Episode 2811)

Cartoon
A shy girl wants to join a group bouncing a ball.
Artist: Joanna Priestley
(First: Episode 2849)




SCENE 3
Zoe returns to Ruthie and shows her new monkey-acting skills, but Ruthie says that while she admires Zoe pretending to be a monkey, she is still in fact a little monster and can't slide down the pole. Zoe's excitement turns to sadness after all she's learned and starts crying, but Ruthie thinks up a clever way to work things out for her...

Film
The floating kids form a square.
(First: Episode 3132)

Cartoon
The Four Squares sing "It's Hip To Be a Square."
Artists: Vincent Cafarelli & Candy Kugel
(First: Episode 2615)

Film
Fay Ray dresses up as different animals. ("It's Kermit the Dog!")
(First: Episode 2639)

Cartoon
Is snow cold? Yes!
(EKA: Episode 0961)

Muppets
"The Ballad of Slippery Slim"
(First: Episode 2827)

Animation
A poem about oranges.
(First: Episode 2881)




SCENE 4
Ruthie and Zoe are now at the top of the stairs, with Zoe sitting on Ruthie's back. As a compromise, they slide down the pole together. Joey and Davey announce the sponsors, while Zoe asks to slide one more time.

COMING SOON
Coming soon on Sesame Street: A princess and a prince play a game of "Magical Hide-and-Seek."