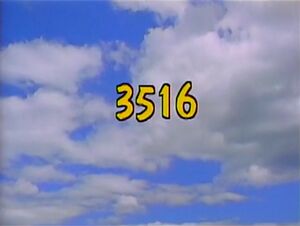 Picture
Segment
Description

COLD OPEN
Telly and Baby Bear inform the viewer of today's sponsors and that they'll be playing together all day. But first, they want to find out more about Ruthie's self-playing piano.




SCENE 1
Ruthie tells the two about how the player piano works, while Zoe tries to interject with a question. She catches Telly off-guard by asking him to marry her.

Cartoon
A heart that says "I love you" is drawn.
(First: Episode 1971)

Song
"Reach Your Hand Up High"
(First: Episode 2702)

Animation
Yellow drops don't want to play with a red ball at first, but they make a good flower together.
(First: Episode 1895)




Muppets
Prairie Dawn and The Count are contestants on "Squeal of Fortune."
(EKA: Episode 2331)
This segment was only used in the original airing of the episode. In the autumn re-run, it was replaced with "Colambo: The Great Plum Plunder" and the film insert "Sand in Shoes Blues Song."

Cartoon
Five feet stick out from a barrel, all belonging to a strange five-legged being.
(First: Episode 0859)

SCENE 2
Zoe explains that the marriage is only imaginary and Ruthie details the pretend weddings she would do as a child. With Telly as the groom and Zoe as the bride, Baby Bear realizes there's no role for him and storms out.

Cartoon
Gerald is repeatedly kept awake by his dog Sparky, who does a dance and poses as an alligator through his shadow whenever his parents close his door.
(First: Episode 1519)

Film
The McDouble twins display pairs of things.
(First: Episode 3217)

Cartoon
"Why are you holding one leg up in the air, Jasper?" "Because if I hold two legs up in the air, I fall down!"
Animation by Cliff Roberts
(First: Episode 0406)

Film
A parrot announces dos, or two of everything.
(First: Episode 3108)

Muppets
Rosita observes Elmo yelling the word "hot," and finds out it's because he learned how to read the word.

Song
"Hot in the City"
(First: Episode 2751)

Cartoon
Mary Shaboom reluctantly moves to a new house, and muses about the consequences.
Artist: ArtistMike
(First: Episode 2959)

SCENE 3
Baby Bear reminds Telly that they were supposed to play together all day. Telly realizes his error and lets Zoe know the wedding is off. Now, Zoe's the one who's angry.

Cartoon
"Island of Emotion"
Artist: Sally Cruikshank
(First: Episode 2822)

Film
A boy in Jamaica goes to school and attends drum class.
(First: Episode 3145)

Muppets
The Adventures of Prairie Dawn
Prairie Dawn has a so-called "adventure" by trying a kumquat (which she's never tried before).
(First: Episode 2984)

Animation
"k" for king, kiss and key
(First: Episode 3084)

Film
Kids in a park do karate kicks.
(First: Episode 3430)

Cartoon
K is for Karate
(First: Episode 0489)

Muppets
The Two-Headed Monster finishes drinking milk, and doesn't know what to do with the cartons at first, but gets the idea to "recycle" them and play with them like a train.
(First: Episode 2726)

Song
"Take Care of That Smile"
(First: Episode 2745)

Cartoon
A monster named Doug has trouble getting to sleep at night, until the teeth in his dream remind him to brush his own.
(First: Episode 3145)

SCENE 4
Telly and Baby Bear confront Zoe, who is still angry. Telly concludes that if he marries Zoe, Baby Bear will be mad, and if he plays with Baby Bear, Zoe will be mad. Telly now becomes the angry one and walks off in a huff.

Cartoon
An actor demonstrates anger towards a casting director - literally!
(First: Episode 2061)

Muppets
A father monster sings a song to his confused son about the difference between up and down.
(First: Episode 3225)

Cartoon
A dinosaur demonstrates up and down with a pull-down window shade.
(First: Episode 2887)

Muppets
Monsterpiece Theater: ABCD Blue

Film
Children on a playground form the letters of the alphabet. (new music added)
(First: Episode 1966)

SCENE 5
The youngsters tell Ruthie all about their problems, when she comes up with the perfect compromise - Telly and Zoe can pretend to get married, with Baby Bear as the officiator.

Cartoon
Two monkeys argue over what to watch on TV, growing bigger the angrier they get.
(First: Episode 0762)

Film
Girls dance and chant about K.
(First: Episode 3012)

Cartoon
Pencil box K / k
(First: Episode 2876)

Film
Ornate Ks fly through the air to a song.
Artist: Jane Aaron
(First: Episode 2945)

Muppets
Ernie sings "Dance Myself to Sleep."
(First: Episode 1705)

Film
A girl learns how to jump rope.
(First: Episode 3397)

Cartoon
Millie and Molly take a walk, and have different perspectives of their surroundings.
(First: Episode 1309)

Song
14 Karat Soul sings "Hand Talk."
(First: Episode 2622)

Cartoon
A girl uses her imagination while sitting on a sofa.
(First: Episode 0765)




SCENE 6
Ruthie programs a wedding tune into the player piano as the ceremony begins. After Baby Bear officially marries them, they decide to go play baseball. Ruthie, a sobbing, emotional mess, announces the sponsors.

COMING SOON
Coming Soon on Sesame Street: Big Bird and Granny Bird sing together.
Community content is available under
CC-BY-SA
unless otherwise noted.