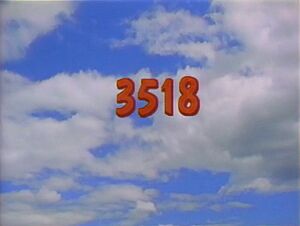 Picture
Segment
Description




SCENE 1
Big Bird welcomes the viewer to Sesame Street, and spots a cute little Scottish terrier by the Furry Arms Hotel. He goes over to investigate, but the terrier resents being treated like a little puppy. After all, she's Renata Scottie, the world-renowned dog opera singer. She sings operas, which are stories set to opera music. She's sung works by canine greats such as Poochini, Wag-ner, and Johan Sebastian Bark. She's come to Sesame Street to look for a piano player; her singing would sound better if she had one. She wants one who knows all kinds of music, and likes dogs. Big Bird wonders, "Who do I know like that?"

Song
Leon Redbone sings "What Do They Do When They Go Wherever They Go?"
(First: Episode 3312)

Cartoon
A girl imagines being next to a tree, a house and a car. "Now I'm going over there," she says. "There's nothing here to be next to!"
(First: Episode 0782)

Muppets
Elmo, Zoe, Telly, Rosita, Herry, Alphonse, Humphrey and Ingrid show "next to."

Cartoon
A bus driver counts 11 of each necessity for a bus trip camping.
(First: Episode 3151)

Cartoon
Rap #11
(First: Episode 2531)

Animation
Clown Honking #11
(First: Episode 3196)




SCENE 2
Big Bird leads Renata to Finders Keepers, where they encounter Bob playing the piano, while he and Ruthie sing "C is for Cookie." They instantly recognize the famous dog singer, and Big Bird recommends Bob as a potential piano player. Renata puts him to the test by having him play the music to a selection from "Madame Butter-flea" while she sings an aria about needing to be scratched.

SCENE 2
cont'd
After the song, Renata makes sure Bob is a good scratcher. But, is he good with sticks? Stay tuned ...

Cartoon
A mosquito bites a man and a dog, who agree to scratch each other's backs.
Artist: ArtistMike
(First: Episode 3217)

Film
Wegman's dogs: Old King Cole
(First: Episode 3448)

Muppets
The Count, dressed up as Elvis, sings "You Gotta Count My Blue Suede Shoes."
(First: Episode 3231)

Cartoon
Sarah Wenkel reads a poem about a bug.
Artist: ArtistMike




SCENE 3
Bob's next test involves playing a selection from "The Barker of Seville," which is about a dog who loves to chase sticks and fetch them. Of course, stick-throwing is also part of the test, which Bob passes with flying colors.

SCENE 3
cont'd
Renata loves Bob's work so much, she gives him the job. He'll be touring with Renata around the world - which means "goodbye Sesame Street." Everyone is excited about this, but Big Bird doesn't like the "goodbye" part.

Cartoon
With the help of his assistant, Dr. Geo shows the viewer what a globe is.
(First: Episode 2836)

Muppets
Waiter Grover: Mr. Johnson eats at an airport restaurant and is on his way to South America. When Grover learns about Mr. Johnson's trip, he gives a big lecture on South America, causing Mr. Johnson to miss his flight.
(First: Episode 2616)

Song
"The African Animal Alphabet"
(First: Episode 3396)




SCENE 4
Bob starts to pack for his big trip. Renata reassures Big Bird that Bob won't be gone from Sesame Street forever - he'll just be touring with her, visiting exotic places. Everyone on Sesame Street will still be able to keep in touch with him by mail and phone, and when he gets back, he'll have exciting stories to tell. Once Big Bird knows this, he feels better about Bob's leaving. He asks Bob if he can help him pack, which confuses Bob.

Cartoon
A girl narrates a poem about the sad time when her goldfish died.
Artist: Bruce Cayard
(First: Episode 1378)

Muppets
Sesame Street News Flash
Kermit interviews a bird who sings about how her parents still love her even though they don't live together anymore (though it is not directly stated whether her parents are divorced or separated).
(First: Episode 2695)

Animation
A girl dances her way into a family portrait.
(First: Episode 3134)

Muppets / Celebrity
Laurence Fishburne, along with Rosita and Telly Monster, demonstrates how one brushes their teeth. Since Telly and Rosita do not have teeth, they plug their mouths with ears of corn, and brush those instead.
(First: Episode 3471)

Cartoon
In a circus setting, a girl becomes excited about getting her first loose tooth.
Artist: Steven Fonti
(First: Episode 3266)

Insert
Celina shows the Grouchketeers how to do "Doin' the Grouch."
(First: Episode 3203)

Song
"There's a Lot of Different Ways to Get to School" (sung by Jerry Nelson)
(First: Episode 2751)

Muppets
A group of Anything Muppet children wander into a classroom and wonder where they are. They lift up their desks and find the letters forming "SCHOOL" on them.
(First: Episode 1391)

Cartoon
Typewriter: S for spring
(First: Episode 0792)

Muppets / Celebrity
Carol Channing sings a spoof of "Hello, Dolly!" with Sammy the Snake, praising his ability to look and sound like an S.
(First: Episode 1951)

Cartoon
A voice asks a face if it's aware of the letter S, and it is revealed that the face belongs to a snake.
Artists: The Hubleys
(First: Episode 0278)

Insert
Snuffy teaches the kids how to "Do the Spaghetti."
(First: Episode 3216)

Song
"It's Time for a Rhyme"
(First: Episode 3160)

Muppets
Biff comes home to Roxie Marie, who just found her number collection in the attic. The number on each jar is the amount of each single object in the jar.
(First: Episode 3190)

Animation
Ten masked dancers are counted in Spanish.
Artist: Karen Aqua
(First: Episode 3079)

Cartoon
The letter S grows on a vine.
(First: Episode 3278)

Film
Kids hold an S and a square.
(First: Episode 3278)

Cartoon
Characters on a quilt form the letter S.
Artist: Karen Aqua
(First: Episode 3368)




SCENE 5
Big Bird, Ruthie, Maria and Gordon bid Bob farewell. He feels reluctant to leave his home at first, but everyone encourages him to take this big chance. However, once he walks off with his suitcases, he realizes he'd miss all his friends on Sesame Street, and decides to stay. He tells Renata that he will get her in touch with a certain dog piano player he knows.

SCENE 5
cont'd
Big Bird announces the sponsors, and everyone says goodbye to Renata.
Notes
Community content is available under
CC-BY-SA
unless otherwise noted.