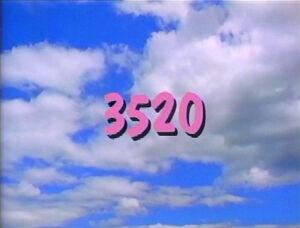 Picture
Segment
Description

SCENE 1
Zoe looks for someone to play with and finds Baby Bear, who is drawing a picture of Gabi (as a surprise gift for her mom). Zoe wants to be involved, so they assign her to the position of lookout, to make sure the surprise won't be ruined. Zoe starts crowding Baby Bear's space, thinking her role is to look at the picture. Gabi begins thinking of a way to teach Zoe the proper way to be a lookout.

Cartoon
The parts of a man's face move around as they are drawn.
(First: Episode 3410)

Muppets
Elmo sings "Right in the Middle of My Face" while walking through an animated art gallery.
(First: Episode 3130)

Cartoon
Bobby's dog narrates why Bobby is sad.
(First: Episode 3455)

Film
A girl draws a picture of her friend Amelia.
(First: Episode 2784)

Animation
Luxo Jr. examines a box. A smaller lamp pops out of the box, demonstrating "surprise."
(First: Episode 2851)

Song
"Say Cheese"
(First: Episode 3146)

Celebrity
Samuel Ramey sings a low-octave version of the alphabet song.
(First: Episode 3369)

Cartoon
Bruce the moose invites Toulouse LaGoose over for juice.
(First: Episode 2498)

SCENE 2
To illustrate the job of lookout, Gabi has Baby Bear pretend to be Zoe (and vice verse) so she can learn what to do. Bob is roped into playing Gabi in this scenario. When Zoe gets the message, she starts "woo-woo"-ing over and over (the signal for when Maria is coming), claiming to find it much more fun than just standing around and watching.

Song
"Mom and Me" (new vocal track)
(EKA: Episode 2519)

Cartoon
Mary doesn't like the letter Y at first, but eventually finds it useful, especially for her name.
Artist: ArtistMike
(First: Episode 3347)

Film
Y for yell, yellow, yodel
(First: Episode 3456)

Animation
Airplanes carve the capital and lowercase letter Y.
(First: Episode 3199)

Muppets
Mr. Johnson enters a framing shop to have a painting framed, only to find that Grover works there too. Grover assumes the painting is of his great-great-grandmonther, but Mr. Johnson exclaims that it's his wife. After coming out from the back room with a circle and triangle frame, Grover finally frames it with a square, but destroys the original painting by splitting it over the bald man's head.
(First: Episode 3396)

Cartoon
The story of Tommy LaPlaid, the painter so sad until he discovered the joys of kicking his paints on the canvas.
Artist: Mo Willems
(First: Episode 3208)

SCENE 3
Baby Bear and Gabi inform Zoe that she's only supposed to "woo-woo" when Maria's around. A solution doesn't seem to be near, so Gabi leaves with an idea. In the meantime, Zoe continues "woo-wooing."

Cartoon
"Angry Annie": A small girl vents her rage at the world, frustrated by the problems of everyday life, until her younger brother offers her part of his orange. (new music added)
Artist: John Korty
(EKA: Episode 2352)

Muppets
Ernie & Bert —
Ernie and Bert play "The Feelings Game" -- much to Bert's chagrin.
(EKA: Episode 2356)

Cartoon
The Alligator King
Artist: Bud Luckey
(First: Episode 0411)

Muppets
The Count's bats are upset because the Count always gets to count, but the bats don't. The Count decides to let the bats count all of the Counts, while the Count counts all the bats...but there is only one Count.
(First: Episode 0625)

Cartoon
Seven rabbits
Artist: Owe Gustafson
(EKA: Episode 1540)

Film / Animation
Circles of all kinds are displayed as funky rap music plays.
(First: Episode 3126)

Cartoon
Geometry of Circles #4 "Six Circles Connected"
(First: Episode 1437)

Muppets / Celebrity
Maya Angelou sings "My Name" with Lexine, Carlo and Elmo.
(First: Episode 3139)

Cartoon
A rooster finds a purpose in his life when he's given the job to wake everyone on a farm.
Artist: Bruce Cayard
(EKA: Episode 1347)




Muppets
Big Bird's Video Postcards
Big Bird explores the mask gallery at the Museo del Barrio in New York City. Edna, the art instructor, shows him and some kids how to make their own masks for a parade.
(First: Episode 3058)

Animation
Cecille sings "The Game of Make Believe."
(EKA: Episode 2864)

Film
Amelia pretends she's an astronaut.
(First: Episode 2918)

Cartoon
Y for Yak
Artist: Jeff Hale
(EKA: Episode 1858)

Film
Jaws spoof with the letter Y.
(First: Episode 3323)

Cartoon
Y for yawn
(EKA: Episode 0301)

SCENE 4
Gabi returns with a book for Zoe to read as she looks, but Zoe prefers to have some read to her. She and Baby Bear, who starts to lose his mind with all the interruptions, relax and listen as Gabi reads Dancing. The book inspires them to do a little dancing of their own.

Cartoon
In Chardin's classic painting, a boy blows a bubble. It pops, and some kids yell "Surprise!"
(First: Episode 3311)

Film
Wegman's dogs: Little Miss Muffet deals with a spider.
(First: Episode 3449)

Muppets
A trio of bugs sing "Night Bug Boogie."
(First: Episode 2957)

Cartoon
A young man carrying a brown paper bag walks up to the bridgekeeper and asks him if he works there. He orders him to show him whatever circles are in the bag, and to eat them. He is ordered to eat three round foods: a cookie, a pepperoni pizza, and a slice of watermelon. Once he is granted permission to cross the bridge, however, he tells the bridgekeeper that he was merely trying to deliver the latter's groceries.
(EKA: Episode 2557)

Song
Joe Raposo sings "Take a Breath." (re-filmed version)
(First: Episode 2518)

Animation
A boy's imagination runs away with him as he reads.
(First: Episode 3449)

SCENE 5
Zoe reads the book on her own, when Maria passes by. Zoe realizes she's messed up her duty and stats "woo-wooing."

SCENE 5 cont'd
Maria comes by the others, just as Baby Bear wraps up the drawing. Maria is impressed and takes Gabi to have it framed. With nothing else to do, Zoe and Baby Bear "woo" together as Bob announces the sponsors.

COMING SOON
Coming Soon on Sesame Street: Big Bird sits in time out.