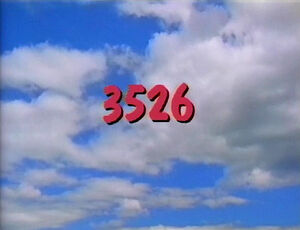 Picture
Segment
Description




SCENE 1
Luis welcomes the viewer just before dinner. Gabi has invited Big Bird over and the two play a game where Maria pretends to be the animal of their choice. In the midst of pretending she's a cow driver, Maria suddenly experiences pain in her stomach.

Cartoon
Dr. Annie Eyeball, PhD., looks at breathing.
Artist: Bruce Cayard
(First: Episode 2586)

Song
Joe Raposo sings "Take a Breath." (re-filmed version)
(First: Episode 2518)

Muppets
Muppet & Kid Moment — Samantha says she'll count to eleven for Grover, but she can't help getting to twelve.

Animation
Ten masked dancers are counted.
Artist: Karen Aqua
(First: Episode 3102)

Muppets
Elmo dances to "What's Your Number?" by Count Basie.

Cartoon
The dancing birds dance fast and slow.
Artist: Karen Aqua
(First: Episode 3072)




Celebrity
Ray Charles sings the Alphabet Song, and various celebrities join in, including Michael Jeter, Patrick Stewart, Tony Bennett, Shari Lewis, Lamb Chop, Harry Belafonte, Grover, David Robinson, and Ellen DeGeneres.

Cartoon
Gloria Globe appears sick and ailing, because of pollution and damage to the planet. Only by taking better care of the Earth can Gloria become well again.
(First: Episode 2781)

SCENE 2
Luis is on hold with the doctor over the phone, while Big Bird makes his on theories regarding the doctor. Luis gets through to the doctor and describes Maria's symptoms. The doctor advises she come to the hospital.

Film
Jodi goes to the doctor for a check-up.

Animation
"Budgie #10 Song"
Animator: Gene Barretta

Animation
Space frogs count to 10.
(First: Episode 3109)

Cartoon
Number Guy: "How Many Pigs Will Jump Into This Mud?" The answer is 10.
(First: Episode 3390)

Muppets
Grover interrupts the program for the Weather Bulletin and attempts to announce the weather, but it changes, making it difficult for him to keep up. In conclusion, tomorrow's weather would be partly sunny, partly rainy, and partly snowy,... and partly windy! Grover then returns the viewers back to their regularly scheduled program and adds that he needs a different job.

Song
"It's a Long Hard Road, But I'm Gonna Get There."
(First: Episode 3398)

Cartoon
Jill walks up a hill to pick a daffodil.
Artist: Jim Jinkins
(First: Episode 2538)

Film
Wegman's dogs: "Jack Be Nimble"

Cartoon
Suzie Kabloozie sings about the things she can imagine herself doing "In My Head."

SCENE 3
The group arrives at the hospital and Luis begins checking Maria in. Big Bird tries to explain how it happened, describing her cow routine, when Luis suggests he and Gabi sit aside while the grown-ups talk.




SCENE 3 cont'd
Big Bird tries comforting Gabi, assuring her he knows the hospital procedures. He recalls his time in the hospital (showing footage from Sesame Street Home Video Visits the Hospital). Luis comes by to report Maria's starting her examination and is sure she'll be fine.

Cartoon
"How I Got the Hives," a true story by Corky Pumpkin.
Artist: ArtistMike
(First: Episode 3353)

Muppets
Kermit shows what's inside of Herry Monster using the X-ray machine.
(First: Episode 1974)

Cartoon
Leaves form R and r
(First: Episode 3110)

Song
"Letter R Menu"

Cartoon
A capital and lower-case R appear on sheets of paper.
(First: Episode 3127)

Song
"Jump" (soul)
(First: Episode 3136)

SCENE 4
Luis re-affirms to Big Bird his cow routine has nothing to do with Maria's ailment. Dr. Coleburn (Noah Wyle) reports to the family and states Maria is fine, but they wish to continue tests to figure out what made her feel ill. Big Bird knows what isn't the cause - pretending to be a cow.

Animation
In a Van Gogh painting, a baby takes its first steps to Papa.
(First: Episode 3492)

Film
The letters in the word WALK across the street and through the park.

Muppets
The Oinker Sisters sing "A New Way to Walk." ("MacTV" intro cut)
(First: Episode 2268)

Animation
Writing utensils form the upper and lowercase letter E.
(First: Episode 2880)

Animation
Planting Letters: E
(First: Episode 3009)

Animation
E / e Gregorian chant
(First: Episode 3300)

Film
Feet wearing all different types of shoes dance.
(First: Episode 2601)

SCENE 5
Dr. Coleburn tells Luis that Maria has a possible stomach virus and wishes to keep her overnight for examination. He also remembers Luis' connection to the Fix-It Shop (Luis had previously fixed his brother Aaron's toaster) and asks him to fix the hospital toaster.

SCENE 5 cont'd
Big Bird and Gabi find Maria, who's wheeled into the lobby. She's feeling better thanks to the hospital's medicine, so Big Bird thinks they're ready to leave. Gabi learns her mom must stay overnight, which doesn't please her. They all follow Dr. Coleburn as he brings them to Maria's room.

Cartoon
Jerry Nelson sings "Moonshine."
(First: Episode 2775)

Muppets
Elmo and Winston, a beluga whale, demonstrate the word LOVE.

Cartoon
"Felines"
(First: Episode 3278)

Film
Jaws spoof with the letter R.
(First: Episode 3351)

Song
"Big R and Little R" (Christopher Cerf)
(First: Episode 3273)

Animation
R for robot, rabbit, run, read, rock, rocket.
(First: Episode 3088)

Muppets
Ernie sings "Dance Myself to Sleep."
(First: Episode 1705)

Animation
"We Are Kids From Far and Wide" - Colombia
(First: Episode 2769)

Song
John Pizzarelli sings about feeling "happy and proud" on your birthday.
(First: Episode 3421)

SCENE 6
The family and Big Bird check out Maria's room and Maria leaves some instructions for Gabi and Luis while she's gone. Visiting hours are over and Big Bird leaves Radar with Maria, so she'll have some company overnight.

SCENE 6 cont'd
As they head out, Luis tells Dr. Coleburn that the hospital toaster will have to spend the night in the Fix-It Shop until it gets better. Once they leave, Dr. Coleburn announces the sponsors.
Guest cast
Extras
Shaun Brown as Orderly
Eliot Sash as Policeman
E. P. Knight as Nurse
Florence Kastriner as Nurse
Guissepe D'Aponte as EMS
Cassandra Pantuso as Kid
Hospital Extras: Laura Bartlett, Frank Casado, Heather Dick, Carlos Dorta (as

doctor

), Lekesha Dunlop, Henry Holden, Gabrielle Howard, Gloria Kahn, Peter Linz, Michael Loman (

on phone

and

being arrested

), Noel MacNeal (

in waiting room

), Carol Mayes, Joe Morganelli, Lynn Pantuso, Kalombo Tshimonga