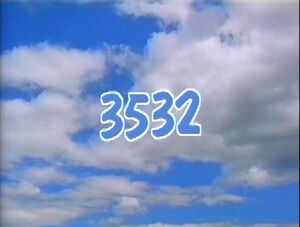 Picture
Segment
Description

SCENE 1
Gina tries to introduce the viewer to the newest member of daycare - Frazzle, who hides under his blanket. She tries coaxing him out, showing him all the wonderful things the daycare has to offer. However, he retreats once the rest of the kids arrive.

Cartoon
A story/song about a duckling who wants to join the others playing at the water's edge.
(First: Episode 2852)

Film
"We have a nice school"... with ducks.
(First: Episode 3144)

Cartoon
Babies and doggies pattern: What comes next?
Artist: Keith Haring
(First: Episode 3039)




Muppets
Live at the Nestropolitan: Madame Alma Cluck sings "Il Alphabetto."
(First: Episode 3390)

Film
Children on a playground form the letters of the alphabet. (new music added)
(First: Episode 1966)

Muppets
Muppet & Kid Moment — Grover and Katie think of rhymes.
(First: Episode 1644)

Cartoon
A beatnik bat reads poetry at a nightclub, as everything rhymes with the "AT" sound.
Artist: Lisa Crafts
(First: Episode 3396)

SCENE 2
Baby Bear proposes that they sing a song to Frazzle, hoping it'll calm him down and he'll uncover himself. It doesn't work, so they think of something else.

Animation
Two giddy female scribbles introduce themselves to a bar code, who can only beep. They recognize him from the supermarket.
Artist: Fred Garbers
(First: Episode 2981)

Animation
Teeny Little Super Guy explains to Eugene why going to school is important.
Artist: Paul Fierlinger
(EKA: Episode 1966)

Animation
Buttons ride a rollercoaster "up and down."
(First: Episode 3207)

Muppets
Cookie Monster and Herry Monster sing "Up and Down."

Cartoon
V in space
(First: Episode 0481)

Film
Wegman's dogs form the letter V, for violin and valentine.

SCENE 3
The gang presents Frazzle with some gifts - a letter V and letter m (a sideways 3). When taped together, they form a heart. Frazzle is touched, but he still won't leave the safety of his blanket.

Cartoon
Hands embrace the word "LOVE." (new sound effects added)
(First: Episode 0926)

Muppets / Celebrity
Little Richard sings "Rosita," a song about feelings, to Rosita.
(First: Episode 3225)

Cartoon
In Egypt, three lemons make lemonade.
(First: Episode 3285)

Muppets
Seahorses 1, 2, 3
(First: Episode 2925)

Cartoon
A little girl counts the reasons why she likes the number 3.

Song
"There's a Lot of Different Ways to Get to School" (sung by Jerry Nelson)
(First: Episode 2751)

Cartoon
A hippo has difficulty getting the succulent fruit down from a tree, and enlists the help of another hippo.
Artist: John Korty
(EKA: Episode 1899)

SCENE 4
Baby Bear recites a poem for Frazzle, which gives him the courage to face everyone. Gina removes his blanket and suddenly, Baby Bear freaks out and runs away.

Animation
"Animal Books"
Artist: Steve Segal
(First: Episode 3396)

Film
Kids find a wild letter V in the jungle.
(First: Episode 3517)

Cartoon
The Villain in the Panama Hat (V) (new sound effects added)
(First: Episode 0507)

Animation
Ornate Vs spin around as a song about them plays.
(First: Episode 2942)

Muppets
Ernie & Bert — A tough guy named Tough Eddie accidentally knocks over Bert's sand castle while he's sleeping. Ernie points that out to Eddie, and Eddie tells Ernie, in a threatening tone of voice, that he's "got something" for Bert. It turns out to be an ice cream cone.
(First: Episode 0482)

Cartoon
The story of Tommy LaPlaid, the painter so sad until he discovered the joys of kicking his paints on the canvas.
Artist: Mo Willems
(First: Episode 3208)

Muppets
Elmo sings about "Emotion in the Ocean."

Cartoon
Cap'n Feenie asks, "What is it?" It's the ocean.
Artist: ArtistMike
(First: Episode 2710)

Song
"Take Care of That Smile"
(First: Episode 2745)

Cartoon
A girl recites a poem about her first loose tooth.
Artist: ArtistMike
(First: Episode 3319)

SCENE 5
Baby Bear, cowering under a blanket, admits he's now afraid of Frazzle, citing his fangs as one reason. Frazzle walks off crying and Gina goes to comfort him.

Cartoon
A map of Puerto Rico forms into the shape of animals and other things that are found there.
(First: Episode 3030)




Muppets
Big Bird's Video Postcards
Big Bird visits a Puerto Rican casita in East Harlem. He tries to find out what people do there, but everyone is too busy raising chickens, planting tomatoes, cooking and planning music to answer.
(First: Episode 3018)

Cartoon
A woman serves milk to her cat. Several other cats join him, including a lion. (new music added)
Artist: Bruce Cayard
(First: Episode 1017)

Muppets
"Forty Blocks From My Home"
(First: Episode 2614)

Cartoon
Do you know what it's like to be scared?
(First: Episode 0547)

SCENE 6
Baby Bear finds out he's hurt Frazzle's feelings and apologizes. Since neither of them are afraid of each other anymore, they decide to be friends! Gina announces the sponsors.

COMING SOON
Coming Soon on Sesame Street: Lexine, Gabi and Miles do a front and back dance.
Community content is available under
CC-BY-SA
unless otherwise noted.