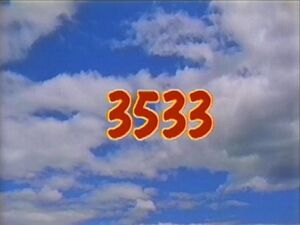 Picture
Segment
Description

SCENE 1
Big Bird observes Celina in the arbor doing some strange moves. He wonders what she's doing, when he realizes she's learning a new dance. Celina confirms she's learning the "Front/Back Yak Ballet," and points him toward...

Song
"Front Back Ballet"
Artist: Jane Aaron
(First: Episode 3016)

SCENE 1 cont'd
Big Bird wants to learn the dance too and Celina walks him through it. With enough practice, Big Bird has fully learned it, but he needs two more "yaks" to complete his troupe.

Animation
Luxo Jr. displays its front and back, eventually getting exhausted.
(First: Episode 3279)

Song
"I Put My Leg in My Pants"
(First: Episode 3402)

Animation
Characters on a quilt form the letter Y.
Artist: Karen Aqua
(First: Episode 3381)

Film
Y for yell, yellow, yodel
(First: Episode 3456)

Animation
Y: Yuri, a yellow yak, eats yams and yogurt.
(First: Episode 3381)




SCENE 2
Big Bird looks for a yak, using the cover of Yakkity Yak magazine for reference. He questions Buster the Horse and Jack the Chicken, but neither of them match the photo.

SCENE 2 cont'd
Big Bird explains his quest to Maria and Luis, who point out there aren't any yaks on Sesame Street. They then suggest he find some pretend yaks.

Film
Fay Ray dresses up as different animals. ("It's Kermit the Dog!")
(First: Episode 2639)

Song
"The African Animal Alphabet"
(First: Episode 3396)

Film
Amelia pretends she's an astronaut. (new sound effects added)
(First: Episode 2918)

Muppets
Ernie sings "Imagine That" about things that he sometimes imagines to be: first a knight in shining armor who battles a dragon, then a sailor, and finally, himself.
(First: Episode 2142)

Animation
Airplanes carve the capital and lowercase letter Y.
(First: Episode 3199)

Film
Jaws spoof with the letter Y.
(First: Episode 3323)

Cartoon
A yak discusses the letter "Y" on a stage, and is insulted when it is called a "Yakkity-yakkity-yak".
(First: Episode 0301)

SCENE 3
Big Bird finds Miles, Gabi and Lexine, who are very familiar with the dance and demonstrate it. Big Bird is impressed and hires them all, but realizes they all can't be yaks; there were only three yaks in the song...at least, he thinks. They consult the segment again...

Cartoon
Ballet-dancing yaks show their fronts and backs. (repeat)
Artist: Jane Aaron

SCENE 3 cont'd
With the number confirmed, they see they unfortunately have one "yak" too many.

Cartoon
Four motorcycle-riding chickens hatch out of an egg.
(First: Episode 0796)

Song
"Something Old Into Something New"
(First: Episode 3125)

Cartoon
A group gives a newcomer funny looks, which hurts his feelings, but then they invite him to play marbles with them. He turns out to be a good player. (new sound effects added)
Artist: Joanna Priestley
(First: Episode 2840)

Film
What sound does a cow make?
(First: Episode 3403)

Muppets / Celebrity
Elmo runs into Ellen DeGeneres listening to "Put Down the Duckie" with headphones and singing along to it. They try taking turns, but Elmo soon decides it would be better if they used the headphones at the same time - that way they can dance together.
This eventually leads to...
(First: Episode 3448)

Muppets
Hoots tells Ernie to "Put Down the Duckie." (introduction cut)
(EKA: Episode 2520)

Animation
Growing Numbers #16
(First: Episode 2996)

Muppets
"Sixteen Samba"
(First: Episode 2822)

Animation
Masked March #16
(First: Episode 3372)

Muppets
Muppet & Kid Moment — Grover talks to Carrington about their nose and how they both have it in the same place.
(First: Episode 3281)

Cartoon
A girl fantasizes what she could do without leaving her room if her nose, ears, legs, and arms got bigger.
(First: Episode 3285)

Film
Feet wearing all different types of shoes dance.
(First: Episode 2601)

Cartoon
A lizard, a girl and a dog dance.
Artist: Karen Aqua
(First: Episode 2795)

SCENE 4
Big Bird decides to sit out and watch the kids do the yak dance instead. The kids see it's a good solution, but Big Bird doesn't find it as fun...

Cartoon
Bobby's dog narrates why Bobby is sad.
(First: Episode 3455)

Muppets
Zoe demonstrates front and back using Wolfgang and a fish.
(First: Episode 3411)

Film
A group of girls do a playground cheer ("One step forward, one step back").
(First: Episode 3031)

Cartoon
"Do the Continental" - two kids jump into Africa.
(First: Episode 2733)

Film
A trip to an African dance school.
(First: Episode 3266)

Cartoon
At the Pride Day Ceremony, Donald is waiting to describe his proudest accomplishment, and is initially unsure of himself next to other impressive students. He finally proudly acclaims his achievement, tying his shoes all by himself.
Artist: John Korty
(EKA: Episode 2254)




SCENE 5
The kids are sad because they can't find a solution. It becomes worse when Maria, Luis, Celina, Gordon, Susan and others want to join, making 11 yaks. Susan tells him that their troupe can have as many yaks as they want and they all do the "Front/Back Yak Ballet" together. Celina announces the sponsors.

COMING SOON
Coming Soon on Sesame Street: One of these bears is not like the others...