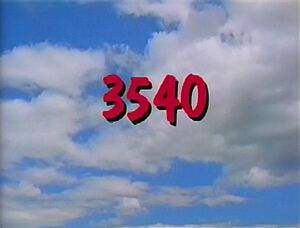 Picture
Segment
Description




SCENE 1
Big Bird has just finished drawing a picture of Baby Bear holding the number 3, when they stop and welcome the viewer to Sesame Street. They describe all the activities they did together yesterday and today, on an ongoing spree of playing all day long. Baby Bear says they should be really proud of "doing it all" - and Big Bird becomes concerned, because this means they'll have to find others to play with. Big Bird walks off sadly, but then comes back, pointing out the one thing they haven't played together: hide-and-seek. He goes off to hide, while Baby Bear counts.

Cartoon
A rooster finds a purpose in his life when he's given the job to wake everyone on a farm.
Artist: Bruce Cayard
(First: Episode 1347)

Song
"Country in the City"
(First: Episode 3292)

Cartoon
Hortense counts 3 peas.
Artist: Michael Sporn
(First: Episode 2519)

Film
Three Wegman dogs are arranged in different ways.
(First: Episode 3312)

Cartoon
Animal Rock #3

Film
Kids talk about how they like sledding down snowy hills.
(First: Episode 3276)




SCENE 2
Big Bird is still looking for a place to hide. Baby Bear has finished counting to 100, but confesses to the viewer that he wishes he were playing with someone else. Just then, Gabi invites him to play with her, and he says he would, but he has a "previous engagement." He feels really sad for turning Gabi down, but then he decides to play with Gabi for a little bit before looking for Big Bird. Meanwhile, Big Bird wonders how long it will take Baby Bear to find him.

Cartoon
Bobby's dog narrates why Bobby is sad.
(First: Episode 3455)

Muppets
Moe Cocker sings "With a Little Yelp from My Friends." (new sound effects added)
(First: Episode 3108)

Cartoon
A girl thinks she hears a monster doing a cha-cha outside her window, but it's only the wind and crickets. Her snores frighten the real monster.
Artist: Deanna Morse
(First: Episode 2951)

Celebrity
The Neville Brothers sing "Believe in Yourself," with a montage of clips from films including "I'm the Big One Now," "Reach Your Hand Up High" and "Hot in the City."
(First: Episode 3158)

Cartoon
Pizza maker Original Jay demonstrates how he got his name: his pizzas talk and dance.
Artist: Mo Willems
(First: Episode 3280)

Film
Footage of kids playing professions, alternating with footage of analogous real-life jobs.
(First: Episode 2811)

Cartoon
A concert pianist shows up in a construction worker's lunchbox, singing the alphabet.
(First: Episode 0449)

SCENE 3
Baby Bear and Gabi play tag, not noticing that they have walked past where Big Bird is hiding. Gordon finds Big Bird, and tells him it's time to sing The Alphabet Song. Big Bird goes through it fast, but Gordon tells him to do it slower, which he does.

SCENE 3
cont'd
Gordon leaves, and Big Bird hides again. Baby Bear and Gabi arrive back at the playground, Gabi says goodbye, and Baby Bear continues looking for Big Bird.

Film
T on the beach

Animation
Two caterpillars form a T.
(First: Episode 2223)

Film
The floating kids make a small T.
(First: Episode 3126)

Muppets
Marshal Grover and Fred figure on making it into town by nightfall until they come across a fence with no edge in sight to go around. Grover tries getting past it in various ways: going under, over and through, but he's not successful. Deciding that they're stuck for the night, Grover starts to break out the marshmallows and asks Fred for his pajamas. But Fred has another idea that Grover hasn't been listening to: they can go through the gate.
(First: Episode 3449)

Song
"Would You Like to Go Over?"
(First: Episode 3034)

SCENE 4
While Baby Bear looks for Big Bird, Miles invites him to play a game of catch. Baby Bear asks for the viewer's input on whether he should play with Miles, and hearing a yes, goes off to play catch.

SCENE 4
cont'd
Meanwhile, Big Bird still waits to be found, when Gordon shows up again with another game, "One of These Things," featuring The Squirrelles and a rabbit. When the game is over, Big Bird continues hiding, as Baby Bear and Miles race to a tree and back.

Animation
Cecille sings "I'm Gonna Get to You."
(First: Episode 2873)

Film
How to say "turtle" in sign language
(First: Episode 3339)

Cartoon
T for Turtle (new music added)
Artist: Jeff Hale
(First: Episode 1146)

Song
"T, You're Terrific"
(First: Episode 3332)

Cartoon
Fish form capital and lowercase T's.
(First: Episode 3126)

Song
"Family Song" - a rewritten version of "Brothers Song"
(First: Episode 3423)

Cartoon
Norris Walnut recites a poem about clouds.
Artist: ArtistMike
(First: Episode 3345)

SCENE 5
Big Bird is still waiting for Baby Bear to find him, when Gordon shows up yet again, this time because it's "poetry time." Gordon reads him a poem about hiding, and identifies the words that rhyme. Big Bird then asks for Gordon to see where Baby Bear is, and to keep it a secret that he's hiding from him.

Song
Jerry Nelson sings "In My Book."
(First: Episode 2983)

Film / Animation
A class makes up a story about going to the zoo, which is told through animation based on the kids' drawings.
(First: Episode 3328)

Muppets
Baby Tooth and the Fuzzy Funk react to the sounds of a bluesy guitar.
Music: "Denver Blues," Tampa Red

Cartoon
A Zerkel named Dan demonstrates -an words.
Artist: Sally Cruikshank
(First: Episode 3515)

Film
Caitlin gets her eyes examined, and picks out a pair of glasses.
(First: Episode 2948)

Cartoon
Monster in the dark (finding a light switch)
(First: Episode 0493)

SCENE 6
A confused Gordon encounters Baby Bear playing with Miles, and reminds Baby Bear that he's supposed to be playing with Big Bird. Baby Bear explains that he got tired of playing with Big Bird after two straight days, going over all that happened today. Now he's afraid that Big Bird will be mad at him, and not want to play with him anymore. Gordon and Miles suggest that he tell Big Bird the truth about how he feels about their excess playtime.

Cartoon
"Angry Annie": A small girl vents her rage at the world, frustrated by the problems of everyday life, until her younger brother offers her part of his orange.
Artist: John Korty
(First: Episode 2087)

Muppets
Monsterpiece Theater: 12 Angry Men
(First: Episode 3002)

Cartoon
A report on homes around the world.
(First: Episode 1711)

Song
Jerry Nelson sings "Salt, My Salt."
(First: Episode 2909)

Cartoon
Various demonstrations of DOWN and UP (new music added)
(First: Episode 0847)




SCENE 7
Baby Bear sees Big Bird hiding, and is hesitant to confront him about his feelings, but Big Bird feels the same way, and thus beats him to it. Since they're both on the same page, they hug. They all play tag with each other as Gabi announces the sponsors.

COMING SOON
Coming soon on Sesame Street: Snuffy and Alice dance a hula for a crowd.