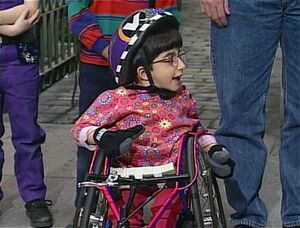 Picture
Segment
Description

COLD OPEN
Big Bird and Celina are heading to dance class and they run into Tarah, who's waiting for her racing chair. Her friend Ryan zooms by on his own and she hopes to race him when her chair arrives. She decides to continue waiting in the studio with Big Bird and Celina.

SCENE 1
Tarah gets upset with the step to the studio, since her chair can't go up stairs. Celina offers to carry her, but Tarah wants to get up on her own and wishes there were a ramp. Celina is inspired to call a ramp builder.

Cartoon
"Island of Emotion" (new sound effects added)
Artist: Sally Cruikshank
(EKA: Episode 2822)

Film
An Indian boy narrates how Chapati bread is made.
(First: Episode 3204)

Animation
A portrait of MOM hangs in a gallery.
(First: Episode 3318)

Muppets
Colambo: Mother Hubbard's Heist
Colambo visits the home of Old Mother Hubbard to investigate a missing bone for her dog, Bootsie.
(First: Episode 3228)

Cartoon
A lady receives a letter O in the mail, which promptly rolls around her living room.
Artist: ArtistMike
(First: Episode 3348)

Film
A gymnast twirls ribbons to form the letter O.
(First: Episode 3136)

Cartoon
Dancing Petroglyphs: Rock characters dance around the letter "O.
(First: Episode 3375)




Cast / Celebrity
Arrested Development performs "Pride" as everyone on Sesame Street joins them.
(First: Episode 3319)

Film
In Trinidad, Asha and her friends practice and dance on stilts in preparation for a carnival.
(First: Episode 3427)

Cartoon
Two kids argue over a cat and a dog, who chase each other around the fence.
(First: Episode 1210)

Muppets
Kermit says his "ABC's of the Swamp."
(First: Episode 1960)

Cartoon
A map of India morphs into the shape of animals that are found there.
(EKA: Episode 2758)

Film
How to say "bunny rabbit" in sign language
(First: Episode 3300)

Muppets
Benny Rabbit looks for the Shopping Network, but finds himself on the Home Hopping Network, hosted by Bonnie Rabbit.
(First: Episode 3238)

Song
Lillian sings "Face Facts."
(First: Episode 2760)

Cartoon
A female head is drawn as its voice-over lists its parts, ending with earrings that "do nothing" ... and promptly wiggle around.
Artist: James Rizzi
(EKA: Episode 0821)




SCENE 2
The "Ramp Guy" (played by an onscreen Brian Muehl) arrives and measures the step, then goes to his truck to get the materials. Tarah explains to Big Bird the times when she doesn't use her chair and when she's done, the ramp is finished!

Film
In time-lapse footage, a construction crew builds a house and paints it green, and a family moves into it.
(EKA: Episode 1230)

Animation
Seventeen derby hats drop onto a balloon head.
(First: Episode 2820)

Animation
Growing Numbers #17
(First: Episode 2975)

Cartoon
Number creatures #17
(EKA: Episode 2745)

Muppets
In song, a boy wanders into the Animal Lost and Found, looking for his pet named Homer. The shopkeeper says, "Describe Your Pet to Me."
(First: Episode 2967)

Cartoon
An ostrich, a girl, and a pig do some exercises, and move the couch away.
(First: Episode 2988)

SCENE 3
In the studio, Big Bird is amazed that Tarah can do aerobics from her chair. Celina leads the class in a "Workout in a Chair."

Film
A girl helps her father train for a wheelchair race.
(First: Episode 3275)

Animation
A piece of paper floats down onto a table, then folds itself into a paper crane, which flies away.
(First: Episode 2892)

Muppets
The Rhymies go camping, but a bear disrupts their campsite.
(First: Episode 1389)

Film
Paper crumples to reveal G, g, and Gg.
(First: Episode 3128)

Film
Kids on a jungle safari spot an ornate G swing through the trees.
(First: Episode 3498)

Cartoon
A goose and gander visit the land of the G's.
Artist: Jeff Hale
(EKA: Episode 1141)

Muppets
Bert sings "The Paperclip".
(First: Episode 2578)

Animation
A big paper clip and a small paper clip can hold papers together, and so can a small staple, with the help of its "mommy."
(First: Episode 2930)




SCENE 4
Celina reads the story of "The Princess in the Low Tower." In the story, a prince wishes to take the wheelchair-bound princess out for a pizza, but she can't leave her tower because of her chair. The prince offers some suggestions, none of which suit the progressive princess. A humble carpenter happens by and offers to build a ramp for her. With the ramp in place, the three of them go get a pizza.

Cartoon
"Young MacDonald Went to Town"
(EKA: Episode 0811)

Film
A visual representation of the nursery rhyme "To Market" with Wegman's dogs.

Muppets
"I Love You (More or Less)"
(First: Episode 2990)

Animation
Pencil box G / g
(First: Episode 3042)

Animation
Computer G / g
(First: Episode 3112)

Cartoon
G for Gorilla
(First: Episode 2491)




SCENE 5
Class has finishes and Tarah's racing chair has arrived! Her parents help her in it. Tarah assures Big Bird that the chair is safe for her, despite her condition. She races Ryan as a voice-over announces the sponsors.

COMING SOON
Coming Soon on Sesame Street: Mary's little lamb wants to follow Little Boy Blue.
Community content is available under
CC-BY-SA
unless otherwise noted.