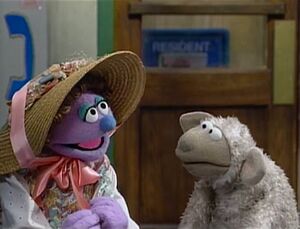 Picture
Segment
Description

COLD OPEN
Big Bird excitedly tells the viewer that Mary and her little lamb will be visiting today!




SCENE 1
Mary arrives and reports that her lamb is sick today. Ruthie shows him the lamb's substitute - a clam. Mary then recites her rewritten rhyme for the occasion:

Mary had a little clam
whose shell was white as snow
and everywhere that Mary went
the clam put on a show!

The clam then begins clacking it shell like a castanet and they all dance to a flamenco tune.

Cartoon
A clam tells a fisherman why he's not catching any fish: he pulled all the plants out of the pond. (new music and sound effects added)
(First: Episode 0408)

Song
Kevin Clash sings "Skin."
(First: Episode 2749)

Muppets
Ernie & Bert — At the beach, Ernie notices that Bert is missing; all he sees is Bert's hat. Sherlock Hemlock helps find Bert, and in the process, discovers that Ernie accidentally buried Bert under the sand.
(First: Episode 0278)

Cartoon
A bully says the alphabet to a mild-mannered gardener, who hits him in the face with a pie at the end. (new sting added)
(First: Episode 0279)

SCENE 2
Mary's lamb, Lamby, appears, having gotten over his illness. He's offended to see he's already been replaced and storms off to find a new nursery rhyme.

Cartoon
A mouse sings "Felines," a song about emotions, to the tune of "Feelings."
(First: Episode 3278)

Film
A boy draws a picture of his friend, Kerry.
(First: Episode 2776)

Muppets
Elmo finds a large apple and wonders what letter "apple" starts with. Slimey pops out from the apple, holding a flag with the letter A on it.
(First: Episode 3359)

Cartoon
Soul A!
(First: Episode 3359)

Film
A for action, acrobat, art, artichoke, and applause.
(First: Episode 3266)

Cartoon
Colonel Travel takes a balloon trip around the country of Canada.
(First: Episode 2771)

Celebrity
Robin Williams demonstrates the uses of knees.
(First: Episode 2765)

Song
"Elbows and Knees"
(First: Episode 2641)

SCENE 3
Big Bird looks for Lamby to make amends. He finds that Lamby has signed himself with Little Boy Blue, who performer their new, jazzy nursery rhyme. Boy Blue drops him, however, when he learns the lamb will follow him everywhere, crimping his private lifestyle. Lamby looks for another rhyme to participate in.

Cartoon
A beatnik bat reads poetry at a nightclub, as everything rhymes with the "AT" sound.
Artist: Lisa Crafts
(First: Episode 3396)

Film
Wegman's Dogs: Little Jack Horner
(First: Episode 3460)

Animation
Cecille sings "The Game of Make Believe."
(EKA: Episode 2864)

Muppets
Muppet & Kid Moment — Lexine and Cookie Monster tell each other they like each other, then hug.
(First: Episode 3237)

Cartoon
A baby climbs up the stairs all by himself.
(EKA: Episode 1736)

Film
Katie is going to be a big sister.
(First: Episode 2769)

Cartoon
K for kangaroo
(First: Episode 2498)

Insert
Mr. Handford tries to see if Zoe knows about the letter K. When she finally learns about the letter K, she can't think of any words that start with it, Mr. Handford tells her to look at the next segment.
(First: Episode 3430)

Film
Ornate Ks fly through the air to a song.
Artist: Jane Aaron
(First: Episode 2945)

Cartoon
Two giddy female scribbles introduce themselves to a bar code, who can only beep. They recognize him from the supermarket.
Artist: Fred Garbers
(First: Episode 2981)

Film
"We have a nice school"... with ducks.
(First: Episode 3144)

Cartoon
A story/song about a duckling who wants to join the others playing at the water's edge.
(First: Episode 2852)

Insert
None, some and all of the dancers dance as Big Bird narrates.
(First: Episode 3360)

Cartoon
The weary traveler asks the wise man to demonstrate none, some, most and all with a basket of oranges.
(First: Episode 0976)

Muppets
"Some Enchanted Lunchtime"
(First: Episode 3230)

Animation
Four penguins wave, spin and fall on the ice.

Animation
Four butterflies fly across a film of a waterfall.
(First: Episode 2834)

Cartoon
Donnie Budd counts four lions.
(First: Episode 0300)

SCENE 4
Lamby is now working for Mary...Mary Quite Contrary, who uses him to replace her Pretty Maids. Their partnership ends when Lamby starts munching on her garden. He starts missing his old job and follows Big Bird to Mary.

Cartoon
An ape takes a bite out of a yellow A.
(First: Episode 2813)

Muppets
The Martians investigate an A.
(First: Episode 3387)

Cartoon
The Typewriter: A for airplane
Artist: Jeff Hale
(First: Episode 0770)

Muppets / Cast
Carlo sings a story-song about a prince who only says "No me gusta."
(First: Episode 3326)

Film
A girl who lives in El Salvador plays a counting game with her class, which involves running around and getting into groups of a number when it is called.
(First: Episode 3012)

Cartoon
A group gives a newcomer funny looks, which hurts his feelings, but then they invite him to play marbles with them. He turns out to be a good player.
Artist: Joanna Priestley
(First: Episode 2840)

Film
A Caucasian boy narrates a film of himself hanging out with his African American friend Jamal.
(First: Episode 2787)

Animation
Colored tools build a house out of colored rectangles, squares and triangles.
(First: Episode 3263)




SCENE 5
Mary and her lamb reunite and everyone recites her nursery rhyme. Ruthie makes an addition to include the clam, who starts up another flamenco tune. Everyone dances as Rosita recites the sponsors.