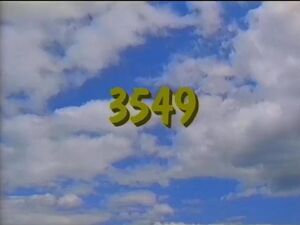 Picture
Segment
Description




SCENE 1
The Furry Arms is in its usually state of chaos. Downstairs, Ernestine the Telephone Operator answers a guest's question about today's sponsors. Humphrey and Ingrid bring Natasha to her in need of help: the chef has called in sick, forcing them to fill in and they need someone to watch Natasha. Ernestine volunteers to take care of her.

Song
"Happy Happiness"
(First: Episode 3320)

Animation
E / e Gregorian chant
(First: Episode 3300)

Film
Jaws spoof presenting the letter E.
(First: Episode 3300)

Cartoon
A man explains that the letter E begins both Enter and Exit. Another man named Roy runs through the doors.
(First: Episode 0406)

Song
"Beautiful Baby" (remake)

Cartoon
Joe's Lap (limerick) (new music added)
(First: Episode 0617)

Muppets
Big Bird talks about between by showing that he is in the middle between Zoe and Radar.
(First: Episode 3500)

Animation
The word TELEPHONE is displayed, followed by a ringing telephone.
(First: Episode 3048)

SCENE 2
Ernestine shows Natasha how to be an operator. She pretends to take a call and turns the headset toward Natasha, who just blows a raspberry into it. Ernestine tells her this is the wrong thing to do, when a real caller phones in. Natasha does it again and the guest becomes very upset. Ernestine argues with them, until she sees what a bad example she's setting.

Song
"When You Grow Up"
(First: Episode 2912)

Muppets
Astronaut Prairie Dawn floats on a space shuttle, when Elmo pops up out of nowhere, offering to help her. He soon learns that there is no need for a policeman, a construction worker, or a farmer in space (unless there's a cow).
(First: Episode 2862)

Film
Children on a playground form the letters of the alphabet. (new music added)
(First: Episode 1966)

Muppets
Baby Tooth and the Fuzzy Funk - Dixie dance
Part 1

Insert
Monty thinks he has found his calling, and sings about "Being a Birdketeer."
(First: Episode 3330)

Film
Fast and slow on the Shpritzer.
(First: Episode 3455)

Muppets
Telly Monster demonstrates "Fast" and "Slow" to Cookie Monster by using a plate of cookies. To demonstrate slow, Telly eats one of the cookies in slow bites. After finishing eating, he asks Cookie Monster to eat a cookie slowly. Cookie Monster gives it a try, but ends up gobbling all the cookies on the plate. Telly considers it to be fast rather than slow, but Cookie Monster says it was slow in his opinion.
(First: Episode 3253)

Cartoon
A door opens behind a mouse, who shrieks when she sees the E.
Artist: Bruce Cayard
(First: Episode 0616)

Film
Wegman's dogs form a letter E.
(First: Episode 3267)

Animation
Planet E / e
(First: Episode 2840)

Song
Jerry Nelson sings "I'm the Big One Now."
(First: Episode 2876)

Animation
Counting to 10 (Latin rhythm) (shown in English, then Spanish)
English version: (First: Episode 3193)
Spanish version: (First: Episode 3045)

SCENE 3
Linda teaches the kids the sign for "butterfly" as Carlo sings about the insect.

Film
How to say "butterfly" in sign language
(First: Episode 3341)

Muppets
Grover sits in a park and recites a poem about a butterfly that he sees.
(First: Episode 1967)

Cartoon
"I Have a Purple Bucket"
(First: Episode 3467)




Film
Lamont, who lives in the city, visits his friend Adrian, who lives in the country. Together they ride bikes, swim, and have dinner with Adrian's family.
(First: Episode 2800)

Animation
Airplanes carve the capital and lowercase T.
(First: Episode 3230)

Film
Kids dance with the letter T, which is for triangle.
(First: Episode 3271)

Cartoon
T is for Trash and Ticket
(First: Episode 0020)

Film
A girl narrates a film of helping her dad, a pilot, fly a small plane. They fly through New York City, past the World Trade Center and the Statue of Liberty.
(First: Episode 3431)

Muppets
Baby Tooth and the Fuzzy Funk - Dixie dance
Part 2

SCENE 4
The girls receive a call from a guest requesting a ham sandwich. Ernestine points out they have the wrong number; they need to call extension #13, which she offers to transfer them to. Instead, she plugs them into her own extension and claims to be room service.

Animation
Growing Numbers #13
(First: Episode 2924)

Animation
Thirteen hamburgers dance around.
(First: Episode 2785)

Cartoon
Number creatures #13
(First: Episode 2691)

Muppets
A baby Honker hatches from an egg and learns to honk like all the Honkers.
(First: Episode 1616)

Cartoon
Babies and doggies pattern: What comes next?
Artist: Keith Haring
(First: Episode 3039)

Song
"There's a Lot of Different Ways to Get to School" (sung by Jerry Nelson)
(First: Episode 2751)




Muppets
A series of trailers for school-related dramas are shown on WCTW's "School in the Afternoon" block.
(First: Episode 2223)

Film / Animation
Circles of all kinds are displayed as funky rap music plays.
(First: Episode 3126)




SCENE 5
Humphrey and Ingrid return to collect Natasha, who has picked up Ernestine's trademark snort. All the monsters then find they can do it. After they leave, Ernestine answers another call about the sponsors, including the Children's Television Workshop mention. "If you don't mind me saying so, I think you should know that by now, Ms. Cooney," she adds.
Community content is available under
CC-BY-SA
unless otherwise noted.