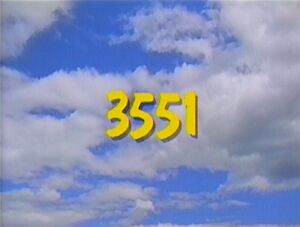 Picture
Segment
Description

SCENE 1
Big Bird and Snuffy figure out what to do together. Snuffy states he'll do anything Big Bird wants to do. Big Bird wants to go to the playground, but Snuffy strangely doesn't seem so thrilled about the idea.

Cartoon
A boy acts out his feelings as animals. ("There's a zoo in me!")
(First: Episode 0783)

Film
Three kids dance for the number 3.
(First: Episode 3167)

Animation
El numero tres (Luis V.O.)
(First: Episode 2119)

Film
Three taxi chairs
(First: Episode 3119)

Song
David sings "I'm Pretty" over a film of fish and other sea creatures.
Refilmed version
(First: Episode 2490)

Cartoon
"Water Conservation": Frank the fish calls Carl and tells him not to leave the water running while brushing his teeth, otherwise the lake will be dry.
Artist: Peter Chung
(First: Episode 2689)

Celebrity
Celia Cruz leads Luis, Kingston Livingston III, Zoe, Telly Monster, Rosita, Lexine, and the kids in a musical game of "Celia Says."
(First: Episode 3316)

Cartoon
A woman identifies farm animals by their sounds.
(First: Episode 1476)

Film
What sound does a baby chick make?
(First: Episode 3419)

Muppets
Muppet & Kid Moment — Grover and Morgan talk about body parts.
(First: Episode 3197)

Film
"Body Dance" (MC Lyte)
(First: Episode 2816)

Cartoon
African quilt pattern
(First: Episode 3145)

SCENE 2
Snuffy tries to make up an excuse for not wanting to play on the playground, claiming he needs to find something specific for his mommy: a giant hat with flowers, a bow and a letter S on it. Sure enough, a hat vendor (Fran Brill, making a cameo) happens by with that exact hat.

Animation
Airplanes carve the capital and lowercase S.
(First: Episode 3214)

Film / Muppets
Alphaquest: S
A swimsuit, Grover as a silly surfer, a seagull, the sunset and a submarine.
(First: Episode 2729)

Cartoon
Typewriter: S for spring
(First: Episode 0792)

Muppets
Telly and Elmo sing about the difference between "Heavy and Light."
(First: Episode 2809)

Cartoon
Light and heavy (bird falls on man)
(First: Episode 0785)

Film
A boy who lives in the Congo (in Africa) narrates a film of the kinds of games he and his friends play.
(First: Episode 2668)

SCENE 3
Having purchased the hat, Snuffy's mom arrives and Big Bird presents her with it, though she has no idea what they're talking about. Big Bird realizes Snuffy was lying, making him admit why he doesn't want to play on the playground: he's too big to do anything. Big Bird drags him along anyway, certain they'll find something.

Song
"Playground Map Song"
(First: Episode 2680)

Cartoon
Characters on a quilt form the letter S.
Artist: Karen Aqua
(First: Episode 3368)

Song
"S, You're the Best"

Muppets
Prairie Dawn gives Grover 15 seconds to say an "S" word, but Grover has trouble concentrating due to the ticking of the clock.

Song
Jeff Redd sings "Between."
(First: Episode 2738)

Animation
On a computer, a boy draws a sun setting between the mountains.
(First: Episode 3059)

SCENE 4
Big Bird leads Snuffy to the swing set, but he proves he's too big to fit on it. Big Bird can and Snuffy can still push him, though he'd much rather prefer some other activity.

Song
"I Know How to Swing"
(First: Episode 3403)

Cartoon
An elephant (voiced by Marshall Efron) asks Nesbitt (voiced by Don Arioli) for directions to the zoo, but won't listen to him long enough.
Artist: Janet Perlman
(First: Episode 1631)

Animation
Slide puzzle - elephant
(First: Episode 0389)

Cartoon
"Part of the Whole"
Artist: Sally Cruikshank
(First: Episode 2714)

Muppets
Cookie Monster does a taste test to compare square shaped cookies, triangle shaped cookies, and circle shaped cookies.
(First: Episode 1750)

Film
Looking for shapes in a metal junkyard (Maria voiceover)
(First: Episode 2702)

Cartoon
Letters appear over a sky-view of a neighborhood.
(First: Episode 3267)

SCENE 5
The two move onto the slide, but Snuffy can't even get up the ladder.

Animation
In a Van Gogh painting, a baby takes its first steps to Papa.
(First: Episode 3492)

Muppets
Annette Monster and Frankie Monster sing "Love the Ocean" to urge others to "show respect for the sea" and refrain from throwing trash in the water.
(First: Episode 2680)

Cartoon
A kid voice-over says, "Ocean," as a fish is seen swimming in the ocean.
(First: Episode 2670)

Cartoon
A girl builds a sand castle at the beach, but the ocean keeps washing it away, so she builds one away from the waves.
Artist: Fred Garbers
(First: Episode 1452)




SCENE 6
Big Bird finally brings Snuffy to the see-saw, but Big Bird is unable to move it with Snuffy sitting on the other end. They discover his snuffle is light enough to rest on the seat and they enjoy seesawing ("My snuffle is having the time of its life"!). They then announce the sponsors.

COMING SOON
Coming Soon on Sesame Street: Even grown-ups make mistakes!