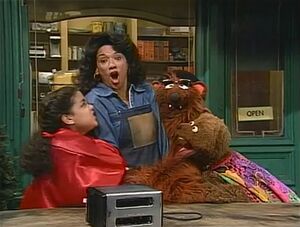 Picture
Segment
Description

SCENE 1
Today, Baby Bear and Gabi will be playing superheroes with Papa Bear. Baby Bear boasts how great his papa has been in planning the game, when Papa Bear admits to have left one thing out: Baby Bear's cape (he can't find it).

Cartoon
Pirates sing a doo-wop song about how they are preparing for their journey.
Artist: Michael Sporn
(EKA: Episode 2236)

Muppets
Ernie & Bert — Bert is reading a book about air, and tells Ernie that air moves things. Ernie decides to verify that with his electric fan, which blows Bert's book away - so that Bert can play baseball with Ernie.

Animation
M for moon, monster, monkey and magic
(First: Episode 3422)

Animation
Pencil box M / m
(First: Episode 3077)

Film / Muppets
Alphaquest: M
The girl uses mittens to make monster mush, which is eaten by a Muppet monster.
(First: Episode 2724)

Song
"Doing the Family Thing"
(First: Episode 3180)

Cartoon
The story of Tommy LaPlaid, the painter so sad until he discovered the joys of kicking his paints on the canvas.
Artist: Mo Willems
(First: Episode 3208)

SCENE 2
Papa Bear apologizes for losing his son's cape, but is certain it will turn up. He and Maria tell their children, through song, that "Even Grown-Ups Make Mistakes." Baby Bear understands, but still can't play superheroes without his cape.

Cartoon
A little boy describes a time when he got angry after his toy truck was destroyed by a big kid.
Artist: ArtistMike
(First: Episode 2764)

Muppets
Muppet & Kid Moment — Samantha talks to Grover about what she does when she gets angry.
(First: Episode 3531)

Animation
The letter M in various typefaces.
(First: Episode 2864)

Film
Two girls sing "Miss Mary M" as they clap.
(First: Episode 3297)

Cartoon
Melba spells her name and her brother's name on their robot, Meltro.
(First: Episode 3363)

Muppets
Cookie Monster and Herry Monster sing "Up and Down."
(First: Episode 3532)

Cartoon
Buttons ride a rollercoaster "up and down."
(First: Episode 3207)

SCENE 3
Papa Bear suggests Baby Bear borrow his cape, but Baby Bear declines, as their superpowers are different (Papa has a super roar and Baby has a super-duper bear hug). Papa Bear rushes home to look for it. In the meantime, Gabi comes up with an idea and also leaves.

Cartoon
Moonlight count to 20 (Maria voice-over added)
(First: Episode 1456)

Animation
Computer: in/out
(First: Episode 3122)

Cartoon
In a painting, a man flips a coin, and it flies in and out of buildings.
(First: Episode 3291)

Film
A little boy sings the "Cold Ocean Blues" at the beach.
(First: Episode 3150)

Cartoon
Cap'n Feenie asks, "What is it?" It's the ocean.
Artist: ArtistMike
(First: Episode 2710)

Muppets
Elmo sings about "Emotion in the Ocean."
(First: Episode 3532)

Cartoon
A chicken gets an idea to sit on a football and hatch it like an egg.
Artist: Dan Haskett
(First: Episode 2360)

SCENE 4
Gabi returns with a towel, which Baby Bear can pretend is his cape. Baby Bear gives it a whirl and together, they foil the "mean monster" (Maria) from harming an innocent toaster. Baby Bear doesn't feel right still, when Papa Bear returns, still empty handed (but very exhausted). They all recommend he just borrow Papa Bear's cape and he thinks the decision over.

Cartoon
Rap #7
(First: Episode 2506)




Cast
In a spoof of the famous Mean Joe Greene Coke commercial, football player Big Murray (Gordon) accepts a number 7 from a young fan, whom he rewards with a towel that also has a 7 on it.
(First: Episode 1535)

Cartoon
The Alligator King
Artist: Bud Luckey
(First: Episode 0411)

Film
A mother helps her child play the drums.
(First: Episode 3156)

Muppets
Sesame Street News Flash
Kermit interviews a bird who sings about how her parents still love her even though they don't live together anymore (though it is not directly stated whether her parents are divorced or separated).
(First: Episode 2695)

Cartoon
A man rearranges a LIMK sign to make the word "MILK."
(First: Episode 1116)

Film
On the farm, a boy enjoys a glass of MILK.
(First: Episode 3277)




SCENE 5
Baby Bear finally decides to use Papa Bear's cape and masters his new super roaring ability. While Papa Bear runs home to look again, Baby Bear and Gabi vanquish the monster yet again. Papa Bear returns, having found the cape in the refrigerator. However, Baby Bear has had fun using Papa Bear's cape and isn't sure he wants to switch.

Cartoon
A hippo who lives in the country, and likes it quiet, is disturbed when a mouse, who likes it loud, moves in.
Artist: Jeff Hale
(First: Episode 1432)

Film
The letters J-U-M-P jump to a song.
music by Robby Merkin
(First: Episode 3528)

Animation
A girl plays in, on, and under a sculpture.
(First: Episode 2898)

Muppets
Baby Tooth and the Fuzzy Funk: Jug band dance
Part 1

Celebrity
Paul Simon and Ladysmith Black Mambazo sing the African Alphabet Song.
(EKA: Episode 2431)

Muppets
Baby Tooth and the Fuzzy Funk: Jug band dance
Part 2

Animation
Can you find the animals hiding in the T-shirt?
Artist: Deanna Morse
(First: Episode 2873)

Song
Kevin Clash sings "Skin."
(First: Episode 2749)

Cartoon
Why did the chicken cross the road?
(First: Episode 2050)

SCENE 6
Baby Bear finally comes to a conclusion: he and Papa Bear can take turns using their capes and super powers. Maria announces the sponsors and is then attacked by the superheroes.

COMING SOON
Coming Soon on Sesame Street: Frazzle throws his crayon in the fish tank.
Community content is available under
CC-BY-SA
unless otherwise noted.