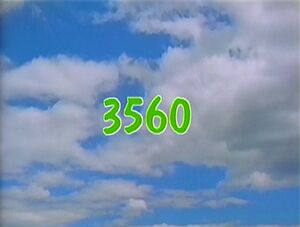 Picture
Segment
Description




SCENE 1
Big Bird finds Ruthie organizing her display, and asks if he can spend the day at Finders Keepers. Ruthie jokes she would love it, and has an idea for what she and Big Bird can do. As she fetches something in the back, Miles and his friends run inside with a dilemma: they need eleven players for their soccer game. Big Bird counts everyone and finds out he could fit, so he decides to play with them since he likes soccer, but realizes he's still in Ruthie's company. This causes a dilemma for him now!

Song
"Counting Alarm Clock"
(First: Episode 3090)

Film
A trip to an African dance school.
(First: Episode 3266)

Cartoon
African quilt pattern #2
(First: Episode 3134)




Muppets
Live at the Nestropolitan: Madame Alma Cluck sings "Il Alphabetto."
(First: Episode 3390)

Cartoon
What if we celebrate Valentine's Day with chickens instead of hearts?
(First: Episode 0488)

Film
Caitlin gets her eyes examined, and picks out a pair of glasses.
(First: Episode 2948)

Animation
Marty the chair keeps bumping into things, until he finds his glasses. "See ya later!"
(EKA: Episode 1981)

SCENE 2
Big Bird is unsure of leaving Ruthie, thinking she'll be sad. Ruthie returns to Big Bird before he can explain his dilemma, stating how happy she is they're spending the whole day together, as she literally acts happy as ever. Big Bird still tries to chime in, but Ruthie heads to the back again. Miles and his team shout for Big Bird to come, but he needs another minute.

Cartoon
A troll draws different faces on herself in front of a mirror.
(First: Episode 0800)

Muppets
Ernie and Elmo sing about the parts that make up "One Fine Face."
(First: Episode 2220)

Film
Floating kids make the letter V.
(First: Episode 3133)

Cartoon
The Typewriter: V for Vacuum
(First: Episode 0774)

Film
Wegman's dogs form the letter V, for violin and valentine.
(First: Episode 3532)

Animation
Cecille sings "I'm Gonna Get to You."
(EKA: Episode 2873)




SCENE 3
Prairie Dawn spots Big Bird looking sad and asks why. Big Bird says Ruthie was extremely happy to spend the day with him, but feels she would become extremely sad if he left for soccer. Prairie Dawn comes up with a compromise, that she can spend the day with Ruthie, and Big Bird can play soccer with Miles. Ruthie returns and learns Prairie will be with her, which she's happy with, but it turns out she has room for Big Bird to stay, and goes back for something important. "Back to the old drawing board...", Prairie states, as Miles once again asks Big Bird to come. He still needs time to think what to do...

Cartoon
Christopher Clumsy jumps over a hole, and falls into another one.
Artist: Cliff Roberts
(First: Episode 0439)

Song
Joe Raposo sings "Doggy Paddle."
(First: Episode 1967)

Muppets
Grover applies to be a lifeguard, demonstrating to the employer that he has what it takes. He soon learns that there's only one thing he needs: swimming lessons.
(First: Episode 1951)

Cartoon
Nine penguins slide down a hill. (Maria voice-over added)
Artist: Owe Gustafson
(First: Episode 1532)

Muppets
The Count sings about how he loves counting clouds, because when he does, he's "on Cloud Nine" (literally).
(First: Episode 3382)

Cartoon
The Ringmaster presents 9 elephants. (new sound effects added)
Artist: Jeff Hale
(First: Episode 1366)

Film
Katie is going to be a big sister.
(First: Episode 2769)

Cartoon
A baby demonstrates 'happy,' 'surprised' and 'sad.'
(First: Episode 3396)

SCENE 4
"How can I leave without making Ruthie feel sad?", Big Bird asks, when Snuffy promptly enters. Big Bird deduces that since Snuffy's big, there won't be enough room for all of them to be with Ruthie. Ruthie returns and asks why Big Bird's leaving again. He claims that two "Bigs" are too many for Ruthie, which he thinks will allow him to leave, but to his disappointment, she still has room for all them. ("The bigger the crowd, the more things get fun and loud!") Prairie and Snuffy convince Big Bird to tell her the truth, which he's skeptical about.

Cartoon
Knights use different words for "big."
Aritst: Fred Garbers
(First: Episode 1985)

Song
"I'm a Little Airplane"
(First: Episode 3266)

Cartoon
Consonant Sound: V, violin
(First: Episode 1157)

Film
V for violin: kids play "Twinkle Twinkle Little Star" on the violin.
(First: Episode 3280)

Animation
Sand V/v
(First: Episode 0637)

Muppets / Celebrity
Laurence Fishburne, along with Rosita and Telly Monster, demonstrates how one brushes their teeth. Since Telly and Rosita do not have teeth, they plug their mouths with ears of corn, and brush those instead.
(First: Episode 3471)

Cartoon
Some yucky little teeth sing praise of Mr. Toothbrush, who brushes them.
Artist: ArtistMike
(First: Episode 3211)




SCENE 5
Big Bird muscles up and decides to tell her the truth, when Ruthie comes back with an assortment of party favors she's prepared for all of them. Before Big Bird can talk, Ruthie sings a happy twist on "I Feel Pretty" to celebrate. After she's finished, she asks Big Bird what he wanted to say, but he instead runs off in a fit.

Cartoon
A boy demonstrates why his dog's name is Happy.
(First: Episode 0537)

Film
A child in a classroom draws a picture of her dog Puck, and goes over the care required to keep a pet.
(First: Episode 2853)

Cartoon
What if a turtle and rabbit switched appearances?
(First: Episode 0483)

Muppets
Cookie Monster sings "You Made Me Love You."
(First: Episode 3456)

Animation
Musicians in a painting learn to cooperate to play music.
(First: Episode 3460)




SCENE 6
Ruthie has brought Big Bird back and he explains his problem. Learning that Big Bird wanted to play soccer, Ruthie states she isn't sad, but is proud he told her what he wanted to do. She reveals they all can play soccer together and close up the store. Miles and his teammates return for Big Bird, now impatient, but Ruthie says they're all joining the game! Prairie Dawn announces the sponsors while everyone else leaves before her then tries to catch up.

COMING SOON
Coming soon on Sesame Street: Baby Bear and Zoe imagine a crank on Oscar's trash can.
Community content is available under
CC-BY-SA
unless otherwise noted.