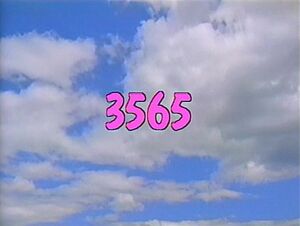 Picture
Segment
Description




SCENE 1
Snuffy has a new book - The Treasure of Snuffleupagus Island - and wants to read it, though his little sister Alice wants to play. Snuffy begins to sing about his love for books (to the tune of "Home on the Range"). After his song, Alice starts sitting on his book and won't move because she wants to play with Snuffy.

Cartoon
Jerry Nelson sings "In My Book."
(First: Episode 2983)

Film
At the harbor, kids learn about dolphins, and how to communicate with them using signals.
(First: Episode 3010)

Animation
Two giddy female scribbles introduce themselves to a bar code, who can only beep. They recognize him from the supermarket.
Artist: Fred Garbers
(First: Episode 2981)

Muppets
Kermit says his "ABC's of the Swamp."
(First: Episode 1960)

Film
Two girls walk on an island together, and a map of the island is shown.
(First: Episode 2650)

SCENE 2
Snuffy politely asks Alice to get off the book, but she won't budge. Snuffy distracts her by having her chase a ball, but just as he begins to read, she resumes sitting on the book.

Animation
Cecille sings "Brushin' Down the Doggies."
(EKA: Episode 2862)

Muppets
Telly wants to show how to brush one's teeth, using Big Bird as an example. Big Bird states he doesn't have teeth...but Telly's drawing of him does.
(First: Episode 3441)

Cartoon
A girl sits on her mom's lap in a Picasso painting.
(First: Episode 3318)

Song
"Mom and Me" (new vocal track)
(First: Episode 2462)

Cartoon
One chef takes one of each vegetable to make one salad.
(First: Episode 3180)

Muppets
Monsterpiece Theater: One Flew Over the Cuckoo's Nest
(First: Episode 2674)

Animation
A group of 1s chant, "We're the number 1!"
(First: Episode 3238)

SCENE 3
Snuffy invents a game to get Alice to move - the "Stand Up, Sit Down and Run Around Game." Alice does just as the title instructs her and runs off the book, only to return moments later.

Animation
Luxo Jr.: Up and Down
(First: Episode 3130)

Song
"Explore With Me" (reggae)
(First: Episode 3531)

Cartoon
I Love You, in American Sign Language
Artist: Steve Finkin
(First: Episode 1170)

Film
How to say "turtle" in sign language
(First: Episode 3339)

Cartoon
Kids count dinosaurs, octopuses, and paper dolls.
(First: Episode 0926)

Celebrity
"Rubber Duckie" with Little Richard.
(First: Episode 3263)




Animation
Beads arrange themselves in different ways, and finally stick themselves to a boy's jacket.
(First: Episode 3045)

SCENE 4
Snuffy is fed up with Alice and decides he has only one option: push her off. He charges at her like a bull (complete with a bull fight score), but can't bring himself to make contact.

Film
A ONE WAY sign switches sides. (Maria voiceover)
(First: Episode 3268)

Muppets
Grover sings "I Do Not Crawl Around Much Anymore."
(First: Episode 3536)

Film
Wegman's dogs form T, which is for train.

Cartoon
T for treasure (Jim Thurman VO)
(First: Episode 1990)

Cartoon
Spinning T (to the tango beat)
(First: Episode 2933)

Song
"Elbows and Knees"
(First: Episode 2641)

Cartoon
A cube tries to fit through wall holes of different shapes.
(First: Episode 1452)

Muppets / Cast
"Brush Boogie"
(First: Episode 2827)

Film
Kids dance with the letter T, which is for triangle.
(First: Episode 3271)

Film
The floating kids make a small T.
(First: Episode 3126)

Song
"T, You're Terrific"
(First: Episode 3332)

Muppets
"The Ballad of Slippery Slim"
(First: Episode 2827)

Cartoon
Two camels (voiced by David Rudman and Joey Mazzarino) at a watering hole learn to share.
(First: Episode 3528)




Muppets
Super Morphin Mega Monsters
Zostic sends his henchmonsters to cause an argument between two Anything Muppet kids who want to play with the same truck. The Mega Monsters show them that taking turns can solve their problem.
(First: Episode 3525)

Cartoon
POP loves to BOP.
Artist: Joey Ahlbum
(First: Episode 3519)

Song
"Washin' the Dog"
(First: Episode 3020)

SCENE 5
Alice sees how upset Snuffy is and finally gets off his book. Snuffy reads it aloud to her as Telly Monster announces the sponsors.

COMING SOON
Coming Soon on Sesame Street: Elmo's friends cheer him on as he begins to rollerskate.
Community content is available under
CC-BY-SA
unless otherwise noted.