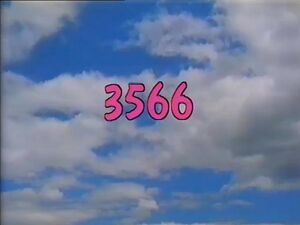 Picture
Segment
Description




SCENE 1
Elmo and Ruthie watch as Celina and the kids rollerblade around the block. Elmo wishes he could join, but he doesn't have a pair of rollerblades. Ruthie tells him if he counts backwards from 10 to 0, she'll give him a surprise. Celina and the others assist him in counting and when he reaches 0, Ruthie presents him with his own rollerblading gear!

Cartoon
A man pulls a rabbit out of his hat, but the rabbit turns out to be a cow. "Surprise!"
Artist: John Schnall
(First: Episode 2770)

Muppets
The Two-Headed Monster demonstrates surprise.
(First: Episode 2924)

Cartoon
The Four Squares sing "It's Hip to Be a Square"
Artists: Vincent Cafarelli & Candy Kugel
(First: Episode 2615)

Film
Looking for squares in the city (Maria voiceover)
(First: Episode 2721)

Cast
"The Add-ems Family": Gordon, Susan, Carlo, Bob, Maria, Luis and Gabi star in a faux-sitcom about a family who loves to add.
(First: Episode 3391)

Animation
Jerry Nelson sings "Two Pretty Flowers."
(First: Episode 3151)




SCENE 2
Elmo wants to rollerblade now, but first, everyone makes sure he's fully protected in case he falls down. They then bring him down to the sidewalk to start skating, but he can't seem to stand up in his skates.

Song
"Get On Up (Everybody Move)"
(First: Episode 3410)

Muppets
Ernie & Bert — Ernie tells Bert to stand still in front of the camera so that he can "trace" Bert's face on the screen.
(First: Episode 0536)

Cartoon
Parts of a face are drawn in black on-screen before forming a picture.
(First: Episode 3320)

Muppets
The Mostly Monster Festival Choral Society presents "The Alphabet, Theme and Variations," by Mozart.
(First: Episode 3525)

Cartoon
Wilma Wiggins makes the very best of a very silly situation by hiccuping her way through an opera.
(First: Episode 2963)

Film
"Simple Pleasures" by Bobby McFerrin is played over footage of a girl trying to play frisbee with a dog on the beach.
(First: Episode 2876)

Animation
I / i Gregorian Chant
(First: Episode 3342)

Animation
Ornate I's swing through the air to a song.
(First: Episode 2921)

Cartoon
CGI sheep graze out I and i.
(First: Episode 2896)

SCENE 3
Celina and Ruthie assure Elmo that he'll be able to skate without falling if he just practices.

Film
A girl learns how to rollerblade.
(First: Episode 3270)

Muppets
One of the members of Baby Tooth and the Fuzzy Funk dances with a girl to the song "Hotter Than That."
Part 1

Cartoon
A bird subtracts two balloons from a group of three.
Artist: Cliff Roberts
(First: Episode 0530)

Muppets
One of the members of Baby Tooth and the Fuzzy Funk dances with a girl to the song "Hotter Than That."
Part 2

Cartoon
A boy counts down to 0 as he eats his soup.
(First: Episode 2283)

Muppets
Zoe and Wolfgang demonstrate the concept of zero.
(First: Episode 3386)

Song
"Zero Song": A female voiceover sings about the food that keeps being taken away to make 0.
Arist: Jane Aaron
(First: Episode 3003)




Film
Kids practice circus acts and give a performance in a gymnasium.
(First: Episode 2889)

Cartoon
Three scribbles exercise.
Artist Fred Garbers
(First: Episode 1579)

Insert
Bob leads his violin class and sings "Practice, Practice."
(First: Episode 2906)

Cartoon
11 gumballs minus 4 equals 7.
(First: Episode 2268)

Film
Fay Ray subtracts one ball.
(First: Episode 2634)

Animation
The word "dog" appears on-screen, followed by a shot of a dog.
(First: Episode 3082)

Film
Wanda Falbo (Word Fairy) and Barkley present a word which represents large, shaggy animals who like to chase sticks (or wands).
(First: Episode 2621)

Cartoon
Falling leaves form H and h.
(First: Episode 3118)

Film
A variety of H's are grown in a garden.
(First: Episode 3016)

Animation
H/h (space paint)
(First: Episode 3218)

Film
Children in Jamaica learn how to make their own tie-dyed shirts.
(First: Episode 3140)

Animation
Ten masked dancers are counted.
Artist: Karen Aqua
(First: Episode 3102)

SCENE 4
Elmo attempts to skate all the way from Finders Keepers to the wall outside Big Bird's nest. As he skates down the sidewalk, he falls down 10 times (a count kept by his friends watching in horror from the opposite end of the street). Elmo concludes he may need some more practice.

Song
"The First Time" - Children try various activities (riding tricycles, tying shoes, etc.) and progressively improve.
(First: Episode 2950)

Cartoon
Shooting stars form the letter I/i.
(First: Episode 2218)

Animation
I / i candles
(First: Episode 3107)

Cartoon
Pencil box I/i
(First: Episode 2890)

Muppets
Some Anything Muppets sing about the staff you'll meet in "First Grade."
(First: Episode 3505)

Film
"SCHOOL!" (high speed footage)
(First: Episode 3278)

Cartoon
Different emotions are drawn on a face, until the character grabs the pencil.
(First: Episode 3531)

Film
A boy draws a picture of his friend, Kerry.
(First: Episode 2776)

Muppets
Big Bird accidentally knocks over some block towers, but he puts them back up through reverse footage.
(First: Episode 3407)

Cartoon
"Big Kid Photo Album"
Artist: Lisa Crafts
(First: Episode 3441)

SCENE 5
Now having practiced, Elmo tries skating down the street once more. As Kingston Livingston III announces the sponsors, Elmo successfully makes it down the sidewalk without falling.
Community content is available under
CC-BY-SA
unless otherwise noted.