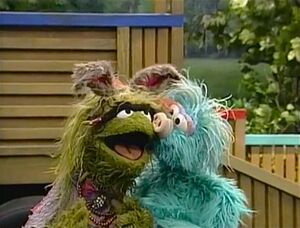 Picture
Segment
Description

SCENE 1
Rosita tells Gordon, Gabi and Lexine that she has a surprise in store for Grundgetta - asking her to play today. Grundgetta has a surprise in return - she won't. Gordon thinks he has an idea on how to change Grundgetta's mind.

Animation
Luxo Jr. examines a box. A smaller lamp pops out of the box, demonstrating "surprise."
(First: Episode 2851)

Muppets
Captain Elmo Cousteau searches for the treasure of the missing soap, with the help of a policeman fishy.
(First: Episode 2637)

Animation
Cecille sings "The Game of Make Believe."
(EKA: Episode 2864)

Film
A blind class goes on a field trip downtown, and visits a produce stand.
(First: Episode 2580)

Animation
Lillian is proud because she climbed a mountain all by herself.
Artist: Craig Bartlett
(First: Episode 2749)

SCENE 2
Gordon returns with a copy of The Three Little Pigs. Grundgetta, naturally, wants no part in hearing it, until Gordon mentions the presence of the Big Bad Wolf. She enjoys it, except for the happy ending. Gordon then suggests they all re-enact the story, giving Grundgetta the role of the Big Bad Wolf as incentive to join. Rosita thanks Gordon for his help.

Cartoon
A pig dances a jig while wearing a wig.
Artist: Joey Ahlbum
(First: Episode 3525)

Muppets
While shopping in a China store, Simon Soundman helps Old McDonald find his lost animal - however his animal sounds attract animals to barge into the fragile store.
(First: Episode 3068)

Animation
Four penguins wave, spin and fall on the ice.
(First: Episode 3544)

Film
Four kids dance in a colorblock grid.
(First: Episode 3149)

Cartoon
Four ducks
(First: Episode 1481)

Film
Kids narrate a film about how Yufka, a Turkish flat-bread, is made.
(First: Episode 2937)

Cartoon
A man shows the difference between a regular slice of bread and a toasted one.
(EKA: Episode 1575)

Muppets
Kermit sings "On My Pond."
(EKA: Episode 2356)

Film
PIZZA! Various signs of the word are shown.

SCENE 3
In the park, the girls are all ready to perform the story. However, before Grundgetta has the chance to blow Rosita's house in, Rosita begins to give her a great, big hug. Grundgetta is disgusted and wants no part in the activity anymore. The others beg her to say, so Grundgetta decides to think about it while watching some cars...

Film
Counting 10 cars on a ferry boat.
(First: Episode 2925)

Muppets
The Two-Headed Monster drives a car, but puts on the seat belt first.
(First: Episode 1966)

Cartoon
Young Chris Columbus explores the world of ants - and they, in turn, explore his house.
Artist: ArtistMike
(First: Episode 2816)

Muppets
Big Bird's Video Postcards
Big Bird visits Guadalupe, Arizona, and conducts a child mariachi band, who sing "Viva Mexico."
(First: Episode 3012)

Cartoon
"Mi casa es su casa."
(EKA: Episode 1037)

SCENE 4
Grundgetta has agreed to stay in the story and they go for another re-enactment, though Grundgetta asserts there will be no hugging involved. Instead, Rosita grabs her and gives her a kiss. Grundgetta has had it this time and huffs and puffs her way out. Rosita is sad that she won't get to play with Grundgetta now, until Gabi offers to speak to her.

Cartoon
K is for kiss.
Animation: John and Faith Hubley
(First: Episode 0131)

Film
William Wegman's Weimaraner is a king.

Cartoon
A lion named Kent says that he gets a Kick out of being King of the Forest.
(First: Episode 0463)

Muppets / Celebrity
Grover sings "Monster in the Mirror" assisted by several celebrities, including The Simpsons, Whoopi Goldberg, and Ray Charles.
(First: Episode 2835)

Cartoon
Is no one afraid of The Big Bad Wolf?
(EKA: Episode 2405)

Film
"There's a lot to see under the sea," according to some young swimmers who narrate a poem about the ocean-dwellers they find.
Music: "Kyisio Calypso" by Dermot Stewart
(First: Episode 3032)

Animation
A poem about oranges.
(First: Episode 2881)

SCENE 5
Grundgetta has agreed to come back once again. Rosita promises not to hug and kiss her and allows her to blow her house in. Grundgetta doesn't see the fun in blowing the house down if Rosita wants her to. Rosita now becomes frustrated and angry, which Grundgetta does enjoy. Rosita storms off and Grundgetta chases after her. "Playing 'The Three Little Pigs' with a grouch can be very confusing," Gabi observes.

Animation
"Animal Books"
Artist: Steve Segal
(First: Episode 3396)

Film
A girl learns to write "river" in Chinese.
(First: Episode 3219)

Cartoon
K for kangaroo
(First: Episode 2498)

Film
Ornate Ks fly through the air to a song.
(First: Episode 2945)

Cartoon
K for keyhole, ketchup, and kitten
(EKA: Episode 0811)

Song
David sings "I'm Pretty" over a film of fish and other sea creatures.
Refilmed version
(First: Episode 2490)

SCENE 6
Gordon watches as Rosita storms by, with Grundgetta on her trail. Grundgetta acknowledges how much fun Rosita can be when she's angry, making Rosita feel happy and plants a kiss on Grundgetta. The Grouch snaps back, making Rosita angry again. The two go in this back-and-forth exchange while Gordon announces the sponsors.