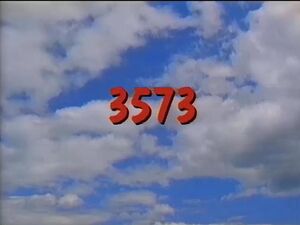 Picture
Segment
Description




SCENE 1
Luis can't seem to find his reading glasses, when Snuffy enters the Fix-It Shop. Luis is supposed to be his designated reader today, but he can't without his glasses. Fortunately, Snuffy's book has large enough print for Luis to read.

Animation
A boy's imagination runs away with him as he reads.
(First: Episode 3449)

Muppets
Elmo sings "In Your Imagination."
(First: Episode 3119)

Animation
Amelia likes to pretend she can fly.
(First: Episode 2902)

Film
A girl narrates a film of helping her dad, a pilot, fly a small plane. They fly through New York City, past the World Trade Center and the Statue of Liberty.
(First: Episode 3431)

Cartoon
Gloria, a rambunctious little girl, sings the alphabet song while an adult gives her instructions.
(First: Episode 0010)

SCENE 2
Rosita now wants Luis to read to her, but he tells her there's no way he can. Rosita thinks she can teach him to read with a song ("The AT Family Song"). She leaves the book with him to practice some more.

Cartoon
AT words: A fat cat with a hat sat on a mat. A bat scared the fat cat.
(First: Episode 1101)

Muppets
Two brothers, First and Last, sing about how their names affect how they do things.
(First: Episode 0134)

Cartoon
Rumba pencils (first, last, Crazy Melvin)
(First: Episode 0638)

Film
Two Navajo kids go to school in Arizona. This year, Dante enters pre-school.
(First: Episode 2680)

Cartoon
A little boy asks his big brother questions about what happens at school.
Artist: John Korty
(First: Episode 1877)

SCENE 3
Luis resorts to calling Dr. Fleegleman's Eyeglass World for a new pair of glasses, but can't make out the number in his contact book. He heads over to Hooper's Store to get Gina or Mr. Handford to read the number, but the store is unfortunately closed.

Cartoon
An army of ants gets to the bakery, only to find that it's closed.
(First: Episode 2088)

SCENE 3 cont'd
Big Bird happens by and Luis asks him to read the number, though Big Bird isn't sure what an F looks like. Luis points him toward some films:

Cartoon
Suzie Kabloozie hates the letter F, until all F things disappear, including the furniture, the floor and the firefighter.
Artist: Mo Willems
(First: Episode 3274)

Film
The letter F appears, Jaws-like, out of a swimming pool.
(First: Episode 3353)

Cartoon
F is for Fly and Frog
(First: Episode 0034)

SCENE 3 cont'd
Big Bird now recognizes an F, but needs a reminder of the letter L. Luis shows another set of films.

Cartoon
"L Look Around Song"
Artist: Bruce Cayard
(First: Episode 1483)

Film
Wegman's dogs form the letter L.
(First: Episode 3270)

Cartoon
A man jumps into a poster of Lake Lillian.
(First: Episode 0347)

SCENE 3 cont'd
Big Bird asks for one more review of the letters...

Cartoon
F / f (space paint)
(First: Episode 3215)

Film
The letter L dances at the beach.

SCENE 3 cont'd
Big Bird correctly identifies Dr. Fleegleman's listing in the book. Luis returns to the shop to make the call, then realizes he can't make out the number! "This is what you'd call a bad day."

Cartoon
"Letters in the Body"
Artist: Fred Garbers
(First: Episode 3339)

Film
Caitlin gets her eyes examined, and picks out a pair of glasses.
(First: Episode 2948)

Cartoon
Worms form the number 8.
Artist: Owe Gustafson
(First: Episode 1563)

Muppets
Little Chrissy sings "Eight Balls of Fur."
(First: Episode 2669)

Animation
Counting to 8
(First: Episode 3170)

Cartoon
A kid voice-over says, "Ocean," as a fish is seen swimming in the ocean.
(First: Episode 2670)

Muppets
Jimmy is upset about moving to a new house, but Hoots the Owl shows up and sings "Things Are Always Changing."
(First: Episode 2937)

Cartoon
I've Got a Mind: Wind-up toy
(First: Episode 0255)

SCENE 4
Lexine dials the number for Luis, who orders a new pair (which will be on their way shortly). While they wait, they flip through a book about a Native American pow-wow. Big Bird recalls his experience with the Crow Indians.

SCENE 4 cont'd
An Anything Muppet delivery boy (Joey Mazzarino) stops by and gives Luis his new pair of glasses, only they're not at all what he ordered. Big Bird and Lexine go off looking for where his original pair might be.

Cartoon
Anansi the Spider tells the story of how the sun and the moon came to live in the sky.
(First: Episode 3320)

Film
The McDoubles (Batty and Crooky) count to 10 with their fingers.
(First: Episode 3224)

Cartoon
A poem about dogs of different sizes, feelings and colors.
Artist: Deanna Morse
(First: Episode 2924)

Muppets
The Two-Headed Monster sounds out the word SHAKE, and an earthquake happens.
(First: Episode 2557)

Cartoon
A Zerkel named Jake demonstrates -ake words.
Artist: Sally Cruikshank
(First: Episode 3522)

Animation
A girl reads a book, a magazine, a newspaper, and a letter.
(First: Episode 3142)

SCENE 5
Big Bird, Snuffy, Rosita and Lexine find Gabi playing with Luis' glasses on her teddy bear. They inform her of his troubles and they go to return them.

Animation
Stop-motion: The word TOY is spelled in blocks.
(First: Episode 3394)

Animation
"Hammer Time with Hammer"
(First: Episode 3179)

Film
Flamingos walk around to classical music. (new child voiceovers added)
(First: Episode 2498)

Animation
Can you find the animals hiding in the T-shirt?
Artist: Deanna Morse
(First: Episode 2873)

Celebrity
Take 6 sings "Take 6," a song about themselves that counts to the number 6.
(First: Episode 3001)

Cartoon
A little boy describes a time when he got angry after his toy truck was destroyed by a big kid.
Artist: ArtistMike
(First: Episode 2764)




SCENE 6
They kids all return to the Fix-It Shop and Gabi admits to what she's done. Though Luis is slightly annoyed, he's glad they're back. Everyone is glad too, because now he can read to them all! Luis starts reading a book as Oscar announces the sponsors.
Community content is available under
CC-BY-SA
unless otherwise noted.