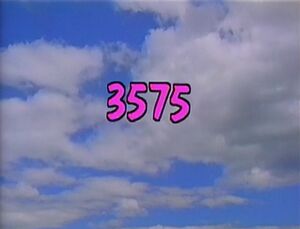 Picture
Segment
Description

SCENE 1
Elmo and Zoe watch as Luis and Maria waltz together as they head off to a wedding. The monsters want to dance too, but Elmo thinks they can do it just based on what they just watched. Elmo is proven wrong and Celina invites them up to her studio to learn.

Cartoon
A lizard, a girl and a dog dance.
Artist: Karen Aqua
(First: Episode 2795)

Song
"It's the Shpritzer Honker Splasher Sprinkler Tweeter Squirt," the wettest musical instrument.
(First: Episode 3408)

Muppets
Ernie & Bert — Bert is preparing to give his nephew Brad a bath, but Ernie chastises him for not providing any bath toys. He brings so many toys that Bert feels there is no longer room for Brad. So as not to waste the water, Ernie hops into the tub.
(First: Episode 1134)

Cartoon
Dry and Wet (near swimming pool)
Artist: Cliff Roberts
(EKA: Episode 0309)

Film
A park ranger speaks to a group of kids about trees and the fruits that come from them. Then all the kids hug a tree.
(First: Episode 2891)

Animation
Portraits of kids display the alphabet.
Artist: Lisa Crafts
(First: Episode 3203)

SCENE 2
Celina teaches the young monsters that the waltz follows a counting rhythm of "one-two-three." She plays a waltz tape and demonstrates. The monsters get caught up in the counting that they keep counting instead of dancing.

Cartoon
"Three Waltzing Chickens"
Artist: Bruce Cayard
(First: Episode 1183)

Film
What sound does a baby chick make?
(First: Episode 3419)

Muppets
Sesame Street News Flash
Old MacDonald opens a health resort for his animals.
(First: Episode 2688)

Animation
Pencil Box B / b
(First: Episode 3040)

Film
Alphaboy: B - a bumpy bicycle ride.
(First: Episode 3401)

Cartoon
Letter B becomes a banana and broccoli
(First: Episode 2513)

SCENE 3
Celina adds that cooperation is needed to perform the waltz. The monsters think they have the dance down pat, but Elmo wishes they had outfits just like Maria and Luis had on.

Animation
Musicians in a painting learn to cooperate to play music.
(First: Episode 3460)

Muppets / Celebrity
At Birdland, Hoots the Owl and Branford Marsalis (Forrest Wimbledon) perform "Listen and Bounce it Back."
(First: Episode 2834)

Film
Kids play rhythms on pots, pans, a barrel and a washboard.
(First: Episode 3443)

Cartoon
Is snow cold? Yes!
(EKA: Episode 0961)

Film
Kids talk about how they like sledding down snowy hills.
(First: Episode 3276)

Muppets
Telly wanders into a Hispanic community during a snowfall, freezing his fur off. He hears the patrons on the street exclaim "Hace Frio!"
(First: Episode 3133)

Animation
The word ICE is formed with ice cubes, which melt.
(First: Episode 1177)

SCENE 4
Zoe and Elmo go to Finders Keepers and ask for outfits just like Maria and Luis'. Ruthie gets some Fix-It Shop-appropriate work outfits, when the monsters describe the nice outfits they were previously wearing. Ruthie just happens to have them in their size.

Song
"Dressed Up" (remake)
(First: Episode 3399)

Cartoon
Letter G drawing with kid voice-over
(EKA: Episode 0514)

Film
G for go, girls, guitar, goldfish etc.
(First: Episode 3269)

Animation
G / g Gregorian chant
(First: Episode 3328)

Muppets
Grover, Herry, Cookie Monster and Frazzle sing "Fuzzy and Blue (and Orange)."
(First: Episode 1644)

Film
A boy draws a picture of his friend, Katie.
(First: Episode 2760)

Animation
"Five Waltzing Chairs"
Artist: Jane Aaron
(First: Episode 2983)

Film
Two girls count to 5 as they clap.
(First: Episode 3007)

Cartoon
A woman orders five tall things.
(EKA: Episode 1710)

Insert
Big Bird and Snuffy notice how different they are and sing "Feathers and Fur."
(First: Episode 2999)

Animation
Yellow drops don't want to play with a red ball at first, but they make a good flower together.
(EKA: Episode 1949)

Film
Some kids talk about a garden they have in the middle of the city.
(First: Episode 2889)

Cartoon
Speech Balloon: B for Butterfly
(First: Episode 0006)

Muppets
The Oinker Sisters sing "Where Can You Be B?"
(First: Episode 3381)

Film
William Wegman's dogs form the letter B, and Fay Ray balances a boat on her head.
(First: Episode 3536)

Cartoon
Water travels from a cloud to a river, into a reservoir, and through pipes, and finally ends up in a bathroom sink.
(First: Episode 2708)

Film
The Count (in voiceover) counts three children on a bench, then adds two more.
(First: Episode 2950)

Animation
Jerry Nelson sings "Two Pretty Flowers."
(First: Episode 3151)

Animation
"Family Dance"
(First: Episode 3487)




SCENE 5
Maria, Luis and several others gather at the dance studio, where the monsters show off their waltz. Maria comments Zoe's dress is prettier than hers. Everyone dances to a waltz arrangement of the theme as Benny Rabbit announces the sponsors.

COMING SOON
Coming Soon on Sesame Street: Tarah and friend do a wheelchair ballet.