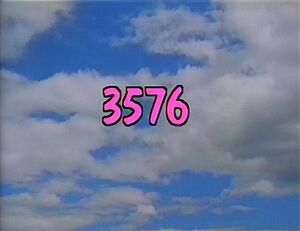 Picture
Segment
Description




SCENE 1
Celina welcomes everyone to "Dances from All Over Day," featuring a number of dances from various cultures of the world. Big Bird is going to do a 4-Bird-Dance with Lexine, Gabi and Spencer, who is currently absent. Celina introduces the first performance, the tinikling, a type of dance popular in her home country of the Philippines.

Film
Rodrigo lives in the Philippines. He and his family like spending a day at the park.
(First: Episode 3219)

Cartoon
A dog dances with Elmo.
Artist: Karen Aqua
(First: Episode 3505)

Muppets
Ernie & Bert — Ernie plays a game with Bert where Ernie plays riffs on his drum set and Bert has to repeat them back. Bert is surprisingly good at the game.
(First: Episode 1809)

Cartoon
F for Football
Artist: John and Faith Hubley
(First: Episode 0135)

Film
Alphaboy fans his father's feet with feathers.
(First: Episode 3442)

Cartoon
F - Face (new sound effects added)
Artist: Jeff Hale
(First: Episode 1200)

Muppets
A monster sings "Comb Your Face."
(First: Episode 1851)

Cartoon
Ralph asks Marvin what would happen if he didn't have a mouth, a nose and ears.
(First: Episode 0468)

Song
"I Put My Leg in My Pants"
(First: Episode 3402)

SCENE 2
The next dance is a tap dance, done by special guest Karen Callaway and two kids to a jazzy version of the Sesame Street Theme. Big Bird starts to get antsy about Spencer not being present, but Celina advises him to relax.

Cartoon
Gerald's dog Sparky likes to pretend he's an alligator. (new sound effects added)
(First: Episode 1519)




Film
Kids rehearse a large group African dance in the park, get their faces painted, and perform.
(First: Episode 3079)

Cartoon
A mad scientist teaches his monster how to say the words "Fred," "foot", and "Friday."
(First: Episode 1162)

Cartoon
Letter F words are found on the street.
(First: Episode 3353)

Cartoon
Cloud blows things FFFFFFFF (new music added)
(First: Episode 0387)

SCENE 3
Up next is a wheelchair ballet done by choreographer Tarah and Kitty. Big Bird wonders how Tarah can dance from her wheelchair, and she reminds him how there are many kinds of dancing.
Song
"Me and My Chair"
(First: Episode 1706)

Cartoon
An old man recites a poem about the time he had the flu. (new music added)
Artist: Bruce Cayard
(First: Episode 1274)




Muppets
Mac TV host Old MacDonald introduces the newest music video, "A New Way to Walk" performed by The Oinker Sisters.
(EKA: Episode 2268)

Film
The letters in the word WALK across the street and through the park.
(First: Episode 3526)

Muppets / Celebrity
Elmo and Rosie O'Donnell rap the alphabet.
(First: Episode 3170)

Cartoon
Kids see animals in their alphabet soup.
Artist: Michael Sporn
(First: Episode 1976)

Film
A visual representation of the nursery rhyme "Pat-a-Cake" with Wegman's dogs.
(First: Episode 3467)

Cartoon
Jerry Nelson sings "Moonshine."
(First: Episode 2775)




Film
A girl name Maria and her family are having a Cuban Bar-B-Q. She invited her friend, Stewart, to enjoy in the fun and learn about Cuban culture. (Note: Stewart has a ball with a picture of Oscar the Grouch on it.)
(First: Episode 2760)




SCENE 4
The next dance is the conga, led by Maria. Afterwards, Celina receives a phone call from Spencer's mom that he is sick and unable to come. Big Bird panics what to do, but Ruthie comes up with a solution.

Animation
Ten masked dancers are counted in Spanish.
Artist: Karen Aqua
(First: Episode 3079)

Muppets
Muppet & Kid Moment — Morgan and Grover count in English and Spanish.
(First: Episode 3138)

Animation
Dancing pepper pattern - which one comes next?
(First: Episode 3079)

Muppets
Four lambs sing about how they always add up to four.
(First: Episode 2980)

Cartoon
Four babies crying, drinking, playing, sleeping
(First: Episode 3418)

Video
Four break-dancers dance.
(First: Episode 2607)




SCENE 5
It's finally time for Big Bird's dance with Ruthie as Spencer's replacement. Despite Ruthie's warning that she doesn't know the dance, the four birds perform their number to everyone, who enjoy it. As Celina announces the sponsors, everybody dances to a rock version of the Sesame Street theme.

COMING SOON
Coming soon on Sesame Street: Elmo sings about what an aquarium shark feels.
Community content is available under
CC-BY-SA
unless otherwise noted.