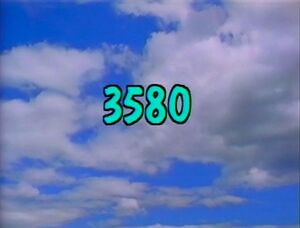 Picture
Segment
Description

SCENE 1
Zoe is learning how to honk from a Honker. She can't seem to make any noise and knocks herself over when he hits her nose too hard.

Song
"It's a Long Hard Road, But I'm Gonna Get There." (Vocals by Jerry Nelson)
(First: Episode 3398)

Animation
In a Van Gogh painting, a baby takes its first steps to Papa.
(First: Episode 3492)

Muppets
Grover wants to sell Kermit a nose warmer, but since Kermit doesn't have a nose, Grover gives him one.
(First: Episode 1448)

Cartoon
Kid names his own body parts
(First: Episode 0809)

Insert
The Tokyo String Quartet and some kids show how important it is to practice, as Big Bird provides voiceover.
(First: Episode 3290)

Cartoon
A man wants a hat, but the hat shop owner's hats are all the same - except for a ten-gallon hat, which complements the customer's horseback riding nicely. (new music added)
(First: Episode 0781)




SCENE 2
Zoe continues struggling to honk her nose, when Gordon arrives. He helps show that even though their noses are similar in some ways, the Honker's is different in other ways that allow him to honk. Zoe understands and rushes off, inspired. She returns with a pair of glasses and her trike horn attached, allowing her to honk with the Honker.

Film
Wegman's dogs form all the letters of the alphabet.
(First: Episode 3266)

Muppets
Monsterpiece Theater: "Anyone's Nose"
A monster sings a song about various noses and what they do.
(First: Episode 3287)

Cartoon
The Bellhop is told that somebody at table 18 has a phone call, and after he struggles to get to the table, he is told to take a message.
(First: Episode 2549)

Cartoon
Number creatures 18
(First: Episode 2668)

Film
Growing Numbers #18
(First: Episode 2933)

Cartoon
Edgar Turtle sings "Hey Diddle Diddle."
Animation by Jeff Hale
(First: Episode 2404)

SCENE 3
Monster on the Spot: Play of the Day
Telly watches and comments as Melissa asks three other kids if she can play catch with them.

Cartoon
"The Stranger" - a song about a baseball team hesitantly allowing a newcomer to join them, who ends up helping them win the game.
Artist: Michael Sporn
(First: Episode 2108)

Film
A Caucasian boy narrates a film of himself hanging out with his African American friend Jamal.
(First: Episode 2787)

Cartoon
Little Red Riding Hood uses a map to get to Grandma's house.
(First: Episode 2686)

Song
"The Braid-y Bunch"
(First: Episode 3357)

Muppets
Sesame Street Game Shows: The Count is a contestant on Beat the Time, where today's wacky stunt is to bring back two things that come from the sky before the time runs out. The Count has too much fun counting the seconds, but ends up bringing his thunder and lightning.
(First: Episode 1698)

Cartoon
A peacock counts twenty feathers on his tail.
(First: Episode 0406)
Film
Peacock
Music: Joe Raposo
(First: Episode 0278)

Muppets
Zoe demonstrates same and different: first she displays a nameless blue monster who doesn't look like her, then she shows an exact replica of herself. The two Zoes only have one difference: their voices.

Cartoon
Little girl and cat (she imagines role reversal)
(First: Episode 0784)

Film
A boy signs the word cat, and morphs into one.
(First: Episode 3323)




Celebrity
Nadja Salerno-Sonnenberg spots Big Bird and Miles looking sad, and interprets how they feel by playing the violin. When she finishes playing, she reveals that she has the baseball they lost.

Film
Alphaboy: L
Alphaboy leaps into lots of lovely leaves and becomes lazy.

Cartoon
A salesman (voice of Martin P. Robinson) hawks the letter L in a commercial.
Artist: Mo Willems
(First: Episode 3306)

Film
The floating kids form an L.
(First: Episode 3128)

Animation
The word AIRPORT (with photographs of such)
(First: Episode 3373)




SCENE 4
Rosita hosts "Why Is Carlo Crying?" By asking questions, she learns that Carlo is crying because he's cutting onions at Hooper's Store.

Cartoon
"Felines"
(First: Episode 3278)

Film
A trip to an African dance school.
(First: Episode 3266)

Animation
Two frogs demonstrate up and down.
(First: Episode 3225)

Muppets
A father monster sings a song to his confused son about the difference between up and down.
(First: Episode 3225)

Film
Kid jungle explorers spot a wild letter L.
(First: Episode 3483)

Cartoon
L for Lion (poem)
Artist: Jeff Hale
(First: Episode 1149)

Song
"L Rings My Bell"

Cartoon
A crocodile, snake, and kangaroo all cooperate to escape from the zoo and get ice cream.
(First: Episode 1577)

SCENE 5
Zoe translates the Honker's honks, announcing the sponsors.

COMING SOON
Coming Soon on Sesame Street: A king colors his castle and subjects blue, his favorite color.
Community content is available under
CC-BY-SA
unless otherwise noted.