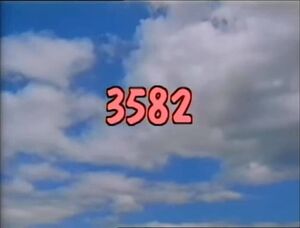 Picture
Segment
Description




SCENE 1
Mr. Handford is serving Big Bird a milkshake when a man suddenly screeches by, asking for an edition of Automobile Week Magazine. Another customer comes looking for a copy of U.S. News and Glitch, a computer magazine, followed by another wanting Popular Pooch. Big Bird wonders if there's anything for 8-foot tall yellow birds, but Mr. Handford doesn't find any on his shelves. A parrot asks for a magazine about parrots, prompting Big Bird to decide to make one of his own. Mr. Handford tells the basics of a magazine (a cover and pages with numbers), but Big Bird wanders off before Mr. Handford can explain more.

Cartoon
A man demonstrates what newspapers are made of, and finds an ad for "One slightly used monster."
(First: Episode 2919)

Song
"Papermaking Song"
(First: Episode 3563)

Muppets
The Two-Headed Monster finishes a bag of popcorn, and almost leaves it on the brick wall, but then argues over which trash can to throw it in. Finally, it rips the bag in half to "share" the trash.
(First: Episode 2718)

Animation
Airplanes carve the capital and lowercase letter Y.
(First: Episode 3199)

Film
Y for yell, yellow, yodel
(First: Episode 3456)

Animation
Y: Yuri, a yellow yak, eats yams and yogurt.
(First: Episode 3381)




SCENE 2
As Gabi and Rosita are being served, Big Bird returns with his magazine. Mr. Handford opens it, which turns out to literally have pages with numbers on them. Everyone counts the 40 pages, and Mr. Handford says he can't stack it on the shelf since there's nothing to actually read. They give Big Bird ideas about stories pertaining to an 8-foot yellow bird's lifestyle, so he recruits them to document his first story at his nest. "I can't wait to see this magazine," Mr. Handford wonders.

Cartoon
Counting 40 pigs
Artist: Keith Haring
(First: Episode 3084)

Muppets
Elmo and his imaginary self sing about what he would do "If Elmo Had Teeth."

Cartoon
A monster named Doug has trouble getting to sleep at night, until the teeth in his dream remind him to brush his own.
(First: Episode 3145)

Song
"There's a Lot of Different Ways to Get to School" (sung by Jerry Nelson)
(First: Episode 2751)

Animation
The word BUS is displayed, followed by a graphic of a school bus leaving.
(First: Episode 3052)

Muppets
Sesame Street News Flash: Mary's Little Lamb
After an interview with Mary, the lamb follows Kermit.
(First: Episode 1943)

Cartoon
"Alphabet Imagination": A female voice quickly recites the alphabet followed by a male voice narrating each letter in a series of psychedelic vignettes.
(First: Episode 0345)

SCENE 3
For the first story in Big Yellow Bird, Big Bird reports about how to correctly walk through a small doorway – by ducking one's head. After Gabi and Rosita document the story, Big Bird takes them to write down their next topic, only to keep slamming his neck into the door's top.

Cartoon
"Tall Short Texans"
Artist: Joey Ahlbum
(First: Episode 3135)

Muppets
Waiter Grover has a new method of remembering orders: He makes up a poem to remember what is ordered and who ordered it. Mr. Johnson orders a cheeseburger with a pickle and French fries, which Grover interprets as "Round and tasty on a bun, pickles, French fries, yum, yum, yum!" However, he brings Mr. Johnson a grapefruit on a bun.
(First: Episode 2418)

Cartoon
An alligator and an elephant chat about how to remember their names.
(First: Episode 1301)

Song
"Beautiful Baby" (remake)
(First: Episode 3549)

Cartoon
A girl practices to roller skate over many days.
(First: Episode 3556)

SCENE 4
In the next story, Big Bird explains about the magazine's "Word of the Month" – "eggs." To demonstrate the importance of the word, a baby bird hatches out of one. The gang heads back to Hooper's Store for the next story...

Film
EGGS... and chickens.
(First: Episode 3267)

Muppets
Telly is shocked to see Little Chrissy and the Alphabeats at the library. They explain that in addition to being rock stars, they're also "Rock 'N Roll Readers."
(First: Episode 2612)

Cartoon
Y for yawn
(EKA: Episode 0301)

Film
Jaws spoof with the letter Y.
(First: Episode 3323)

Cartoon
A yak discusses the letter "Y" on a stage, and is insulted when it is called a "Yakkity-yakkity-yak".
(First: Episode 0301)

Film
A girl uses an instant camera to take pictures of her friends, who demonstrate several emotions.




SCENE 5
...which is about how to make a birdseed milkshake, as shown by Mr. Handford. Big Bird then begins to interview the "Man of the Hour," which turns out to be Mr. Handford. His four questions pertain to birdseed, being yellow, having a beak, and measuring eight feet tall, all of which don't fit Mr. Handford. Gabi and Rosita get the interview, and the three head off to do the same thing with Snuffy while Mr. Handford makes room on his shelves.

Song
En Vogue sings "Adventure."
(First: Episode 2951)

Animation
Parade of Numbers #18
(First: Episode 3427)

Film
Kid mural painting #18

Cartoon
A spoof of Alice Cooper's "Eighteen" - the number of sandwiches the singer has to choose from.
(First: Episode 2859)

Film
In Trinidad, Asha and her friends practice and dance on stilts in preparation for a carnival.
(First: Episode 3427)

Cartoon
At the Pride Day Ceremony, Donald is waiting to describe his proudest accomplishment, and is initially unsure of himself next to other impressive students. He finally proudly acclaims his achievement, tying his shoes all by himself.
Artist: John Korty
(First: Episode 2085)




SCENE 6
Everyone returns to Mr. Handford to present their finished magazine, with an updated cover and pages detailing all of their stories. Mr. Handford compliments them on a great job and goes to stack it on the shelves, when the parrot comes back looking for another magazine. He buys the gang's newly-published magazine right off the bat, making them realize they'll need more copies. Gabi's friends arrive with numerous copies of the magazines; as they distribute them at Hooper's, the parrot announces the sponsors.

COMING SOON
Coming soon on Sesame Street: Miles gives Zoe an invitation to his adoption party.
Notes