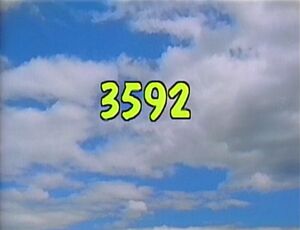 Picture
Segment
Description

SCENE 1
Big Bird passes the time until his playdate with Snuffy by singing about "Words That Rhyme with Play."

Cartoon
Jill walks up a hill to pick a daffodil.
Artist: Jim Jinkins
(First: Episode 2538)

Film
Children demonstrate "up" and "down" with balls.
(First: Episode 3562)

Muppets
Ernie sings "Dance Myself to Sleep."
(First: Episode 1705)

Film
Wegman's dogs form the letter T.
(First: Episode 3318)

Animation
Sand T / t
(First: Episode 0636)

Song
"T, You're Terrific"
(First: Episode 3332)

SCENE 2
Tarah comes across Big Bird as he waits and the two hear a strange, trumpet-like sound. Snuffy arrives and they discover the sound is coming from him. He becomes upset when they call attention to it and he flees.

Cartoon
"Madrigal Alphabet"
(First: Episode 0619)

Song
"Learning to Swim"

Cartoon
Look both ways before you cross the street
Artist: Ray Favata
(First: Episode 1397)

Animation
Teeny Little Super Guy: Robert W. Shipshape gets a hat for his birthday, and it blows into the street. R.W. remembers not to cross the street without an adult; Teeny Little Superguy helps him across.
Artist: Paul Fierlinger
(EKA: Episode 2549)

Cartoon
"In My Book" (sung by Jerry Nelson)
(First: Episode 2983)

SCENE 3
They catch up to Snuffy and he explains he has "Snuffle-itis," an allergic reaction to something in the air. They apologize for laughing, which makes him less angry, but now he's sad.

Cartoon
"Mad Goat Song"
Artist: Derek Lamb
(First: Episode 0771)

Film
Feet wearing all different types of shoes dance.
(First: Episode 2601)

Animation
A group of 1s chant, "We're the number 1!"
(First: Episode 3238)

Muppets
Monsterpiece Theater: One Flew Over the Cuckoo's Nest
(First: Episode 2674)

Cartoon
Hortense beats one drum.
Artist: Michael Sporn
(First: Episode 2570)

Film
Three girls clap rhythms while naming vegetables.
(First: Episode 3051)

SCENE 4
Snuffy is sad because nobody would want to play with him in his condition. Big Bird still wants to play and initiates a game of hide-and-seek. He counts backwards from 10 and easily finds Snuffy by following sounds of his infected snuffle. Tarah thinks she can find a better game to play.

Cartoon
Bobby's dog narrates why Bobby is sad.
(First: Episode 3455)

Film
The floating kids form a capital T.
(First: Episode 3121)

Film
T on the beach
(First: Episode 3540)

Cartoon
T for tiger, teapot, television, and taxi.
Artist: Bill Davis
(First: Episode 3262)
Film
A film insert about washing elephants at the Bronx Zoo. The song "Splish Splash" is used in part of the segment.
(EKA: Episode 2096)

Cartoon
A mouse demonstrates between by squeezing between two elephants.
(First: Episode 2750)

Song
"Ja, Ja, That is the Mountain"
Artist: Jane Aaron
(First: Episode 2780)

Cartoon
St. Bernard dog leads Zork down the snowy hill.
Artist: ArtistMike
(First: Episode 2738)

SCENE 5
Big Bird, Tarah, Snuffy and the kids have formed a marching band, where Snuffy's snuffle makes for a perfect trumpet.




Film
Xiao-Mei from northern China describes a festival at the end of every year that her family participates in. Each day of the festival, there is a new show to watch, a series of parades and lots of food like noodles and dumplings. Women prepare floats for the parade while men dress up as river animals. Xiao-Mei's favorite part or the festival is the lion dance. Xiao-Mei also demonstrates how she can walk on stilts which are strapped to her legs, and hopes someday to dance in the big parade.
(First: Episode 3266)

Cartoon
A story/song about a duckling who wants to join the others playing at the water's edge.
(First: Episode 2852)

Film
Ducks swim and fly.
Music: Chopin's Valse Op. 64, no. 2)
(First: Episode 2510)

Cartoon
A photographic couple ballroom-dances on, in and under a plane.
Artist: Fred Garbers
(First: Episode 3155)

Muppets
"I Could Have Counted All Night"
(First: Episode 3228)

Cartoon
Five feet stick out from a barrel, all belonging to a strange five-legged being.
(First: Episode 0859)




Cast
Ruthie reads a story to the kids: "The King Who Couldn't See So Well." In the story, a blind king can't see his subjects, his daughter, his royal dinner, or his reflection in the mirror. Luckily, the Royal Smart Person (a little girl) tells him he needs glasses. He gets a pair from the eye doctor, which improves his sight (and his life) greatly.
(First: Episode 3368)

Song
"Brand New Look" - people try on glasses.
(First: Episode 3271)

Muppets
Grover talks about the sign "ONE WAY."
(First: Episode 0993)

Film
A ONE WAY sign switches sides. (Maria voiceover)
(First: Episode 3268)

Muppets / Celebrity
Laurence Fishburne, along with Rosita and Telly Monster, demonstrates how one brushes their teeth. Since Telly and Rosita do not have teeth, they plug their mouths with ears of corn, and brush those instead.
(First: Episode 3471)

Cartoon
A monster named Doug has trouble getting to sleep at night, until the teeth in his dream remind him to brush his own.
(First: Episode 3145)

Song
"It's Time for a Rhyme"
(First: Episode 3151)

SCENE 6
Snuffy is glad he had somebody to play with today, then realizes "today" and "play" both rhyme. Big Bird is reminded of his song and the two sing, as Snuffy provides some accompaniment. Tarah announces the sponsors.

COMING SOON
Coming soon on Sesame Street: An invisible Barkley visits the vet.
Community content is available under
CC-BY-SA
unless otherwise noted.