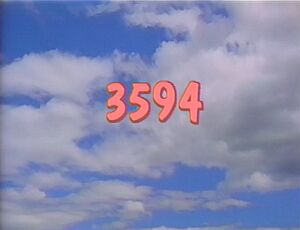 Picture
Segment
Description

SCENE 1
Today, Baby Bear will be imparting his "Secrets of a Happy, Healthy Life," starting with the first step - a good breakfast with a bowl of porridge. Goldilocks interrupts him, shilling her basket of fruit, muffins and fish.

Song
"You Don't Have to Be a Grizzly" ...to eat some honey!
(First: Episode 3398)

Cartoon
A brief animation of pouring milk in a glass, coupled with the word milk.
(First: Episode 3012)

Muppets
Mr. Johnson goes to the local gym, where Grover is one of the instructors. He is about to help Mr. Johnson work out, but keeps leaving to get his towel, whistle, barbell, and radio. Once he is planned to work out, Grover is too tired to do anything else.
(First: Episode 3262)

Film
A dance class does some stretching exercises, then dance in their own ways, ending with the tango (instrumental: "Naughty Door Opera").
(First: Episode 3022)

Cartoon
Millie and Molly take a walk, and have different perspectives of their surroundings.
(First: Episode 1309)




Cast / Celebrity
Arrested Development performs "Pride" as everyone on Sesame Street joins them.
(First: Episode 3319)

Cartoon
At the Pride Day Ceremony, Donald is waiting to describe his proudest accomplishment, and is initially unsure of himself next to other impressive students. He finally proudly acclaims his achievement, tying his shoes all by himself.
Artist: John Korty
(First: Episode 2085)

Film
"There's a lot to see under the sea," according to some young swimmers who narrate a poem about the ocean-dwellers they find.
Music: "Kyisio Calypso" by Dermot Stewart
(First: Episode 3032)

Cartoon
"Water Conservation": Frank the fish calls Carl and tells him not to leave the water running while brushing his teeth, otherwise the lake will be dry.
Artist: Peter Chung
(First: Episode 2689)

SCENE 2
(insert)
Baby Bear sings a "scrubby scrubby" song as he takes a bath. As he finishes, he discovers Goldilocks has been in the tub with him breathing from a snorkel.

Film
Wegman's dogs: Rub-a-Dub-Dub
(First: Episode 3530)

Cartoon
J family jamboree
(First: Episode 0365)

Film
A man in a J costume jumps at the beach.
(First: Episode 3527)

Cartoon
A disobedient jacket illustrating words that begin with the letter J annoys an off-screen narrator, which reveals two kids named Jenny and Jeff inside of it.
(First: Episode 0527)

Muppets
Ernie sings "Little Plant."
(First: Episode 2144)

Cartoon
Gloria, a rambunctious little girl, sings the alphabet song while an adult gives her instructions.
(First: Episode 0010)

SCENE 3
Baby Bear's next secret of happiness is poetry. He attempts to recite "Peas Porridge," but Goldilocks interrupts and finishes it for him, believing she is helping. Baby Bear begs that she just leave him alone and not help anymore. She agrees and Baby Bear thanks the heavens.

Cartoon
Jim Thurman sings "Calcutta Joe." (new sound effects added)
Animation by Buzzco Associates, Inc.
(First: Episode 2492)

Film
Kids play bongo drums loud and soft.
(First: Episode 2862)

Muppets
Bert enjoys a nice day at the park feeding his pigeons when Elmo screams a hello to him, scaring the pigeons away. Bert explains that when pigeons are near, one must be quiet. Elmo understands and helps Bert by loudly calling the pigeons back. Bert becomes happy again and Elmo cheers...scaring the pigeons away again.
(First: Episode 3249)

Cartoon
Donnie Budd counts four lions.
Artist: Bud Luckey
(First: Episode 0300)

Film
Ornate 4s fly through the air.
(First: Episode 3317)

Cartoon
Animal Rock #4
(First: Episode 3562)

Insert
Celina shows the Grouchketeers how to do "Doin' the Grouch."
(First: Episode 3203)

Cartoon
An actor demonstrates anger towards a casting director - literally!
(First: Episode 2061)

Song
Joe Raposo sings "Everybody Eats."
Re-filmed version
(First: Episode 2855)

Cartoon
A mother and child make juice popsicles.
Artist: Cathryn Aison
(First: Episode 1193)

Muppets
Cookie Monster and Herry Monster sing "Up and Down."
(First: Episode 3532)

Animation
Luxo Jr.: Up and Down
(First: Episode 3130)

Song
Everyone has the same feelings, "No Matter What." Kids of all types play with a huge beach ball.
(First: Episode 2782)




SCENE 4
The next secret to Baby Bear's happiness is "sharing knowledge with a friend." He has his "happy glasses" to show how they can be the same and different simultaneously. When he concludes his lecture, he finds he can't put the glasses back down without a free hand. Goldilocks happens by and Baby Bear asks for her help, when she reminds him of their previous agreement.

Animation
Cecille sings "Up Down, In Out, Over and Under."
(First: Episode 2746)

Film
Girls jump rope and sing playground rhymes.
(First: Episode 3280)

Muppets
Sesame Street News Flash
Kermit the Frog reports from an alphabet mine where they dig Js. The miners tell him various words that begin with J and Richard presents him with his own J.
(EKA: Episode 2302)

Cartoon
Jughead Jones's J story
(First: Episode 0231)

Film
Rory, the green-belt aged 6, goes to karate class and learns under his sensei, where he does toe touches, kicking, stretches, jumping jacks, and an unnamed move consisting of tumbling, then posing. Not only do they practice inside, but they also practice outside in the park.
(First: Episode 3423)

Cartoon
Household appliances count 1-10 and 10-0.
(First: Episode 2840)

SCENE 5
Baby Bear convinces Goldilocks to break her promise and help him. She agrees, then hijacks the closing by quickly announcing the sponsors.

COMING SOON
Coming Soon on Sesame Street: Snuffy stars in a pageant by Bob, posing as Prairie Dawn.
Community content is available under
CC-BY-SA
unless otherwise noted.