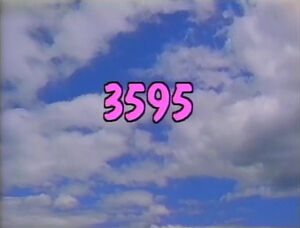 Picture
Segment
Description

COLD OPEN
Snuffy and Celina discuss some of Prairie Dawn's past pageants when Zoe appears to introduce the sponsors of the day. They then mention that they're all going to be in Prairie's newest pageant.

SCENE 1
In Maria and Luis' apartment, Gabi informs the viewer that Prairie spent the night there and woke up with a cold. Prairie is upset, because she still has yet to prepare for her pageant. They give her orange juice and a tissue and she takes a nap, hoping to get an idea when she wakes up.

Cartoon
Don't be a Snerd when you sneeze.
Artist: Bruce Cayard
(First: Episode 1487)

Muppets
Monsterpiece Theater
A monster sings a song about various noses and what they do.
(First: Episode 3287)

Animation
Portraits of kids display the alphabet.
Artist: Lisa Crafts
(First: Episode 3203)

Film
Wegman dogs: Jack and Jill
(First: Episode 3464)




SCENE 2
Prairie is awake now and Maria starts to read her a story of "The Maestro Plays." (First: Episode 3579) After the story, Prairie gets an idea - a pageant about being sick.

Cartoon
A pencil tries to write the word DANCE.
(First: Episode 1966)

Song
"You Can Get Right Up": a song about getting active to cheer up.
(First: Episode 3142)

Cartoon
Speech Balloon: Two men demonstrate "up" on a teeter totter; one man ends up crashing through the ceiling.
(First: Episode 0650)

Muppets
Ethel Mermaid sings "I Get a Kick Out of U."
(First: Episode 3127)

Cartoon
A dog learns about U.
(First: Episode 0131)

SCENE 3
The gang has received the plot and lyrics for the pageant from Prairie, but Zoe points out someone needs to play piano. Bob will play piano and sing as well, but Zoe doesn't think he looks or sounds like Prairie. Celina has an idea...

Animation
Cecille sings "The Game of Make Believe"
(First: Episode 2864)

Film
Fast and slow on the Shpritzer.
(First: Episode 3455)

Muppets / Celebrity
Little Richard sings "Rosita," a song about feelings, to Rosita.
(First: Episode 3225)

Cartoon
A boy acts out his feelings as animals. ("There's a zoo in me!")
(First: Episode 0783)

Insert
Big Bird reads a fan letter, asking him how he has so much pep and energy. He explains it's because of sleep.
(First: Episode 3443)

Cartoon
Fruta Manzana sings about being happy and healthy.
Artist: Don Duga and Irra Verbitsky
(First: Episode 1231)

Film
Korean girls do a spring dance.
(First: Episode 3170)

Cartoon
"Seven Sweet Sopranos" on a shaky piano
Artist: Paul Fierlinger
(First: Episode 1656)

Film
Milo Counting: 7

Cartoon
Rap #7
(First: Episode 2506)




Muppets
While Ernie is away visiting the Count, Bert has the place all to himself, or so he thinks! A group of sheep burst into the room and proceed to sing him a song ("Bert's Blanket") about how his blanket was made (with a flashback scene where Ernie is portrayed as a farmer). He then corrects them on the actual production phase.
(First: Episode 2391)

Film
D.J. goes to the doctor, gets weighed and measured, and gets a shot.




SCENE 4
Bob is dressed as Prairie Dawn (with dress, wig and falsetto voice) and the pageant begins. In the play, Snuffy is sick and thermometer Miles, Celina as his mother, orange juice Gabi and book Zoe help him feel well.

Cartoon
Students raise their hands and name words that begin with "U."
Artist: Fred Garbers
(First: Episode 3553)

Muppets
SuperBaby finds the letter U.

Cartoon
Typewriter: U for Umbrella
(First: Episode 0808)

Song
Hoots the Owl sings "This is How We Take a Bath."
(First: Episode 3216)

Cartoon
"You know what it's like to be scared?" A little girl frightens another girl with a mask.
(First: Episode 0547)

SCENE 5
Everyone tells Prairie about the success of her play. As Bob re-enacts his vocals for her (complete with wig), Zoe announces the sponsors.

COMING SOON
Coming soon on Sesame Street: Telly gives a speech about Triangle Lovers and Tuba Lovers.
Community content is available under
CC-BY-SA
unless otherwise noted.