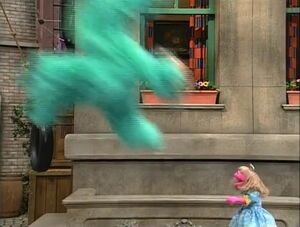 Picture
Segment
Description

COLD OPEN
Rosita and Prairie Dawn both have exciting news, so they take turns telling the viewer. Prairie starts off by presenting the sponsors, which Rosita considers more exciting than her news: practicing flying.




SCENE 1
Rosita explains to Prairie and Gordon how her entire family has the ability to fly because of their wings. Today, Rosita will try some flying, though she admits she has trouble with landings. She demonstrates and lands on top of Prairie. She steps out of the way so Rosita can try again, but she gets landed on again. Rosita decides to give up to keep her friend safe, but Gordon recommends she practice and find something to aim her landings toward. Prairie goes to get a helmet.

Animation
Amelia likes to pretend she can fly.
(First: Episode 2902)

Cartoon
A determined little boy makes several attempts to fly, and eventually gets his dad to take him on an airplane. (new music added)
(EKA: Episode 2029)

Muppets
Telly sings "Everything Goes" as he packs his backpack for a day in the park.
(First: Episode 3461)

Cartoon
A family goes over their camping checklist before they leave for the woods.
(First: Episode 3411)

Film / Animation
Lake (time-lapse)
(First: Episode 2700)




SCENE 2
Rosita has brought back a letter X, to mark the spot where she'll land. As she gears up, Prairie arrives (with her helmet) and spots the letter, unaware of its purpose. She picks it up to admire it and Rosita lands on her once more.

Cartoon
The letter X appears on-screen.
(First: Episode 2779)

Muppets
The Mystery Guest is the letter X.
(First: Episode 1447)

Cartoon
A lizard, a girl and a dog dance.
Artist: Karen Aqua
(First: Episode 2795)

Film
A three-year-old African boy narrates a film about a day in his life.
(First: Episode 3267)

Cartoon
A map of Africa morphs into the shape of animals that are found there.
(First: Episode 2627)

Muppets
Zoe talks about being proud.
(First: Episode 3226)

Animation
Lillian is proud because she climbed a mountain all by herself.
Artist: Craig Bartlett
(First: Episode 2749)

Muppets
Kingston Livingston III sings "Just Happy to Be Me."
(First: Episode 3178)

Song
"Me, M-E, Me!"
(First: Episode 3578)

Film
A ferry terminal switches from empty to full.
(First: Episode 2968)

Cartoon
An opera house is full when an operatic tenor sings, but it becomes empty when his partner (of lesser musical talent) attempts to sing. On their way home, the tenor and his partner become stuck on the freeway, where the lanes are full - but all it takes to make them empty is some bad singing.
Artist: Gene Barretta
(First: Episode 3556)

Animation
Rubber Stamp #16
(First: Episode 2959)

Muppets
The Martians discover a sparkly number 16.
(First: Episode 3387)

Animation
Counting to 16 on quilt patterns
(First: Episode 2996)




Film
Kids practice circus acts and give a performance in a gymnasium.
(First: Episode 2889)

Cartoon
"Five Baby Oysters"
(EKA: Episode 2257)

Muppets / Celebrity
Big Bird and Snuffy dance a minuet as played by the Tokyo String Quartet.
(First: Episode 3341)

Cartoon
A boy learns to play his violin by practicing.
(First: Episode 1513)

Song
"Explore With Me" (reggae)
(First: Episode 3531)

Cartoon
Fish swim to form Q and q.
(First: Episode 3105)

Muppets
Elmo shows the viewer a letter very quickly, and has the viewer guess which letter it is.
(First: Episode 3415)

Animation
In reversed film, Q and q candles are unmelted.
(First: Episode 3079)

Muppets
Some Anything Muppets sing about the staff you'll meet in "First Grade."
(First: Episode 3505)

Film
Girls sing a jump-rope rhyme about naming a puppy.
(First: Episode 3279)

Cartoon
A pig sings "I Love Being a Pig."
(First: Episode 0462)

SCENE 3
Rosita takes a break from flying to read some nursery rhymes with Prairie. Rosita recommends Prairie wear her helmet, but Prairie insists she can't get hurt reading. They read "Hickory Dickory Dare" and Prairie gets pummeled by the Man in Brown's flying pig.

Song
"I'm a Little Airplane"
(First: Episode 3266)

Cartoon
The Typewriter gets a check-up.
(First: Episode 0787)

Film
William Wegman's dogs form the letter X and demonstrate an X-ray.
(First: Episode 3535)

Animation
A group of 19th-century sportsmen have fun with an X ball, which falls out of the painting. (Martin P. Robinson voiceover)
(First: Episode 3506)

Film
"Simple Pleasures" by Bobby McFerrin is played over footage of a girl trying to play frisbee with a dog on the beach.
(First: Episode 2876)

Cast
Maria and Luis perform "You Say Hola and I Say Hola."
(EKA: Episode 2062)

Cartoon
A cartoon shows a few Spanish words - which are also English words.
Artist: Fred Garbers
(First: Episode 3011)




SCENE 4
Rosita continue practicing, after her grandmother arrives with her lunch. She flies overhead, landing on Prairie Dawn. The two monsters shower her with boo-boo-healing kisses, while Gordon announces the sponsors.