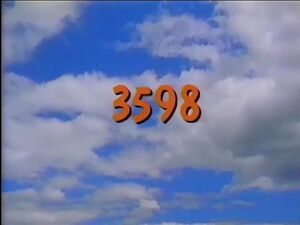 Picture
Segment
Description

SCENE 1
Big Bird stops by Hooper's Store, where he finds a busy Mr. Handford. He offers to help and is taught how to assemble and stack newspapers.

Cartoon
Four people cooperate building a table.
(First: Episode 0537)

Song
Leon Redbone sings "What Do They Do When They Go Wherever They Go?"
(First: Episode 3312)

Cartoon
A girl explains the concept of relativity by explaining how her house is a part of a neighborhood, the neighborhood is part of a city, the city is part of a country, etc.
(First: Episode 2742)

Muppets
Astronaut Prairie Dawn floats on a space shuttle, when Elmo pops up out of nowhere, offering to help her. He soon learns that there is no need for a policeman, a construction worker, or a farmer in space (unless there's a cow).
(First: Episode 2862)

Cartoon
Two girls sing a reggae rendition of the alphabet.
(First: Episode 3269)

SCENE 2
Mr. Handford rewards Big Bird for his help with a dollar bill. "I feel like a working bird with income!," Big Bird declares...but what will he use the dollar for?

Cartoon
What if I looked like George Washington...
(First: Episode 0586)

Song
"My New Computer"
(First: Episode 2857)

Animation
Planet J/j
(First: Episode 2833)

Film
William Wegman's dogs make a J and dress as a jester.
(First: Episode 3527)

Cartoon
The Typewriter: J for Jump
Artist: Jeff Hale
(First: Episode 0772)

Film
"Visiting Iesha": Olivia sleeps over at Iesha's house, and spend the morning together. Olivia is white and Iesha and her family is black. Next time, Iesha wants to visit Olivia's family.
(First: Episode 2756)

Cartoon
"Big Kid Photo Album"
(First: Episode 3441)

SCENE 3
Big Bird shows Gordon and Merry Monster his dollar and consults them on what he should use it for. Merry suggests he buy a sports car, which costs more than a dollar. Gordon thinks he could get a toy sports car, but Big Bird isn't sure.

Cartoon
"From Your Head"
Artist: Sally Cruikshank
(First: Episode 3474)

Muppets
Professor Grover teaches his students what "school" is, but he instead gets the lesson.
(First: Episode 1969)

Film
The word "school," accompanied by a fast film of school scenes.
(First: Episode 3278)

Animation
Cecille sings "Up Down, In Out, Over and Under."
(First: Episode 2746)

Film
Jaws spoof with the letter W.
(First: Episode 3366)

Animation
Characters on a quilt form the letter W.
Artist: Karen Aqua
(First: Episode 3366)

Film
The floating kids form the letter W.
(First: Episode 3181)

SCENE 4
Joey and Davey Monkey think Big Bird should buy a banana with his dollar (they only cost 10 cents). Trying to figure out a good reason for Big Bird to buy the banana, the monkeys agree to work for it by helping Big Bird figure out what to buy.

Cartoon
A bird watches as two monkeys climb above and below each other in a tree.
(First: Episode 2965)




Muppets
Guy Smiley hosts "What's My Job?" in which blindfolded monster contestants guess the occupations of different professionals, including Sonny Friendly. (new sound effects added)
(First: Episode 2573)

Song
"J, Just How Jazzy Can You Get?"
(First: Episode 3396)

SCENE 5
Davey and Joey bring Big Bird a letter J to buy, but Big Bird knows letters are free.

Film
J, for jiggle, juggle, jump, joy.
(First: Episode 3396)

Animation
Lillian discusses the adjustments she had to make when her parents had a new baby. She ultimately appreciates her sister.
Artist: Craig Bartlett
(First: Episode 2746)

Song
"Mom and Me" (new vocal track)
(First: Episode 2462)

Cartoon
The parts of a man's face move around as they are drawn.
(First: Episode 3410)

Muppets
Kermit sings "Caribbean Amphibian."
(First: Episode 2205)

Cartoon
A map of Puerto Rico forms into the shape of animals and other things that are found there.
(First: Episode 3030)

Film
Kids narrate footage of toddlers learning to walk.
(First: Episode 3025)

Animation
13 hamburgers dance around.
(First: Episode 2785)

SCENE 6
The monkeys return with a number 13 he can use for counting. Big Bird already knows how to count to 13, however. They suggest he go to Finders Keepers for something to buy.

Cartoon
Rap #13
(First: Episode 2547)

Film
Kids draw a map of their neighborhood, and then learn how maps are really made.
(First: Episode 2760)

Cartoon
On his way to the store, a boy gets distracted and remembers to buy different things. (new sting added)
(First: Episode 0768)

Muppets
Part 1: Ernie is holding a banana in his ear. Bert tries to tell him that he does so, but Ernie can't hear him because of it.
(First: Episode 0258)

Cartoon
"Banana Samba" (short version)
(First: Episode 2920)

Muppets
Part 2: Ernie reveals that he has a banana in his ear in order to keep the alligators away. He uses Bert's denial of any on Sesame Street as proof that his method works.
(First: Episode 0258)

Cartoon
Edgar Turtle sings "Hey Diddle Diddle."
Artist: Jeff Hale
(First: Episode 2404)




SCENE 7
At Finders Keepers, Ruthie suggests Big Bird save his money with a piggy bank. Since he doesn't have one, he buys it. He gives a dime for the monkeys to get a banana, while he puts the rest of his change into his new piggy bank. Over at Hooper's, the monkeys enjoy their banana while Mr. Handford announces the sponsors.

COMING SOON
Coming soon on Sesame Street: Papa Bear shows Telly Monster how to be a Bear Scout.
Community content is available under
CC-BY-SA
unless otherwise noted.