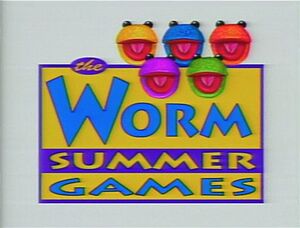 Picture
Segment
Description




COLD OPEN
Big Bird, Telly, Luis, Mr. Handford, Celina, and some kids await the broadcast of the Worm Summer Games as an announcer (voiced by Martin P. Robinson) introduces the event.




SCENE 1
Tim McCarver covers the games, being held in Wiggly City, Georgia. Slimey is a part of the worms at the event, representing The United States of America. Oscar joins as his coach, along with other international Grouches. Tim recalls Slimey's past attempts at the Worm Winter Games, even though he lost. Oscar chews out Tim for his negative coverage as the Grouches argue over who's the most proud.

Cartoon
A report on homes around the world.
(First: Episode 1711)

Song
Kevin Clash sings "Skin."
(First: Episode 2749)

Muppets
Two-Headed Monster: RUN
(First: Episode 1446)

Cartoon
Bruce the moose invites Toulouse LaGoose over for juice.
(First: Episode 2498)




SCENE 2
The first event in the Worm Summer Games is the One-Yard Dash. The worms line on Wiggly Field and begin squirming. Slimey initially is behind the rest, but picks up the pace and comes in first across the finish line!

Cartoon
A parade of toys illustrates first and last.
(EKA: Episode 2857)

Film
Ernie & Bert — Ernie plays a game of tag with Bert, who is reading his book.
(First: Episode 1026)

Animation
Planting Letters: E
(First: Episode 3009)

Cartoon
The Typewriter: E-Ear
Artist: Jeff Hale
(First: Episode 0807)

Animation
Computer E / e
(First: Episode 3071)

Film
A boy who lives in the Congo (in Africa) narrates a film of the kinds of games he and his friends play.
(First: Episode 2668)

Cartoon
"Alphabet Jungle"
(First: Episode 2733)

SCENE 3
Next is the "Over-Under-Around and Through" hurdle race, featuring Slimey and two other worms. Slimey is once again victorious. Tim tries bringing up Slimey's losses in the winter games, earning a rant from Oscar.
Blooper: Joey Mazzarino's Italian Grouch wanders into the scene, calling for his worm who's not present in the game. He runs by at the end of the scene doing the same, eliciting laughter from Tim and the crew.

Song
"Around and Around"
(First: Episode 2753)

Muppets
Grover is a personal trainer of his workout video called, "Grover's Monster Workout Video." He exercises with Bobby and Sissy, but he gets tired from swinging his arms, running, and jumping up and down that he faints.
(First: Episode 3227)

Cartoon
A man saws a letter E through the wall.
(First: Episode 0370)

Film
Ornate E's go easing by to a song.
(First: Episode 2937)

Animation
E / e Gregorian chant
(First: Episode 3300)




SCENE 4
Up next is the circle-throwing event (a miniature version of discus). Squiggly, the Kenyan worm, throws it an impressive 16 inches. Slimey goes next, hurling himself across the field along with his disc, going further than Squiggly. Tim thinks there might be a penalty call, but the judges allow it; Slimey wins another event!

Song
"I'm in Great Shape": Kids dance with triangles, circles and squares.
(First: Episode 3277)

Animation
Looking for shapes on the Aztec Calendar Stone (Maria voiceover)
(First: Episode 3049)

Muppets
"Bubble on My Snuffle"
(First: Episode 3338)

Cartoon
Knights use different words for "big."
Aritst: Fred Garbers
(First: Episode 1985)

Film
Wegman's dogs: "Jack Be Nimble"
(First: Episode 3526)




SCENE 5
Up next is the balancing event, where Slimey performs an impressive routine on the balance beam. All the judges give him a perfect score! Oscar and Slimey decide to express their happiness away from "Mr. Media."

Film
Kids dance around at gymnastics to "Rockin' Robin."
(First: Episode 3147)

Cartoon
Five Worms In An Apple
Owe Gustafson
(First: Episode 1502)

Muppets
The Rainbow Fish counts groups of 5 in the ocean.
(First: Episode 2923)

Cartoon
A girl's mom can dribble 5 balls.
(First: Episode 3448)

Muppets / Celebrity
Count von Count and his team of coaches count how many times David Robinson can dribble the basketball.
(First: Episode 3472)

Cartoon
A man talks about how much he loves his bones.
Artist: Bruce Cayard
(First: Episode 2628)

Song
Leon Redbone sings "Blueberry Mouth."
(First: Episode 3300)

Cartoon
Dinah from South Carolina exchanges letters with her friend Ling Lu in China.
Artist: ArtistMike
(First: Episode 2727)

SCENE 6
Slimey now competes in the Letter Diving event. Lo Mein, the worm representing China, attempts an Uppercase L Half-Gainer, but doesn't quite get it. Slimey tries a Lowercase L Triple-Gainer and successfully makes the dive, drenching Tim with water (much to Oscar's glee).

Film
Kid jungle explorers spot a wild letter L.
(First: Episode 3483)

Cartoon
L for Lion (poem) (new music and sound effects added)
Artist: Jeff Hale
(First: Episode 1149)

Muppets
Cookie Monster sings "Healthy Food."
(First: Episode 2404)

Cartoon
A purple elephant tries to get 10 peanuts in his trunk at once, but can't, so he smushes them into peanut butter instead.
(First: Episode 2987)

Film
A group of girls do a playground cheer ("Ooh I'm so happy!").
(First: Episode 3017)




SCENE 7
It's time for the closing ceremonies of the games, where Slimey receives 5 gold medals - a first in worm history, though Slimey can't keep his head up while wearing them all. After Tim announces the sponsors, Oscar robs him of his mic to deliver a message of perseverance to all the worms of the world.

COMING SOON
Coming Soon on Sesame Street: Gabi wants to keep a lost dog her family's found.
Community content is available under
CC-BY-SA
unless otherwise noted.