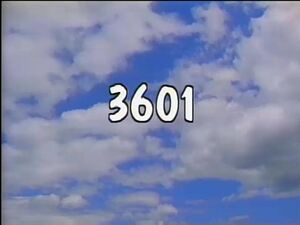 Picture
Segment
Description

COLD OPEN
While running through Central Park, Luis is followed by what appears to be a stray dog. He doesn't see any potential owners around and notices a cut on his paw. Luis decides to bring him back to Sesame Street.

SCENE 1
Luis returns to the street, finding Big Bird, Maria and Gabi playing ball. Gabi wants to keep the dog, but her parents insist on finding the owner. Big Bird, who notices the dog doesn't have a collar, pushes for them to keep the dog as well.

Cartoon
The word DOG is spelled out over a weiner dog.
(First: Episode 3226)

Film
Wanda Falbo (Word Fairy) and Barkley present a word which represents large, shaggy animals who like to chase sticks (or wands).
(First: Episode 2621)

Film
Kids in Jamaica play bongo drums.
(First: Episode 3160)

Muppets
Ernie & Bert — Bert has acquired some drums, but he doesn't know how to play them well. Ernie teaches him how to make drum playing exciting.
(First: Episode 0579)

Song
"(The Name of the Place is) The Laundromat"
(First: Episode 3159)

Film
Alphaquest: R
Running down a road past a rabbit, a radio, some rocks, and a rainbow.
(First: Episode 2726)

Film
Jaws spoof with the letter R.
(First: Episode 3351)

Cartoon
Leaves form R and r
(First: Episode 3110)




SCENE 2
Maria waits back at home, when Luis, Gabi and Big Bird return with the dog, whom the vet claims is less than a year old. Maria gets the dog ready to snap a photo of him for the "Lost Dog" posters she'll be making. She starts getting some info down on the paper.




SCENE 2 cont'd
Since the photo won't accurately depict how big his, Luis produces a scale to weigh him with. Luis picks up the dog and stands on the scale with him, then subtracts his weight from the total to get the dog's. Maria finishes the poster and goes to get her purse, when the dog chews up the poster. Big Bird takes it as a sign he wants to stay.

Song
"Say Cheese"
(First: Episode 3146)
Cartoon
B for Beard (poem by Edward Lear)
Artist: Jeff Hale
(First: Episode 1147)

Film
B's are found on a city street.
(First: Episode 3351)

Animation
Pencil Box B / b
(First: Episode 3040)

Insert
Celina teaches everyone a new dance inspired by Natasha - the "Baby Boogie."
(First: Episode 3180)

Cartoon
Jake the Snake demonstrates body parts.
Artist: Buzzco Associates, Inc.
(First: Episode 2486)

Muppets
"Elmo's Rap Alphabet"
(First: Episode 3456)

Film
Kids have a lost-dog poster made using an old-style printing press.
(First: Episode 1222)

Cartoon
Fluffy recalls being a homeless dog, getting taken in to the dog pound, and meeting his new pal Petey.
Artist: ArtistMike
(First: Episode 2981)

Muppets
After fighting with each other, the Two-Headed Monster reads the word "Love" and forgets their feud.
(First: Episode 1282)

Cartoon
Millie and Molly argue over whether to get a pet cat or a dog, so their mom gets them a turtle instead.
(First: Episode 1314)

SCENE 3
Luis returns, having put up posters everyone advertising the missing dog. They immediately get a call from a Pumpkin Anything Muppet man (performed by Martin P. Robinson), looking for his dog, Spot. The found dog seems to match the man's description, when Spot happens to return that very instant. Gabi and Big Bird cheer that the dog gets to stay, though Maria insists that despite his having to spend the night with them, they'll make more attempts to find his real owner tomorrow.

Cartoon
A dog-shaped television
Animation inspired by Keith Haring
(First: Episode 3045)

Muppets
The Count sings "Little Miss Count Along" with Zoe.
(First: Episode 3393)

Cartoon
A dinosaur tries to eat an apple on a tree. A group of kids keep telling him to "GO HIGHER!"
(First: Episode 2908)

Film
Wegman's dogs re-enact "Goldilocks and the Three Bears."
(First: Episode 3269)

Cartoon
A baby demonstrates 'happy,' 'surprised' and 'sad.'
(First: Episode 3396)

Celebrity
Take 6 sings "Take 6," a song about themselves that counts to the number 6.
(First: Episode 3001)

Cartoon
B for bathtub, ball, boat, boot, boomerang, brush and bison
(First: Episode 3154)

Film
Kid jungle explorers spot a wild letter B.
(First: Episode 3508)

Animation
B for bounce, break, blue, boat
(First: Episode 3061)

Insert
Hoots the Owl sings a special nighttime edition of "The People in Your Neighborhood."
(First: Episode 2619)

Cartoon
Abstract count to 19
(First: Episode 2827)

Film
Kid mural painting #19

Cartoon
Nineteen kernels of popcorn pop.
(First: Episode 2855)

Muppets
Two Anything Muppets sing "Me" in both English and Spanish.
(First: Episode 0372)

Song
"It's a Long Hard Road, But I'm Gonna Get There." (Vocals by Jerry Nelson)
(First: Episode 3398)

Muppets
Ernie & Bert — Ernie and Bert decide to use both Bert's canvas and Ernie's paints to paint a picture of something. Bert wants to paint a bowl of oatmeal, but Ernie wants to paint a purple monster. Finally, they decide to paint a purple monster eating a bowl of oatmeal.
(First: Episode 1446)

Film
A boy is scared to go to sleep at night, until his dad tells him to use his imagination to calm himself down. He conducts a symphony with his toys.
(First: Episode 3271)

Cartoon
Gerald is repeatedly kept awake by his dog Sparky, who does a dance and poses as an alligator through his shadow whenever his parents close his door.
(First: Episode 1519)

SCENE 4
Maria and Luis comment on the dog and find Gabi snuggling him in her sleep. Big Bird announces the sponsors.
Community content is available under
CC-BY-SA
unless otherwise noted.