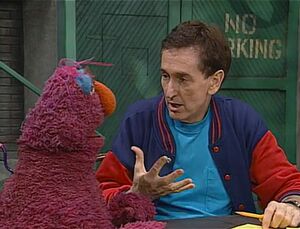 Picture
Segment
Description




SCENE 1
Bob runs to Gordon's apartment and asks if he's ready to go on their afternoon jog in the park, but he's not quite ready yet. Telly barges in, asking if the letters and number of the day have been said yet. After he says them, a postal worker comes to deliver a letter for him. An excited Telly mentions to Bob that it's the first letter he's gotten in his life. In fact, he's so excited that he doesn't know what to do. Bob insists opening it, and after a couple of silly attempts, he lets Bob open it.

Film
A girl writes a letter to her grandmother about going to summer camp.
(First: Episode 3270)

Cartoon
Hands embrace the word "LOVE."
(First: Episode 0926)

Muppets
Cookie Monster sings "You Made Me Love You."
(First: Episode 3456)

Cartoon
A postal worker tells the viewer what the post office is good for.
Artist: Cliff Roberts
(EKA: Episode 0835)

Film
Two boys walk though a city neighborhood to some funky break dancing music.
(First: Episode 2679)

Cartoon
The letter S grows on a vine.
(First: Episode 3278)

Film / Muppets
Alphaquest: S
A swimsuit, Grover as a silly surfer, a seagull, the sunset and a submarine.
(First: Episode 2729)

Cartoon
Characters on a quilt form the letter S.
Artist: Karen Aqua
(First: Episode 3368)

SCENE 2
After the letter gets opened, Gordon exits his apartment to find Telly happy with his first letter. He and Bob set off on their jog, but Telly's happy mood suddenly changes. He's too excited that he can't even read the letter. Gordon and Bob decide to read it for him, but not before Telly states this is "a very special occasion!" He runs off to grab some items.

Animation
Luxo Jr. displays its front and back, eventually getting exhausted.
(First: Episode 3279)

Song
"Dancin' Shoes"
(First: Episode 2949)

Cartoon
Kids count one duck in the pond
(First: Episode 3095)

Muppets
Celina and Zoe talk about the number one and count the things they have one of.
(First: Episode 3279)

Cartoon
Number Guy sings "How Many Birds Can Fit on This Wire?" One bird provides the answer.
(First: Episode 3338)

Film
Wegman's dogs: Old Mother Hubbard
(First: Episode 3488)

Animation
A sign above a bathroom reads "boys", while boys exit the room.
(First: Episode 3386)

SCENE 3
Telly returns with a radio, Freddy, and a bow tie, since he thinks a monster should dress up for any special occasion. Bob turns on the music (a simple fanfare), and Gordon reads the letter. It turns out the letter is from Telly's cousin, Amanda, and wants him to write her back. Thinking they're done, Gordon and Bob start to leave, when Telly interrupts and worries that he can't write. The two offer to help him write his letter. But first, Telly goes to get the supplies they need.

Song
"Write Your Name"
(First: Episode 3274)

Cartoon
Mi kat iz ... gone
(EKA: Episode 2059)

Muppets
Kingston Livingston III sings "A Cat Had a Birthday."
(First: Episode 3331)

Animation
J / j Gregorian chant
(First: Episode 3345)

Film
A man in a J costume jumps at the beach.
(First: Episode 3527)

Cartoon
The 'J' Train
(First: Episode 1169)

SCENE 4
Meeting in the Arbor, they begin to write Telly's letter. Since he doesn't know how to write a letter, Gordon and Bob suggest using the same elements from Amanda's letter, such as "Dear", "How are you", and "Love". Telly doesn't think it's quite enough, so Bob asks him to name some things he did today. His list of events end up being more than the two expect, and Telly goes to get some more paper.

Cartoon
Dinah from South Carolina exchanges letters with her friend Ling Lu in China.
Artist: ArtistMike
(First: Episode 2727)

Song
Kevin Clash sings "(I Eat With) Chopsticks" over a film of kids doing so.
(First: Episode 3270)

Muppets
The Two-Headed Monster finds a piano and decides to play it. The left half wants to play short notes, while the other half prefers to run his fingers across the keyboard. They decide to cooperate, and both use their notes to play "Chopsticks".
(First: Episode 1366)

Cartoon
"Cooperation" - a reggae song about a group of animals who wash a car together.
Artist: Michael Sporn
(EKA: Episode 2493)

Film
A saxophone is made in a factory, while a solo saxophone underscores the process.
(First: Episode 1446)

Film
A girl flies and form a circle.
(First: Episode 3130)

Celebrity
Take 6 sings their own version of The Alphabet Song.
(First: Episode 2998)

Cartoon
A boy learns to play his violin by practicing.
(First: Episode 1513)

SCENE 5
Telly's list of events keeps going on, when Bob has to stop writing because of his sore hand. Concerned about his hand, Telly suggests he take a break. However, that doesn't mean Gordon doesn't have to write, so Telly makes him take over Bob's job.

Cartoon
A family goes over their camping checklist before they leave for the woods.
(First: Episode 3411)




Muppets
Camp Wannagohoma: Grover tries to teach his campers (including Roosevelt Franklin) about what an island is, but he gets his vocabulary mixed up. He also fails to notice when the campers board the motorboat for lunch, leaving him stranded.
(First: Episode 2656)

Song
Joe Raposo sings "There's a Bird On Me."
(First: Episode 0416)

Cartoon
S for Snail
Artist: Jeff Hale
(First: Episode 1158)

Muppets / Celebrity
Carol Channing sings a spoof of "Hello, Dolly!" with Sammy the Snake, praising his ability to look and sound like an S.
(EKA: Episode 2227)

Animation
Airplanes carve the capital and lowercase S.
(First: Episode 3214)

Film
Kids make the city traffic "stop" and "go."
(First: Episode 3310)




SCENE 6
After Telly's list of events reaches an end, Gordon has him sign the letter so the two leave. Telly points out one more thing that's missing—the sponsors, which Telly writes himself. Just before Gordon and Bob finally go for their jog, Telly alerts that he needs to take it to the post office, and he can't cross the street alone. Gordon and Bob fret, but Telly quickly changes his mind and says his mom will mail it instead. After the two head off, Telly decides to draw pictures to send as well.