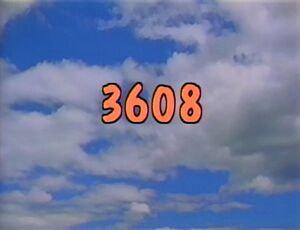 Picture
Segment
Description




SCENE 1
Sherry Netherland is hosting a tango festival at the Furry Arms Hotel, which Telly and Rosita are excited about - though neither of them know what the tango is. Before heading out to a birthday party, Maria and Luis demonstrate a tango for the monsters. Miss Netherland invites Telly and Rosita to join the festival and they accept. There's just one problem: they don't know how to dance the tango.

Animation
Playing cards form the letter T; the jack and queen tango.
(First: Episode 3138)

Cartoon
Spinning T (to the tango beat).
(First: Episode 2933)

Animation
Airplanes carve the capital and lowercase T.
(First: Episode 3230)

Muppets
Waiter Grover: Mr. Johnson eats at an airport restaurant and is on his way to South America. When Grover learns about Mr. Johnson's trip, he gives a big lecture on South America, causing Mr. Johnson to miss his flight.
(First: Episode 2616)

Cartoon
Geronimo 10-0: Instead of a parachute, she has a helicopter propeller.
(First: Episode 2262)

Film
A girl named Jyah tells about dance class. The kids do some stretching exercises, then dance in their own ways, ending with the tango (instrumental: "Naughty Door Opera").
(First: Episode 3022)

SCENE 2
Doubling as a bellhop and a waiter, Benny Rabbit agrees to help Telly and Rosita practice (though neither of them asked for his help). Miss Netherland gets the festivities started and compliments the monsters on their practicing. They ask her to dance, but find out that she doesn't have a dance partner.

Cartoon
A girl practices to roller skate over many days.
(First: Episode 3556)

Song
"I Know How to Swing"
(First: Episode 3403)

Animation
Luxo Sr. examines a box. Luxo Jr. pops out of the box, demonstrating "surprise."
(First: Episode 2851)

Muppets
Big Bird says "AMAZING!"
(First: Episode 3191)

Film
A karate team punches out the alphabet.
(First: Episode 3421)

Muppets
"Baby Blankie Blues"

Cartoon
A baby and father illustrate up and down.
(First: Episode 2687)

SCENE 3
Telly thinks that Miss Netherland could dance by herself, but she explains to him and Rosita that it's a dance for two. She points out the various couples dancing: two sheep, two chickens, etc. (Benny: "Boy, you'd think somebody was building an ark!")

Song
Holy cow, it's number 2!
(First: Episode 3193)

Muppets
Muppet & Kid Moment — Grover and Samantha see what body parts she has 2 of.
(First: Episode 3559)

Cartoon
Egyptian #2
(First: Episode 3291)

Song
"I'm in Great Shape": Kids dance with triangles, circles and squares.
(First: Episode 3277)

Cartoon
A family of snakes makes shapes, and rolls away.
(First: Episode 1506)

Cartoon
A Zerkel named Dan demonstrates -an words.
Artist: Sally Cruikshank
(First: Episode 3515)

Film
At a bus stop, three men of different ethnicities (including Bill Irwin) dance to a hip hop beat played on a radio.
(First: Episode 2919)

Cartoon
A pencil tries to write the word DANCE.
(First: Episode 1966)

SCENE 4
Marge and Charlie Chicken demonstrate their "Chicken Tango." Rosita thinks she could give Miss Netherland a turn with Telly, but she still says no.

Animation
The word EGGS is shown, followed by eggs frying in a skillet.
(First: Episode 3045)

Muppets
All types of wild animals that lay eggs sing "Let's Lay an Egg."
(First: Episode 3060)

Cartoon
African quilt pattern #3
(First: Episode 3160)

Muppets
One of the members of Baby Tooth and the Fuzzy Funk dances with a girl to the song "Hotter Than That."
Part 1
(First: Episode 3566)

Cartoon
The story of Tommy LaPlaid, the painter so sad until he discovered the joys of kicking his paints on the canvas.
Artist: Mo Willems
(First: Episode 3208)

Muppets
One of the members of Baby Tooth and the Fuzzy Funk dances with a girl to the song "Hotter Than That."
Part 2
(First: Episode 3566)

Animation
Dancing pepper pattern - which one is missing?
(First: Episode 3079)

SCENE 5
Humphrey and Ingrid demonstrate their "Fast/Slow Tango." Telly and Rosita decide they must do something about Miss Netherland before the festival is over.

Cartoon
The dancing birds dance fast and slow.
Artist: Karen Aqua
(First: Episode 3072)

Muppets
Ernie & Bert — Ernie plays house while Bert tries to guess who he's pretending to be.
(First: Episode 3529)

Film
Wegman's dogs act out the nursery rhyme Cock-a-Doodle-Doo.
(First: Episode 3572)

Cartoon
Ten tiny T's in top hats do the tippy tappy tango and take tea.
Artist: ArtistMike
(First: Episode 3230)

Film
T on the beach
(First: Episode 3540)

Cartoon
Fish form capital and lowercase T's.
(First: Episode 3126)




Muppets / Celebrity
"A New Way to Walk"
Celebrity version
(First: Episode 3233)

Cartoon
Musicians in a painting learn to cooperate to play music.
(First: Episode 3460)

SCENE 6
Rosita and Telly finally find Miss Netherland someone to tango with: Benny! Though he explains how hard he's been working, Benny immediately gives in and agrees to dance by making a deal with her about a vacation. The two perform an elaborately silly tango as Ingrid and Humphrey announce the sponsors.

COMING SOON
Coming soon on Sesame Street: Oscar proposes to Grundgetta.
Notes