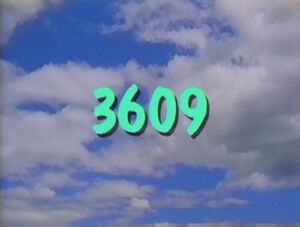 Picture
Segment
Description




SCENE 1
Gordon overhears Oscar practicing a marriage proposal to Grundgetta. He's hoping she'll say "no," her favorite word. However, as a joke, Grundgetta says "yes." Much to their horror, the Grouches realize now they have to get married!

Song
"Doing the Family Thing"
(First: Episode 3180)

Muppets
Muppet & Kid Moment — Grover asks Jesse to define marriage. They conclude that married people kiss, hug, live together, and help each other.
(First: Episode 2441)

Cartoon
A heart that says "I love you" is drawn.
(First: Episode 1971)

Muppets
Baby Tooth and the Fuzzy Funk dance with Mark Morris.
cut from the HBO Max version




Film / animation
A talking bowl tells a kid how he became a bowl.
(First: Episode 3396)

Cartoon
Apple: a riddle
(First: Episode 2889)

SCENE 2
The Grouches are upset they have to get married, when Gordon and Maria explain it's not as simple as that; marriage is a big decision that takes time. Then, the world's most perfect Grouch, Martha Sewer arrives, having heard the news and offers to plan their wedding. She shows them a photo from one of her trashy weddings, and the two grouches think it's a great excuse to throw a Grouch party. Martha schedules the wedding for today.

Cartoon
"Ooh What a Fabulous Party"
Artist: Sally Cruikshank
(First: Episode 3006)

Muppets
Ernie & Bert — Ernie wants to go outside and play catch, but Bert gets him interested in watching his goldfish.
(First: Episode 1422)

Song
"It's Fido's Birthday" - a song about a birthday party for a goldfish.

Cartoon
A boy puts together a fishbowl, and watches his fish swim around in it.
(First: Episode 2030)

Song
Reggae 'Bounce.'
cut from the HBO Max version

Cartoon
A concert pianist shows up in a construction worker's lunchbox, singing the alphabet.
(First: Episode 0449)

SCENE 3
A grouch wanders by and asks if it's time for the wedding, only to find out that it's not. Oscar and Grundgetta argue over what yucky things to decorate their invitations with. Martha suggests they combine them. She also prepares some trashy outfits for Gordon and Maria, who've been chosen as the best man and maid of honor respectively.

Film
Wegman dogs play "Jack Sprat"
(First: Episode 3522)

Cartoon
Two camels (voiced by David Rudman and Joey Mazzarino) at a watering hole learn to share.
(First: Episode 3528)
cut from the HBO Max version

Muppets
Herry Monster sings "Two Heads Are Better Than One".
(First: Episode 1447)

Animation
L / l (space paint)
(First: Episode 3216)

Film
L is for look, legs, light, lemonade, and ladybug.
(First: Episode 3427)

Cartoon
L for lion
(First: Episode 2586)
cut from the HBO Max version

Muppets
Elmo and his imaginary self sing about what he would do "If Elmo Had Teeth."
(First: Episode 3582)

Cartoon
In a circus setting, a girl becomes excited about getting her first loose tooth.
Artist:

Steven Fonti


(First: Episode 3266)
cut from the HBO Max version

Song
"It's Time for a Rhyme"
(First: Episode 3160)




SCENE 4
Martha hands Oscar a wedding ring, straight from a box of Cracker Yucks. He hands it to Telly, whom he's made the "ring-loser," the one who loses the ring. Telly unsuccessfully tries hiding it several times.

SCENE 4
cont'd
The random grouch appears again, and Oscar tells him off.

Cartoon
An elephant (voiced by Marshall Efron) asks Nesbitt (voiced by Don Arioli) for directions to the zoo, but won't listen to him long enough.
Artist: Janet Perlman
(First: Episode 1631)




Muppets
Baby Bear visits the Museum of Modern Art, where he observes Joan Miró's sculpture "Moonbird" in the garden. He then passes Big Bird, who laments, "Standing still is hard! How do statues do it?"

Cartoon
Jerry Nelson sings "Moonshine."
(First: Episode 2775)

Muppets
Zoe and Wolfgang demonstrate the concept of zero.
(First: Episode 3386)

Cartoon
A girl's friend tries to guess how many elephants she saw at the zoo today; the answer is zero.
Artist: Fred Garbers

Muppets
Muppet & Kid Moment — Cookie Monster asks Lexine what 0 is.
(First: Episode 3249)

Cartoon
A detective sees a lever and wonders what will happen if he pulls it.
(First: Episode 2613)

SCENE 5
Amid the chaos of the wedding preparations and incoming guests (including Oscar's niece Irvine and his mother), Oscar sings "I'm Getting Married in the Trash Can." As everyone heads to the wedding, Telly proudly declares he's lost the ring, until a girl returns it to him.

Cartoon
"L Look Around Song"
Artist: Bruce Cayard
(First: Episode 1483)

Film
The letter L dances at the beach.
(First: Episode 3573)

Cartoon
L for Laugh (new music added)
Artists: Vincent Cafarelli & Candy Kugel
(First: Episode 2767)

Muppets / Celebrity
Robin Williams and a robin observe how similar they are. Afterwards, the robin sings "Lullaby of Birdland".
(First: Episode 2848)
cut from the HBO Max version

Cartoon
Leanna Williams must save the world by cleaning it.
Artist: ArtistMike
(EKA: Episode 2839)

SCENE 6
The wedding ceremony begins, presided over by The Justice of Disturbin' the Peace. After the "I do"s, he asks if anyone opposed their Grouchy ending.

SCENE 6
cont'd
Oscar stops the wedding, fearing he and Grundgetta are too right for each other and may make each other...HAPPY! Martha insists the wedding continue for them to have their party, but Maria thinks otherwise. The wedding is called off and a trashy party begins. Martha tries to get the ring back from Telly, who's finally learned to lose it.

SCENE 6
cont'd
Mr. Handford announces the sponsors, and the random grouch pops up to get a taste of the cake.

COMING SOON
Coming soon on Sesame Street: The Count tries to console a frustrated number 1 who wants more out of her life.
Notes
As Oscar prepares his marriage proposal, he includes, "You will marry me, won't ya?," which is quoted verbatim from Caroll Spinney's own proposal to his wife, Debi.[1]
This episode can be viewed at the UCLA Film and Television Archives.
Additional performers include Jerry Nelson (as the recurring grouch guest), Alice Dinnean (decorator), Lisa Buckley (decorator), and Peter Linz (grouch at wedding).
Sources