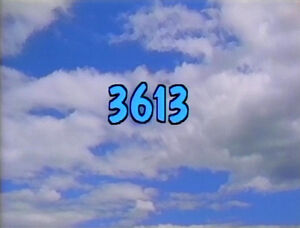 Picture
Segment
Description




Cast / Celebrity
Arrested Development performs "Pride" as everyone on Sesame Street joins them.
(First: Episode 3319)

Animation
School supplies make the letter E.
(First: Episode 2880)

Film
Jaws spoof presenting the letter E.
(First: Episode 3300)

Cartoon
E for Eel
(First: Episode 0408)

Film
Two boys working at the family Mexican restaurant show how they prepare for the day, and how tacos and enchiladas are made.
(First: Episode 1890)

Cartoon
Sarah Wenkel reads a poem about a bug.
Artist: ArtistMike
(First: Episode 3518)

SCENE 1
Roxie Marie greets the viewer as Humphrey plays an extended game of peek-a-boo with Natasha, who starts to grow tired of it. Roxie suggests Humphrey read a book instead, so he begins reading from her fifth grade math book, which doesn't suit Natasha. Roxie then suggests he borrow a more appropriate book from the library, a place Humphrey is not familiar with. Roxie tells him to follow her.

Song
"In the Library"
(First: Episode 3423)

Muppets
Big Bird talks about between by showing that he is in the middle between Zoe and Radar.
(First: Episode 3500)

Cartoon
Anansi the Spider tells the story of a sad mouse.
Artist: Fred Garbers
(First: Episode 3367)

Animation
Planet E / e
(First: Episode 2840)

Film
Wegman's dogs form a letter E.
(First: Episode 3267)

Cartoon
E for Erase
(First: Episode 0486)

Muppets
Benny Rabbit looks for the Shopping Network, but finds himself on the Home Hopping Network, hosted by Bonnie Rabbit.
(First: Episode 3238)

Film
How to say "bunny rabbit" in sign language
(First: Episode 3300)




SCENE 2
The trio arrives at the library and Humphrey promises his daughter that behind the doors is a "whole new world" certain to make Natasha happy. They meet Luis and Linda inside and they explain what Linda's role is. Linda carries Natasha off and Roxie looks for a book, leaving Humphrey on his own. He decides to see what's going on.

SCENE 2 cont'd
Linda has situated Natasha at a table with a perfect book - Tickle the Elephant. Humphrey reads the interactive story, which both he and Natasha really enjoy. He starts to read it again, unaware Natasha has slipped out of her highchair.

Cartoon
A mouse demonstrates between by squeezing between two elephants.
(First: Episode 2750)

Muppets
"The Elephant Elevator Operator"
(First: Episode 3067)

Animation
The word ELEVATOR gets on one.
(First: Episode 3372)

Film
A group of girls do a playground cheer ("One step forward, one step back").
(First: Episode 3031)

Cartoon
A bird displays the front and back of a turtle.
(First: Episode 0789)

Cartoon
Growing Numbers #14
(First: Episode 2930)

Cartoon
The lightning bugs at the Glowworm Jamboree display the numbers 1-14.
Artist: Fred Garbers
(First: Episode 3515)

Film
Kid mural painting #14

Muppets
Elmo sings a happy "Be Doodle Dee Dum" with help on the chorus from Zoe, Telly Monster, a Honker, and Baby Bear. He explains that the silly song can be sung anywhere and will help cheer up the singer. Mama Bear, Papa Bear, Ernie, Bert and Rosita also make brief cameos.

Cartoon
Big, bigger and biggest elephants
(First: Episode 0389)




SCENE 3
Roxie Marie introduces F. N. Jones, the author and illustrator of Tickle the Elephant. He's making a personal appearance at the library to read his story and fields some questions first. When asked what inspired the story, he calls in his pet elephant, Simba, who loves being tickled. Natasha appears and starts tickling him, then acts out the story as Jones reads it. Simba begins tickling Natasha instead, inspiring Jones to write a new book - Tickle Natasha!

Cartoon
A girl fantasizes what she could do without leaving her room if her nose, ears, legs, and arms got bigger.
(First: Episode 3285)

Song
14 Karat Soul sings "Hand Talk."
(First: Episode 2622)




Muppets
The Count's Fairytale Theatre: The Count tells a new version of "This Little Piggy Went to the Market" for ten toes. The little piggy who stayed home, did so to read a book: War and Pigs, and the tenth pig gets shot out of a cannon.

Cartoon
A pig dances a jig while wearing a wig.
Artist: Joey Ahlbum
(First: Episode 3525)

Film
Katie is going to be a big sister.
(First: Episode 2769)

Animation
A piece of paper floats down onto a table, then folds itself into a paper crane, which flies away.
(First: Episode 2920)

SCENE 4
Humphrey, still unaware Natasha is gone, reads the book yet again. Natasha slips back into her highchair just as he finishes, when Roxie Marie tries introducing him to F.N. Jones. Humphrey mistakes Simba for the author and praises his work.

Cartoon / Film
Gordon narrates "The Maestro Plays," a story featuring adverbs.
(First: Episode 3579)




Song
Jerry Nelson sings "The Inside Story" over film footage which shows the insides of ordinary household items.
(First: Episode 2724)

Cartoon
I've got some (hair), I've got more, but I've got the most.
(First: Episode 0524)

Muppets
Sesame Street News Flash: Kermit the Frog reports on Rapunzel, who has been locked in a tower by the wicked witch. Prince Charming comes to rescue her by asking to let down her hair, and she literally does... by having her hair fall off her head.
(First: Episode 0409)

Cartoon
Letters appear over a sky-view of a neighborhood.
(First: Episode 3267)

SCENE 5
Humphrey continues reading the book, as Simba continues tickling Natasha. Jones begins writing his next story as Roxie Marie announces the sponsors.

COMING SOON
Coming Soon on Sesame Street: Big Bird introduces his friend Kerri, who is blind.
Community content is available under
CC-BY-SA
unless otherwise noted.