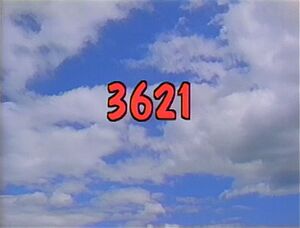 Picture
Segment
Description

SCENE 1
Luis and Gabi get ready to go to the ballet and pretend they're dancers. Luis lifts Gabi into the air, throwing out his back in the process. Maria recommends he lay down on the couch, but he insists on going to the ballet and slowly makes his way out the door.

Song
Joe Raposo sings "Frog Struggle Song."
(First: Episode 0492)

Muppets
Elmo and Zoe watch Jock Soto and Lourdes Lopez cooperate to dance ballet, and dance with them.

Cartoon
Two itchy gorillas agree to scratch each other's backs.
(First: Episode 1456)

Film
Children dance to different rhythms from around the world.
(First: Episode 2499)

Cartoon
A caterpillar sings "Exercise, Exercise."
Artist: ArtistMike
(First: Episode 2839)

Film
A big K emerges, "Jaws"-like, in a swimming pool.
(First: Episode 3326)

Cartoon
A lion named Kent says that he gets a Kick out of being King of the Forest.
Artist: Bruce Cayard
(First: Episode 0619)

Film
Ornate Ks fly through the air to a song.
Artist: Jane Aaron
(First: Episode 2945)

SCENE 2
Big Bird observes Luis' struggle to get down the steps of 123 Sesame Street, thinking it's some type of game. As Big Bird takes a turn, Gabi wishes to forgo the ballet for the sake of Luis' back and they head back up the stairs, with Big Bird following (still playing along).

Animation
Luxo Jr.: Up and Down
(First: Episode 3130)

Film
In Trinidad, Asha and her friends practice and dance on stilts in preparation for a carnival.
(First: Episode 3427)

Cartoon
Todo el mundo necesita agua
(First: Episode 0780)

Muppets
Rosita sings "No Matter What Your Language."

Cartoon
Kids observe cloud formations, until it starts to rain.
(First: Episode 2074)

Film
Kids play loud and soft notes on the Shpritzer.
(First: Episode 3428)




SCENE 3
Maria gets off the phone with the doctor, who prescribes plenty of rest for Luis. Big Bird learns Luis isn't actually playing a game and assists the family in moving him to the couch. They get quite close, until Luis' back gives even more; he can't move another step. They fix this by moving the couch closer to him and plop him down.

Cartoon
"How I Got the Hives," a true story by Corky Pumpkin.
Artist: ArtistMike
(First: Episode 3353)

Film
Bethany visits the doctor.
(First: Episode 3585)

Muppets
The Mostly Monster Festival Choral Society presents "The Alphabet, Theme and Variations," by Mozart.
(First: Episode 3525)

Cartoon
An opera house is full when an operatic tenor sings, but it becomes empty when his partner (of lesser musical talent) attempts to sing. On their way home, the tenor and his partner become stuck on the freeway, where the lanes are full - but all it takes to make them empty is some bad singing.
Artist: Gene Barretta
(First: Episode 3556)

Film
Milo Counting: 8
(First: Episode 3554)

Muppets
Little Chrissy sings "Eight Balls of Fur."
(First: Episode 2669)

Cartoon
Worms form the number 8.
Artist: Owe Gustafson
(First: Episode 1563)

SCENE 4
Maria goes off to the Fix-It Shop, leaving Luis in Gabi and Big Bird's care. Gabi fetches some items to help him feel better - the laundry basket (to rest his legs on), the baking pan (to rest his arms), a teddy bear (to rest his head) and his radio to listen to. Gabi gets another idea and hurries Big Bird into the other room.

Animation
A girl skips home through the city, hearing all kinds of noises. When she gets home, she repeats all the noises she heard with a little dance.
Artist: John Korty
(First: Episode 1877)

Song
14 Karat Soul sings about what's "Down Below the Street."
(First: Episode 2556)

Cartoon
The word "Subway" rides the MBTA subway.
(First: Episode 3375)

Muppets
Monsterpiece Theater
Alistair Cookie displays an embarrassed Prairie Dawn with a little house on her head. Cookie then displays "Little House UNDER Prairie," but then when he announces "Little House IN Prairie," she comes into the studio and tells him that would be impossible. He proves her wrong when he eats the little house, calling it 'Little House in Alistair Cookie'! Coming up next week: "The House of Seven Gobbles".
(First: Episode 3207)

Film
Kids in Jamaica play bongo drums.
(First: Episode 3160)

Cartoon
A lizard, a girl and a dog dance.
Artist: Karen Aqua
(First: Episode 2795)

SCENE 5
Gabi and Big Bird return in some new outfits, ready to bring the ballet to Luis, since they aren't able to go. In their ballet, Big Bird plays a bird who hurts his back reaching for a worm. A magical princess (Gabi) helps him out.

Animation
"Front Back Ballet"
Artist: Jane Aaron
(First: Episode 3016)

Film
William Wegman's Weimaraner is a king.
(First: Episode 3570)

Cartoon
K is for Karate
(First: Episode 0489)

Film
The letter K dances at the beach.
(First: Episode 3554)

Cartoon
Cap'n Feenie asks, "What is it?" It's the ocean.
Artist: ArtistMike
(First: Episode 2710)

Cast
"Between You and Me" (Gina and Savion)
(First: Episode 3133)

Cartoon
Passengers on a crowded subway illustrate between.
(First: Episode 0795)




Film
Kids practice circus acts and give a performance in a gymnasium.
(First: Episode 2889)

Muppets
Ernie & Bert — Ernie comes from finishing his bath, and tells Bert that there's something that he forgot. Bert asks if he's washed behind his ears, his neck, and his elbows. Finally, Ernie remembers that he forgot to turn off the water in the tub -- as the water level rises.
(First: Episode 0347)

Film
Feet wearing all different types of shoes dance.
(First: Episode 2601)

SCENE 6
Big Bird heads back to his nest to take a rest from dancing, while Gabi tucks Luis in for a nap of his own. Maria announces the sponsors.

COMING SOON
Coming soon on Sesame Street: Telly sings a grouchy version of "Sing After Me" with Celina and the kids, to Oscar's detriment.