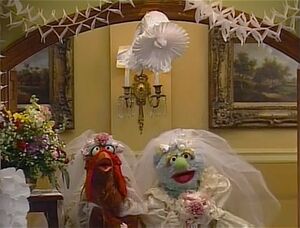 Picture
Segment
Description

SCENE 1
Today, Humphrey and Ingrid are celebrating their nine-year wedding anniversary and thumb through their photo album. They interpret Natasha's babbling as her wanting to hear the story of when they first met, so Humphrey begins to reminisce...

SCENE 1 cont'd
In the past, Humphrey is seen as a young bellhop working at the Furry Arms. He muses about meeting his true love soon. He proceeds to sing a song about how he'll know when his love comes revolving through the front door. Benny orders him to start collecting the luggage of their guests for the day, the Dance Theater of Chickens. Just when he leaves, Ingrid, the sole monster of the dance troupe, arrives and gets stuck in the revolving door.

SCENE 1 cont'd
The proud parents assure Natasha that the story will have a positive ending, though Natasha focuses on chewing the photo album.

Film
A girl dances her way into a family portrait.
(First: Episode 3134)

Muppets
Sesame Street News Flash
Kermit interviews a bird who sings about how her parents still love her even though they don't live together anymore (though it is not directly stated whether her parents are divorced or separated).
(First: Episode 2695)

Animation
Portraits of kids display the alphabet.
Artist: Lisa Crafts
(First: Episode 3203)

Cartoon
"The Room is Full of Chickens"
(First: Episode 2971)

SCENE 2
Ingrid points to a photo of herself and her former flamenco dancer parter, Murray the chicken. They continue the story of their first meeting...

SCENE 2 cont'd
Humphrey stands by a large stack of suitcases, certain that the girl of his dreams is nearby. From the other side of the stack, Ingrid calls for the bellboy's help in moving the bags to her room. They are unable to see each other and constantly find themselves on the wrong side no matter what solution they come up with.

Song
"Around and Around"
(First: Episode 2753)

Cartoon
A dinosaur tries to move around a rock.
(First: Episode 2744)

Film
Girls do a hand-clap game about the letter Q.
(First: Episode 3322)

Cartoon
Fish swim to form Q and q.
(First: Episode 3105)

Muppets
Big Bird is between what we just saw and what we're about to see ...
(First: Episode 3145)

Cartoon
"Poverty Q": A figure demonstrates Q words, despite the unruly stem of his letter Q that keeps detaching itself.
Artist: Cliff Roberts
(First: Episode 0048)

Muppets
Grover and Rosita explain the concept of "love" in 15 seconds. Grover exasperates about the assignment, but Rosita intervenes just in time.
(First: Episode 3527)

Cartoon
A pig sings "Pig's Love Song." (new sound effects added)
(First: Episode 0462)

SCENE 3
Natasha gnaws on the album some more, while her parents continue with their romantic tale...

SCENE 3 cont'd
Humphrey gets the idea to make the pile of suitcases smaller so he and his mystery girl can finally see each other. Ingrid reaches for the top, while Humphrey takes from the bottom, causing the whole pile to collapse on them. They rise up and meet face to face; there in an instant attraction between the two. Despite seeming like love at first sight, they turn away and look back at each other several more times to confirm it's love (at 10th sight).

SCENE 3 cont'd
Back in the present, Humphrey and Ingrid take another look at each other and declare it love at 4,386,506th sight.

Film
The McDoubles (Batty and Crooky) count to 10 with their fingers.
(First: Episode 3224)

Cartoon
Fluffy recalls being a homeless dog, getting taken in to the dog pound, and meeting his new pal Petey.
Artist: ArtistMike
(First: Episode 2981)

Muppets / Celebrity
Monster on the Spot
Telly tries to report on "Peek-a-Boo Street," but can't find it. He discovers he's supposed to report on Olympic skier, Picabo Street.
(First: Episode 3312)

Cartoon
Rap #7
(First: Episode 2506)




Cast
In a spoof of the famous Mean Joe Greene Coke commercial, football player Big Murray (Gordon) accepts a number 7 from a young fan, whom he rewards with a towel that also has a 7 on it.
(First: Episode 1535)

Cartoon
The Alligator King
Artist: Bud Luckey
(First: Episode 0411)

Film
A boy named Anthony and his parents are trapeze artists in a circus. David Larible, a clown from the Ringling Bros. and Barnum & Bailey Circus, appears in some scenes.
(First: Episode 3579)

Cartoon
"Big Kid Photo Album"
(First: Episode 3441)

SCENE 4
Natasha bangs her rattle on one of the photos, which happens to be one of when Humphrey proposed to Ingrid...

SCENE 4 cont'd
Humphrey gets down on one knee and tries to pop the question to Ingrid. A miscommunication sends Humphrey on a lecture on the nature of questions, losing his train of through and forgetting what he was going to ask. Ingrid asks questions of her own to deduce that he was going to ask her to marry him. They both accept each others' proposal, when Ingrid realizes that getting married means she'll have to leave the dance troupe, leaving Murray without a partner and making him sad. The young lovers don't know what to do now.

Song
"Say Cheese"
(First: Episode 3146)

Animation
Airplanes carve the letter Q.
(First: Episode 3179)

Muppets
Big Bird and a duck present the letter Q.
(First: Episode 3379)

Film
Q, for quack. Quiet!
(First: Episode 3405)

Cartoon
A man pulls a rabbit out of his hat, but the rabbit turns out to be a cow. "Surprise!"
Artist: John Schnall
(First: Episode 2770)

Muppets
Ernie sings "The Honker-Duckie-Dinger Jamboree."
(First: Episode 1920)

Animation
The word LOVE is formed on paper.
(First: Episode 3564)

SCENE 5
Natasha has pulled a photo from the album to suck on. Ingrid believes that she loves the story so much, she's trying to suck it from the photograph. Humphrey continues the story...

SCENE 5 cont'd
Humphrey and Ingrid are sad that their wedding plans may cease to be, when Humphrey realizes he's not sad - he's angry at Murray for throwing a wrench in their plans. Ingrid points out that that have to tell Murray the news first before they can find out how he feels. As it turns out, Murray also has plans to get married and intends on leaving the troupe. The news surprises Humphrey and Ingrid, who then feel happy because now they can wed.

SCENE 5 cont'd
The proud parents ask Natasha how she feels about the story; Natasha responds with a burp.

Cartoon
"Island of Emotion"
Artist: Sally Cruikshank
(First: Episode 2822)

Muppets
Elmo and Winston, a beluga whale, demonstrate the word LOVE.
(First: Episode 3526)

Cartoon
What if we celebrate Valentine's Day with chickens instead of hearts?
(First: Episode 0488)

Film
A child voice-over talks about a Hawaiian party that her family has.
(First: Episode 3139)

Muppets
Muppet & Kid Moment — Grover asks Jesse to define marriage. They conclude that married people kiss, hug, live together, and help each other.
(First: Episode 2441)

Song
John Pizzarelli sings about feeling "happy and proud" on your birthday.
(First: Episode 3421)

SCENE 6
Humphrey and Ingrid begin to describe the happy occasion when they were wed...

SCENE 6 cont'd
The Furry Arms is all decked out for a double wedding, for the monster and chicken couples. Benny serves as Humphrey's "best Bunny." Ingrid and Selma Perdue, Murray's chicken bride, march down the isle. Sherry Netherland permits everyone in attendance to proceed crying. The Justice of the Peace confirms the couple's love and faith to one another, switching between speaking English and chicken. He officially declares them married and they all kiss each other, though Benny stops them before he gets kissed.

SCENE 6 cont'd
Humphrey and Ingrid tell each other they love the other and kiss, then kiss Natasha, who coos and falls asleep in their arms. The Justice of the Peace announces the sponsors.
Community content is available under
CC-BY-SA
unless otherwise noted.