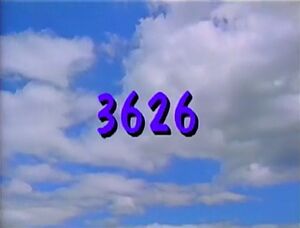 Picture
Segment
Description

COLD OPEN
An announcer (Martin P. Robinson) introduces today's story of "The Princesses and the Stick," as well as the cast. He then throws it to the theme song.




SCENE 1
Narrator Celina begins reading the story. The princesses (Rosita and Gabi) love their favorite toy, a stick. To show how much they love it, they decide to buy a nice ribbon to decorate it with. They leave the stick behind as they go off.

SCENE 1 cont'd
Just then, two baseball players (Luis and Lexine) are sad because they don't have a bat. They spot the stick and think it will be perfect. They take it to the park and when the princesses return, they weep for their missing stick. What will happen next? Stay tuned to find out!

Cartoon
"I Have a Purple Bucket"
(First: Episode 3467)




Muppets
In Search of Fish - Wolfgang the Seal tries to look for fish at the New York Aquarium.
(First: Episode 3528)

Film
The letter L dances at the beach.
(First: Episode 3573)

Cartoon
The Typewriter: L for lion
Artist: Jeff Hale
(First: Episode 0762)

Song
"L Rings My Bell"
(First: Episode 3580)

Muppets
Baby Tooth and the Fuzzy Funk: Irish step dance
Part 1




SCENE 2
As the story continues, the ball players leave the stick behind as they go get a drink. Soon, a hat catcher (Carlo) comes by, sad that one of his hats is stuck out of reach in a tree. He spots the stick and uses it to retrieve the hat, making him happy. The ball players return to see their stick is gone and join the princesses as they all sob together.

Song
"It's All Right to Cry"
(First: Episode 3154)

Cartoon
A scientist builds a robot that has real feelings, such as sad, happy and afraid. (new music added)
(First: Episode 0769)

Muppets
"Forty Blocks From My Home"
(First: Episode 2614)

Animation
Luxo Jr. displays its front and back, eventually getting exhausted.
(First: Episode 3279)

Muppets
Grover talks about front and back, but whenever Grover wants to talk about front, the camera suddenly cuts to a shot of his back, and whenever he wants to talk about back, the camera cuts to a shot of his front.
(First: Episode 0139)

Film
Kids draw a map of their neighborhood, and then learn how maps are really made.
(First: Episode 2760)

Muppets
Baby Tooth and the Fuzzy Funk: Irish step dance
Part 2




Muppets
When Zoe wants Maria to read to her, Big Bird tells her what to say: "Read Me a Story."
(First: Episode 3388)

Cartoon
Anansi the Spider tells a story of how he helped the monkey and the baboon reach a compromise.
(First: Episode 3361)

Film
L is for look, legs, light, lemonade, and ladybug.
(First: Episode 3427)

Muppets / Celebrity
Samuel Ramey performs "L Toreador."
(First: Episode 3337)

Cartoon
L for Lion (poem)
Artist: Jeff Hale
(First: Episode 1149)

Film
Wegman's dogs act out the nursery rhyme Cock-a-Doodle-Doo.
(First: Episode 3572)

Cartoon
Some animals want a boy to share his birthday cake with them, but he keeps changing his "No ______ allowed" sign, until they all offer him a glass of milk.
Artist: Gene Barretta
(First: Episode 3558)




SCENE 3
In the next chapter of the story, the hat catcher leaves the stick behind and a fisherman (Telly) happens upon in. He needs a fishing pole and thinks the stick will work fine. He takes it to the pond and catches a large fish (Bob). The hat catcher sees the stick is missing and cries, joined by the princesses and ball players. Stay tuned for the final part!

Cartoon
Leanna Williams explains why she loves her brother's shoes - she has fun with the box they came in.
Artist: ArtistMike
(First: Episode 2985)

Song
David sings "I'm Pretty" over a film of fish and other sea creatures.
Refilmed version
(First: Episode 2490)

Muppets
Ernie & Bert — Bert and Ernie go fishing. Ernie catches fish by yelling "Heeeeere fishy, fishy, fishy!", and they come flying into the boat. Bert tries it, but only catches a shark.
(First: Episode 1641)

Cartoon
Four people cooperate building a table.
(First: Episode 0537)

Insert
Gordon does the "Cold Dance" with some kids and Natasha.
(First: Episode 3359)

Cartoon
Snowmen show the word COLD.
Artist: Lisa Crafts
(First: Episode 3606)

Film
Some kids talk about a garden they have in the middle of the city.
(First: Episode 2889)

Film
Six children dance in a colorblock grid.
(First: Episode 3141)

Animation
"Six Circus Balls"
Artist: Jane Aaron
(First: Episode 3001)

Cartoon
Six camels
Artist: Owe Gustafson
(First: Episode 1503)

Muppets / Celebrity
Robin Williams shows Elmo the many fun things one can do with a stick.
(First: Episode 2835)

Cartoon
"The Stranger" - a song about a baseball team hesitantly allowing a newcomer to join them, who ends up helping them win the game.
Artist: Michael Sporn
(First: Episode 2108)




SCENE 4
In the final chapter of "The Princesses and the Stick," the fisherman leaves the stick with the fish as he goes to get a drink. The fish also becomes thirsty and dives into the pond, taking the stick with him. The fisherman returns and begins sobbing when he sees the stick is gone. Everyone joins him in crying, when the fish returns with the stick. Since they all want it, he suggests they cooperate and take turns, giving them all a happy ending.

SCENE 4 cont'd
The cast all take a bow as the announcer recites today's sponsors.

COMING SOON
Coming Soon on Sesame Street: Big Bird believes a banana (Bob) is his sister.
Community content is available under
CC-BY-SA
unless otherwise noted.