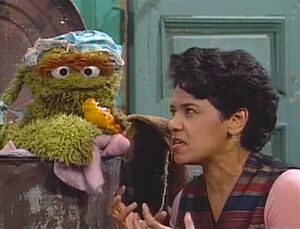 Picture
Segment
Description




SCENE 1
Oscar attempts to separate Irvine from her blanket; he wishes to put it through a mud wash to make it even dirtier, but Irvine refuses to give it up. When he gives up, Maria (having been through the situation before with Gabi) offers to help. Her solution is to get Irvine to exchange her blanket for her squeeze-toy alligator. She keeps both instead.

Song
Hoots the Owl sings "This is How We Take a Bath."
(First: Episode 3216)

Film
Wegman's dogs: Rub-a-Dub-Dub
(First: Episode 3530)

Cartoon
Sign Man: DIRTY
(First: Episode 1121)

Muppets
Monsterpiece Theater: "Monsters with Dirty Faces" (new music and sound effects added)
(First: Episode 3134)

Cartoon
M for Moon
Artist: Jeff Hale
(First: Episode 1163)

Film
Two girls sing "Miss Mary M" as they clap.
(First: Episode 3297)

Cartoon
Melba spells her name and her brother's name on their robot, Meltro.
(First: Episode 3363)

SCENE 2
Oscar attempts to trick Irvine into dropping the blanket, but that also fails. Maria presses onward and talks Irvine into getting it washed. Irvine now wants to wash her blanket, and even gets to put it in herself! Maria is proud of her idea, until she gets a face full of mud from inside the can.

Song
"Front Back Ballet"
Artist: Jane Aaron
(First: Episode 3016)

Film
A group of girls do a playground cheer ("One step forward, one step back").
(First: Episode 3031)

Cartoon
Abstract count to 17
(First: Episode 2820)

Animation
Ornate 17s swing by.
(First: Episode 3319)

Animation
Rubber Stamp #17
(First: Episode 2975)

Muppets
Elmo, Telly and Zoe want to show "between" by having Elmo appear between the other two. However, the never get in the right order and are forced to run around and switch place.
(First: Episode 3384)

Cartoon
A mouse demonstrates between by squeezing between two elephants.
(First: Episode 2750)

Song
"Toothpaste Factory Rap"
(First: Episode 3266)

Cartoon
A girl recites a poem about her first loose tooth.
Artist: ArtistMike
(First: Episode 3319)

Insert
Celina invites Benny Rabbit to dance with her and the kids and he declines, as he only likes doing his own dance - "The Benny Hop." He reluctantly shows them how the dance goes and finds himself having a great time.
(First: Episode 3301)

Cartoon
A magician tries to pull a rabbit out of his hat, but instead finds the numbers 1-20, which the rabbit repeats at the end.
(First: Episode 0337)

Film
A boy who lives in Alaska narrates a film of himself going ice-fishing with his grandfather and sister.
(EKA: Episode 2375)

Cartoon
While fishing one day, a boy catches the letters of the alphabet. Frustrated at not having caught any fish to eat, he decides to use his catch for alphabet soup.
(First: Episode 0004)

SCENE 3
Irvine now cries since she misses her blanket, and Maria notices how upset she sounds. Oscar puts on a trashy videotape to keep her mind off it...

Film
"Box City Recycling Rap"
Kids sing a rap song about recycling. They build a city out of boxes and cartons.
(First: Episode 2851)

SCENE 3 cont'd
Irvine is in a much better mood after the video, scatting the tune, but Maria accidentally mentions her blanket, so she starts bawling again. Oscar tells Maria to put in another trashy video...

Song
"Every Bit of Litter Hurts"
(First: Episode 2721)




Muppets
Big Bird's Video Postcards: Big Bird visits the Green Market in Union Square. He thinks the food comes out of packaging, but his friends show him how food is grown on their farm.
(First: Episode 3435)

Cartoon
P, for peas
(First: Episode 3485)

Song
"Praise the Letter P, Please, Please, Please" (James Brown style)
(First: Episode 3400)

Cartoon
P is for Puddle
(First: Episode 0452)

SCENE 4
Irvine is still bawling, and doesn't want to watch any more trashy tapes. Maria returns from the library with a book - Grouchy Baby's Favorite Things, a picture book of Grouchy items to take Irvine's mind off her blanket. Maria hesitates to read the last page, as it is about Grouchy Baby's blanket. When they accidentally blurt it out, Irvine starts crying again, so Oscar goes to check on her blanket.

Film / Muppets
Alphaquest: M
The girl uses mittens to make monster mush, which is eaten by a Muppet monster.
(First: Episode 2724)

Muppets
The Sublime Miss M performs "The Sublime Ms. M."
(First: Episode 2837)

Cartoon
Typewriter: M for magic
Artist: Jeff Hale
(First: Episode 0841)

Song
"You're Important"
(First: Episode 3396)

Cartoon
Look both ways before you cross the street
Artist: Ray Favata
(First: Episode 1397)




Muppets / Celebrity
"A New Way to Walk"
Celebrity version
(First: Episode 3233)

Film
The sign flashes WALK and DON'T WALK.
(First: Episode 3272)

SCENE 5
Oscar returns with Irvine's blanket, which she immediately grabs and cuddles. He then tells Maria to scram before she upsets Irvine any further. She announces the sponsors before she leaves.