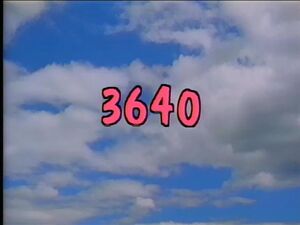 Picture
Segment
Description

COLD OPEN
Oscar announces Slimey's mother is having a baby...though they're not sure when.

SCENE 1
Oscar watches the skies for an airplane that Slimey's father, Dusty, will be riding from work to take his wife to the hospital. They receive a wormgram from Dusty, saying he missed the plane and is waiting for the next one. He adds that Oscar had agreed to help if he couldn't make it.

Film
Katie is going to be a big sister.
(First: Episode 2769)

Animation
A portrait of MOM hangs in a gallery.
(First: Episode 3318)

Celebrity
"Rubber Duckie" with Little Richard.
(First: Episode 3263)

Cartoon
Number Creatures #20
(First: Episode 2687)

Animation
A chicken lays 20 eggs, which hatch.
(First: Episode 3122)

Animation
Parade of Numbers #20
(First: Episode 3365)

Song
Sesame Street Creature Feature: The Whiskeyjack
(First: Episode 3196)

Cartoon
"Family Dance"
Artist: Karen Aqua
(First: Episode 3487)

Muppets
A baby Honker hatches from an egg and learns to honk like all the Honkers.
(First: Episode 1616)

Cartoon
How they say "good night" in Haiti and in India.
(First: Episode 1824)




SCENE 2
Maria and Luis help Oscar pack Eartha's overnight suitcase. They load in several (teeny, tiny) items, including a small photo of Slimey, who helps fit all the things into the suitcase.

Cartoon
Lillian discusses the adjustments she had to make when her parents had a new baby. She ultimately appreciates her sister.
Artist: Craig Bartlett
(First: Episode 2746)

Muppets
The Martians are a "Yip Yip Family."
(First: Episode 2724)

Cartoon
An ape takes a bite out of a yellow A.
(First: Episode 2813)

Muppets
Big Bird gives Grover 30 seconds to find the Letter A. Grover has a hard time, especially with the "big pink thing-a-ma-jig" in the way.

Animation
Pencil box A/a
(First: Episode 3082)

Song
"Happy Happiness," against footage of kids playing at a beach.
(First: Episode 3320)

Cartoon
Don't cross the street alone.
(EKA: Episode 1942)

SCENE 3
Everyone loads into The Sloppy Jalopy. Maria and Luis are skeptical it'll make it to the hospital, but Oscar reminds them it worked when they went to the hospital to give birth to Gabi. Oscar fastens Slimey's seatbelt and tests out the other worm seatbelts with Maria and Luis, who use their fingers as worms. Oscar then tests out the sirens and flashers of the car, which won't shut off for 20 minutes. The grown-ups can't escape; they're trapped in the seatbelts.

Cartoon
A girl fantasizes what she could do without leaving her room if her nose, ears, legs, and arms got bigger.
(First: Episode 3285)

Song
"Get On Up (Everybody Move)"
(First: Episode 3410)

Cartoon
A man is allergic to the letter A.
(First: Episode 3311)

Film
The letter A dances at the beach.
(First: Episode 3569)

Animation
Airplanes carve the capital and lowercase A.
(First: Episode 3209)

Song
"I'm a Little Airplane"
(First: Episode 3266)

SCENE 4
Another wormgram arrives from Dusty, who says he's on the next flight and may be late.




SCENE 4 cont'd
On the plane, Dusty (voiced by John Raitt) imagines what it'll be like to have a child and sings an inner soliloquy. After his song, a flight attendant points out their proximity to Sesame Street and reminds the passengers of their "No Singing" policy.

Animation
Amelia likes to pretend she can fly.
(First: Episode 2902)

Film
"SCHOOL!" (high speed footage)
(First: Episode 3278)

Cartoon
At a construction site, a blue man builds a cuckoo clock, which gives him his lunch.
(First: Episode 1924)

Song
"When You Grow Up"
(First: Episode 2912)




SCENE 5
Eartha begins to wriggle back and forth, indicating the baby is coming. Dusty sends another wormgram, telling them to just head to the hospital without him. The Sloppy Jaloppy won't start and Eartha begins to go into labor. Maria assists her and her new baby girl is born.

SCENE 5 cont'd
Just then, Dusty arrives via parachute with a bouquet of flowers.

Cartoon
Letter I (Beep Beep)
(First: Episode 0427)

Muppets
Harvey Kneeslapper asks a man, "Do you want me to keep an eye on your hat?" The man says yes. Harvey then puts a letter I on top of the man's hat, crushing it in the process.
(First: Episode 0288)

Cartoon
A boy and a dog fight over a letter "I."
(First: Episode 0143)

Muppets
Big Bird talks about between by showing that he is in the middle between Zoe and Radar.
(First: Episode 3500)

Cartoon
A boy has a dream in which he floats in Outer Space between things.
(First: Episode 3093)

Cartoon
Two groups of mountain goats try to pass each other on a mountain road.
(First: Episode 0780)

Song
"Doing the Family Thing"
(First: Episode 3180)




SCENE 6
Slimey feeds his new sister, whom they've named Sloppy after the car she was born in. Another wormgram arrives, reciting the sponsors (as read by Maria).

COMING SOON
Coming Soon on Sesame Street: Elmo and Telly appear with a giant M, for "monsters."
Community content is available under
CC-BY-SA
unless otherwise noted.