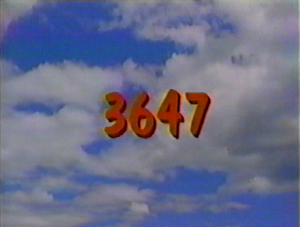 Picture
Segment
Description

SCENE 1
Elmo happens over to Hooper's Store on a hot day, asking Carlo (in song) for "Something Cold" to cool himself down. Carlo finally figures out something appropriate - ice cream.

Animation
Match the word HOT.
(EKA: Episode 2396)

Muppets
Ernie & Bert — A tough guy named Tough Eddie accidentally knocks over Bert's sand castle while he's sleeping. Ernie points that out to Eddie, and Eddie tells Ernie, in a threatening tone of voice, that he's "got something" for Bert. It turns out to be an ice cream cone.
(First: Episode 0482)

Film
A man dances in a W costume on the beach.
(First: Episode 3606)




Muppets
In a Dragnet parody, Sergeant Thursday and Ben hunt for a wanted W.
(First: Episode 0395)

Animation
Characters on a quilt form the letter W.
Artist: Karen Aqua
(First: Episode 3366)

Song
"Hot in the City"
(First: Episode 2751)




SCENE 2
Elmo waits in the arbor for Gabi to go the movies with. He has a surprise for her - an ice cream stick for her to have. Elmo keeps himself cool in the shade and drinks some water, but doesn't notice the ice cream melting into a pool of goo. When Gabi finally arrives, Carlo pours the goo into a bowl so she can have "ice cream soup" instead.

Cartoon
Dr. Nancy Einstein learns about ice cubes.
Artist: Bruce Cayard
(First: Episode 2582)

Animation
The word ICE is formed with ice cubes, which melt.
(First: Episode 1177)

Muppets
"El Baile del Penguino"
(First: Episode 3133)

Film
Kids count 20 penguins going down a slide. (new music added)
(EKA: Episode 0232)




SCENE 3
Maria works on Mr. Tyler's canoe outside, as it's too big to fit inside the Fix-It Shop where the AC is. Mumford hears Maria's wish of some cool weather and attempts a spell to grant it. Maria, knowing how his magic works, begins wrestling the wand from him before he can finish and ends up breaking it in half. Suddenly, a cool breeze starts blowing and snow begins to fall...but only around Maria.

Cartoon
Snowmen show the word COLD.
Artist: Lisa Crafts
(First: Episode 3606)

Film
Footage of kids playing professions, alternating with footage of analogous real-life jobs.
(First: Episode 2811)

Cartoon
A poem about changing seasons.
(First: Episode 0726)

Muppets
Cookie Monster sings "Eating Cookie" -- there's another reason every season.
(First: Episode 3467)

Film
Alphaquest: W
(First: Episode 2712)

Cast
Gordon and the word "wand."
(EKA: Episode 2490)

Film
Wegman's dogs form a W.
(First: Episode 3277)

Insert
Big Bird, a Honker, Gordon, Bob, Tarah and the kids sing "Shake Your Head One Time."
(First: Episode 3577)

Animation
Horses appear in the clouds as Vivaldi music plays.
(First: Episode 3637)

Cartoon
Little Red Riding Hood uses a map to get to Grandma's house.
(First: Episode 2686)

Muppets
Sesame Street News Flash
Kermit the Frog witnesses how the mailman and salesman knock at the door while the Big Bad Wolf chases Little Red Riding Hood around the bed. Eventually, the Woodsman shows up, and Red and the Wolf chase him for cutting down a maple tree which was their favorite one.
(First: Episode 0621)

Cartoon
The word OPEN is spelled out in jack-in-the-boxes.
(First: Episode 3561)




Insert
"Professor Television" (Bill Irwin) tries to demonstrate open and closed, but his efforts backfire.
(First: Episode 3637)

Song
"Ookyook Song," a Joe Raposo song with the Alaskan words for all the things you need to put on when it's ukiuq (winter).
(EKA: Episode 2404)




SCENE 4
Maria, now with a winter coat, flips through the phone book to find some magic wand repair. She finds the number for Madge's Magic Wand Repair and Mumford makes the call. Madge tells them she'll be right over and a pair of Anything Muppet kids pester Maria with questions while they wait.

Cartoon
A magician writes in his diary about the many mishaps during his performance.
(EKA: Episode 2449)

Muppets
Grover attempts to announce the weather, but it changes, making it difficult for him to keep up.
(First: Episode 3526)

Song
"It's Number Three!"
(First: Episode 3136)




Film
Number Three Ball Film (cherry version)
(First: Episode 0744)

Cartoon
Animal Rock #3
(First: Episode 3540)

Film
Kids talk about how they like sledding down snowy hills.
(First: Episode 3276)

Cartoon
A girl writes a poem about the number of fleas on her dog, which add up.
(First: Episode 3481)




SCENE 5
Madge makes a temporary fix to Mumford's wand in order for him to stop the winter spell. The trick works and it finally stops snowing on Maria. Madge brings the wand back to the shop for a more permanent repair, when it suddenly starts snowing on Carlo, who doesn't mind it as much. Madge announces the sponsors.

COMING SOON
Coming Soon on Sesame Street: Telly volunteers to take care of Oscar's pets.