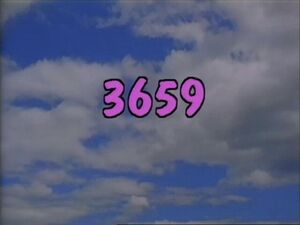 Picture
Segment
Description

SCENE 1
Big Bird introduces the letter of the day - X (performed by David Rudman), who admits he's humiliated to start so few words. He points out the predictable xylophone and X-ray Big Bird has with him and decides to quit being the letter of the day. He leaves in a huff and Big Bird follows him.

Film
Wegman dogs form the letter X and demonstrate an X-ray.
(First: Episode 3535)

Muppets
Kermit shows what's inside of Herry Monster using the X-ray machine.
(First: Episode 1974)

Cartoon
A caterpillar sings "Exercise, Exercise."
Artist: ArtistMike
(EKA: Episode 2839)

Film
A child voice-over talks about a Hawaiian party that her family has.
(First: Episode 3139)

Animation
Dancing pepper pattern - which one comes next?
(First: Episode 3079)




SCENE 2
The letter X relaxes in a beach chair, when Big Bird and Miles approach him. They show him another way he's important - for playing tic-tac-toe, though the X counters people only play that when they're bored. He becomes angrier and storms off, deciding to quit the alphabet all together!

Film
Ornate Xs spin around in accompaniment to a song.
(First: Episode 2929)

Muppets
Muppet & Kid Moment — Grover talks to Chelsea about what their eyes, ears, nose, and mouth can do. Chelsea mentions that they both have them and also have hands, feet, bellies, necks, arms, backs, and shoulders. Grover replies they have a cornucopia of parts, which means they have a lot of good stuff.
(First: Episode 2389)

Cartoon
A girl fantasizes what she could do without leaving her room if her nose, ears, legs, and arms got bigger.
(First: Episode 3285)

Song
"We're All Growin'"
(First: Episode 3141)

Cartoon
5s are found in an icy environment.
Artist: Joey Ahlbum
(First: Episode 3300)

Film
Two girls count to 5 as they clap.
(First: Episode 3007)

Animation
Five turtles walk across the land.
(First: Episode 2816)

Muppets
Elmo sings about "The Sound That's in the Air."
(First: Episode 2948)

Cartoon
Dr. Annie Eyeball looks at air.
Artist: Bruce Cayard
(First: Episode 2592)




SCENE 3
Over at the playground, Rosita and the kids take an alphabet break. As soon as they reach W, the X interrupts and explains why they can't proceed. He dashes off, with Big Bird asking where he went.

Animation
A group of 19th-century sportsmen have fun with an X ball, which falls out of the painting. (Martin P. Robinson voiceover)
(First: Episode 3506)

Song
To the original Fats Waller recording of "I'm Gonna Sit Right Down and Write Myself a Letter," a group of kids act out the song in a throwback to the silent film era.

Animation
Two giddy female scribbles introduce themselves to a bar code, who can only beep. They recognize him from the supermarket.
Artist: Fred Garbers
(First: Episode 2981)

Muppets
Monsterpiece Theater: Fiddler on the Roof
(First: Episode 3496)

Cartoon
A boy solves a math problem: 3 + 1 = 4.
(First: Episode 0516)

Song
"Some Things Are Little, Some Things Are Big"
(First: Episode 3537)

Animation
Stop-motion: A bunny tries to make a bench with blocks, but needs a chick's help.
(First: Episode 1463)
Film
Children on a playground form the letters of the alphabet. (new music added)
(First: Episode 1966)
The film plays until it reaches W, when it abruptly cuts to...




SCENE 4
The letter X interrupts the segment with a special press conference, where he makes it publicly known he's leaving the alphabet.

The film then resumes through to the end, skipping X.

Cartoon
"I'm Curious" (new sound effects added)
Artist: Sally Cruikshank
(First: Episode 3066)

Muppets
Ernie & Bert — Ernie and Bert search for Dr. Livingstone.
(First: Episode 1736)

Film
Shapes vibrate as girls beat on their drums.
(First: Episode 2873)

Animation
Cecille sings "Up Down, In Out, Over and Under."
(First: Episode 2746)

SCENE 5
Gordon dons a tuxedo and sings to the X to show him some words he appears within (along with a penguin trio). This gives the X an ego boost and he decides to become a solo act, tap dancing away.

Film
The letter X dances at the beach.
(First: Episode 3588)

Muppets / Celebrity
Jim Carrey shows Elmo and Telly how he expresses his emotions - with his feet (in speed-induced footage, no less).
(First: Episode 3023)

Cartoon
We Are Kids from Far and Wide: Rice harvesting in Sierra Leone
(First: Episode 2774)

Song
"Playground Map Song"
(First: Episode 2680)

Cartoon
Five feet stick out from a barrel, all belonging to a strange five-legged being. (new music and sound effects added)
(First: Episode 0859)

Muppets
The Count sings "Counting Robins" with a group of robins.
(First: Episode 3375)

Film
A puzzle of a zebra is put together.
(First: Episode 3056)

Cartoon
At the Pride Day Ceremony, Donald is waiting to describe his proudest accomplishment, and is initially unsure of himself next to other impressive students. He finally proudly acclaims his achievement, tying his shoes all by himself.
Artist: John Korty
(First: Episode 2085)




SCENE 6
The letters A and W try to convince the X to re-join the alphabet, showing him he can't spell any words on his own. The X fits into their "wax," convincing him to go back to the alphabet. Gordon announces the sponsors.
Community content is available under
CC-BY-SA
unless otherwise noted.