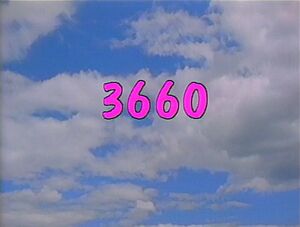 Picture
Segment
Description

SCENE 1
Big Bird and Snuffy watch as Lexine and Nicole complete a puzzle of an airplane. Snuffy recalls his granny giving him a new puzzle, but they won't be able to do it at his cave; his mommy is hosting a snuffleware party. Big Bird thinks they can do it on the street and they leave to get it.

Song
"Me, M-E, Me!"
(First: Episode 3578)

Film
Wegman dogs: The Ten O'Clock Scholar
(First: Episode 3529)

Muppets
Some Anything Muppets sing about the staff you'll meet in "First Grade."
(First: Episode 3505)

Cartoon
Sign Man: SCHOOL
After a bunch of kids come running by, a girl goes before the man and says it's Saturday. That leaves him to say: "No school." (new sound effects added)
(First: Episode 1155)

Film
Stefan goes to the doctor and gets a checkup.
(First: Episode 3527)

Cartoon
A near-sighted princess goes to the eye doctor and gets glasses.
Artist: ArtistMike
(First: Episode 3056)

Film
Various demonstrations of the word PUSH.
(First: Episode 3634)

SCENE 2
Big Bird and Snuffy push the giant puzzle box into the arbor and show Carlo, who doesn't believe what he sees.

Cartoon
A song about words that end with "OW".
Artist: Joey Ahlbum
(First: Episode 3510)




Film
Lamont, who lives in the city, visits his friend Adrian, who lives in the country. Together they ride bikes, swim, and have dinner with Adrian's family.
(First: Episode 2800)

Cartoon
The Carrot (censored version)
Artist: Bruce Cayard
(First: Episode 1132)

Muppets / Celebrity
Ernie and Aaron Neville sing "I Don't Want to Live on the Moon."
(First: Episode 3242)

Cartoon
"Pinball Number Count" #6
Artist: Jeff Hale
(First: Episode 0983)

Film
Six children dance in a colorblock grid.
(First: Episode 3122)

Animation
"Six Circus Balls"
Artist: Jane Aaron
(First: Episode 3001)

SCENE 3
The two have emptied the 6 large pieces from the box and Snuffy notes it'll take cooperation to get it together.

Animation
Slide puzzle - elephant
(First: Episode 0389)

Cartoon
Planet J / j
(First: Episode 2833)

Muppets
Biff sings "This Is My J."
(First: Episode 1169)

Cartoon
Consonant Sound: J, jaguar (new music added)
(First: Episode 1144)

Film
A group of kids paint a mural with the help of a mural artist.
(First: Episode 3007)

Cartoon
A white boy hangs out with his Latino friend.
(First: Episode 1471)

SCENE 4
Susan can't get to the garage with the half-completed puzzle in the way and is forced to detour through Hooper's Store.

Cartoon
Babies and doggies pattern: What comes next?
Artist: Keith Haring
(First: Episode 3039)

Film
Wanda Falbo (Word Fairy) and Barkley present a word which represents large, shaggy animals who like to chase sticks (or wands).
(First: Episode 2621)

Cartoon
A mosquito bites a man and a dog, who agree to scratch each other's backs.
Artist: ArtistMike
(First: Episode 3217)

Muppets
Elmo and Zoe sing "Share."
(First: Episode 3489)

Film
Girls jump rope and sing playground rhymes.
(First: Episode 3280)

Cartoon
The 'J' Train
(First: Episode 1169)

Film
J, for jiggle, juggle, jump, joy.
(First: Episode 3396)

SCENE 5
The puzzle is almost complete, but there's a single piece missing. Big Bird and Snuffy look all over, but can't seem to find it in the surrounding area (or under Susan's shoe). They decide to retrace their steps back to Snuffy's cave.

Cartoon
A boy gets lost in a mall, and a security guard shows him how to use a map.
Artist: ArtistMike
(EKA: Episode 2874)




Muppets
Live at the Nestropolitan: Madame Alma Cluck sings "Il Alphabetto".
(First: Episode 3390)

Song
"Doing the Family Thing"
(First: Episode 3180)

Cartoon
A map of India morphs into the shape of animals that are found there.
(First: Episode 2668)




SCENE 6
The duo returns empty handed, but they have an idea: they can cut a piece of the lid with the same image and use that instead. As they move the lid, Lexine finds the missing piece behind it. The puzzle is completed and everyone announces the sponsors.

COMING SOON
Coming soon on Sesame Street: the Fix-It Shop is one of the places in our neighborhood.
Community content is available under
CC-BY-SA
unless otherwise noted.