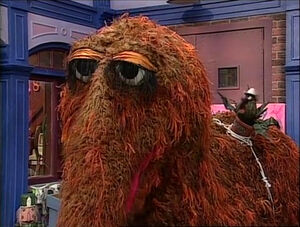 Picture
Segment
Description

SCENE 1
Mr. Snuffleupagus is sad because his playdate with Big Bird was cancelled (due to Big Bird forgetting a fishing trip he had planned, seen in the first insert break). Nearby, Stinky the Stinkweed is in a similar situation, where Gabi was unable to water him and play with him as expected. Snuffy overhears Stinky's woes and theorizes that they should play together. Stinky thinks they're too different to be effective playmates, but Snuffy is positive this can work out.

Song
Everyone has the same feelings, "No Matter What." Kids of all types play with a huge beach ball.
(First: Episode 2782)

Cartoon
The story of Tommy LaPlaid, the painter so sad until he discovered the joys of kicking his paints on the canvas.
Artist: Mo Willems
(First: Episode 3208)




Muppets
Big Bird's Video Postcards
Big Bird goes fishing in Bridgeport, Connecticut, with his friends Colin and Marlee. It takes awhile for him to catch one, but he finally does.
(First: Episode 3445)

Cartoon
A man displays the capital and lowercase A, and explains what an alligator is.
(First: Episode 0006)

Animation
Letter Garden: A
(First: Episode 3027)

Cartoon
An orchestra conductor asks "May I have an A, please?" at which point a giant letter A falls from the sky.
(First: Episode 0770)

SCENE 2
Snuffy and Stinky think of something they can do together. Snuffy and Big Bird usually greet each other, so they try that, which Stinky finds "unusually satisfying." Stinky says that Gabi usually waters him when they're together, but Snuffy is unable to pick up the watering can. Stinky thinks his suspicions have been confirmed, until Snuffy slurps the water from the can and sprays it on Stinky, who now feels refreshed. Stinky doesn't think they can find anything else to do, though.

Song
"Drink of Water"
(First: Episode 2545)

Muppets
Natasha has 15 seconds to say everything she knows about noses. She grabs Humphrey's nose.
(First: Episode 3617)

Cartoon
A girl's mom gives her a 1 from the shelf. "My 1 and only!"
Artist: Fred Garbers
(First: Episode 3469)

Song
"We're Talking 'Bout the Number One"
(First: Episode 3154)

Cartoon
Hortense beats one drum.
Artist: Michael Sporn
(First: Episode 2570)

Muppets
Ernie & Bert — Bert has acquired some drums, but he doesn't know how to play them well. Ernie teaches him how to make drum playing exciting.
(First: Episode 0579)

Cartoon
An elephant, a zebra, a hedgehog, an ostrich, a frog and a ladybug create a rhythm with their footsteps.
Artist: Karen Aqua
(First: Episode 2794)

Film
Kids narrate footage of toddlers learning to walk.
(First: Episode 3025)

SCENE 3
Snuffy and Stinky see that they have common ground with the alphabet; Snuffy and Big Bird usually sing it, while Stinky and Gabi typically just recite it. Stinky says the alphabet for Snuffy, who in turn sings "The Alphabet Song." Stinky finds the song highly enjoyable and sings another round with Snuffy, then again (due to the ending lyric prompting a "next time").

Cartoon
Psychedelic alphabet (re-recorded soundtrack)
(First: Episode 0345)

Muppets / Celebrity
Robin Williams and a robin observe how similar they are. Afterwards, the robin sings "Lullaby of Birdland."
(First: Episode 2848)

Cartoon
A man wants a hat, but the hat shop owner's hats are all the same - except for a ten-gallon hat, which complements the customer's horseback riding nicely. (new music added)
(First: Episode 0781)

Muppets
Zoe, Tely, and Prairie Dawn sing "That's the Way I Read."
(First: Episode 3651)

Film
"In the middle of the city we have a garden..."
(First: Episode 2889)

Cartoon
Ranger Armbuckle talks about how plants travel -- by sowing their seeds.
Artist: ArtistMike
(First: Episode 2727)

SCENE 4
After singing the alphabet 27 times, Stinky claims something else he does with Gabi is counting his leaves. Snuffy counts 10, which surprises Stinky - he's grown a new leaf since the last count. Snuffy now considers their friendship solidified and proposes they do a new activity, something they've never done with anyone else.

Animation
Ten masked dancers are counted in Spanish.
Artist: Karen Aqua
(First: Episode 3079)

Muppets
Muppet & Kid Moment — Samantha shows Grover how to play "Duck Duck Goose."
(First: Episode 3561)

Film
"We have a nice school"... with ducks.
(First: Episode 3144)

Animation
Cecille sings "The Game of Make Believe."
(First: Episode 2864)

SCENE 5
Stinky admits there's one thing he's always dreamt of doing - riding a horse like a cowboy, but he knows this can never happen. Snuffy is certain they can and claims all they need is help from a grown-up, then leaves to find one. Stinky notes, "My new friend is nice, but he has wild ideas."

Cartoon
"Tall Short Texans"
Artist: Joey Ahlbum
(First: Episode 3135)
Muppets
Sesame Street News Flash: In a take on the "Hey Diddle Diddle" nursery rhyme, Kermit the Frog interviews Natalie the cow and her cat manager as she prepares to jump over the moon. Natalie plans to break the usual cow stereotype by doing this jump. After the cat plays a fanfare on his fiddle, she makes the jump and crash lands back to Earth, where she is praised and congratulated for her jump.
(First: Episode 0634)

Animation
Pencil box A/a
(First: Episode 3082)

Cartoon
The Typewriter: A for airplane
Artist: Jeff Hale
(First: Episode 0770)

Muppets
Elmo finds a large apple and wonders what letter "apple" starts with. Slimey pops out from the apple, holding a flag with the letter A on it.
(First: Episode 3359)

Film
A trip to an African dance school.
(First: Episode 3266)

Animation
A horseshoe and boot pattern
(First: Episode 3577)

SCENE 6
Carlo secures Stinky to Snuffy's back with a rope. Stinky, wearing a cowboy hat, pretends he's a cowboy while Snuffy pretends to be the horse. They ride down the street, as Carlo announces the sponsors.
Community content is available under
CC-BY-SA
unless otherwise noted.