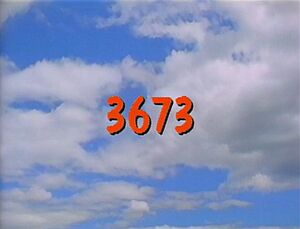 Picture
Segment
Description

SCENE 1
Big Bird, Gabi and their friends are about to jump rope, when Tarah wheels in. Big Bird invites her to jump with them, but she reminds him that her wheelchair prevents her from doing that and she suggests he figures out another way she can play. He thinks springs and a giant rubber band will help propel her, but she finds those implausible. She shows she can use her arms and they use her to help turn the rope.

Film
A girl learns how to jump rope.
(First: Episode 3397)

Cartoon
Sand O/o.
(EKA: Episode 2253)

Muppets
Director Kermit is filming Oklahoma with Forgetful Jones as the star. Forgetful is supposed to sing "Oklahoma!" but sings "Aklahoma!", "Eeklahoma!" and "Iklahoma!" instead. When he finally gets it right, the production assistant says it's time for lunch.
(First: Episode 2544)

Animation
Characters on a quilt form the letter O.
Artist: Karen Aqua
(EKA: Episode 3375)

Film
A girl named Jyah narrates about her dance class doing some stretching exercises, then dancing in their own ways, then ending with the tango (instrumental: "Naughty Door Opera").
(EKA: Episode 3022)

Cartoon
A boy learns to play his violin by practicing.
(EKA: Episode 1736)

SCENE 2
Next, the group is going to play tee-ball. However, Big Bird points out that it's about to rain, so they all try to get in one hit before the rain comes. Once the rain pours, the other two girls head for home, but Tarah lives too far away to wheel herself in the rain. Gabi invites her and Big Bird to seek shelter in her house.

Cartoon
A mother sings the story of how water travels down the drain and becomes rain.
(EKA: Episode 2865)

Muppets
Ernie watches the Twiddlebugs, who are about to head for Hooper's Store in the rain, but they notice that they need something to keep themselves dry. Tessie remembers that an umbrella helps, so they take one.
(First: Episode 1482)

Cartoon
A determined little boy makes several attempts to fly, and eventually gets his dad to take him on an airplane. (new music added)
(EKA: Episode 2029)

Song
"The First Time" - Children try various activities (riding tricycles, tying shoes, etc.) and progressively improve.
(First: Episode 2950)

Cartoon
An army of ants gets to the bakery, only to find that it's closed.
(EKA: Episode 2173)




Muppets
On a rainy day, Oscar recalls the way he met his worm, Slimey.
(First: Episode 3071)

Cartoon
Jazzy alphabet around a city
(First: Episode 3267)

Film
A girl narrates a film of helping her dad, a pilot, fly a small plane. They fly through New York City, past the World Trade Center and the Statue of Liberty.
(EKA: Episode 3431)

Cartoon
A little girl sings "There Is Only One Me."
(EKA: Episode 1966)

Muppets
Elmo, Zoe, Telly, Rosita, Herry, Alphonse, Humphrey and Ingrid show "next to."
(First: Episode 3518)

Film
On a windy day, Maria (in voice-over) asks a man (Bill Irwin), "Does air move things?" The wind speaks for him.
(First: Episode 2876)

Cartoon
"Do the Continental" - two kids jump into Africa.
(First: Episode 2733)

SCENE 3
Maria and Luis dry off the kids and hear the radio report that the storm is so bad, all citizens are advised to stay indoors. This means Big Bird and Tarah can sleep over! Big Bird worries that since Tarah's parents aren't with them, they won't be able to ask them. He thinks they could send a letter or a messenger, when a phone call from Gordon reminds him they can use the phone. Tarah begins to make the call.

Film
Olivia sleeps over at Iesha's house, and spend the morning together. Olivia is white and Iesha and her family is black. Next time, Iesha wants to visit Olivia's family.
(EKA: Episode 2756)

Animation
"Family Dance"
Artist: Karen Aqua
(EKA: Episode 3487)

Muppets
Mr. Johnson wants something to read, so Flight Attendant Grover suggests reading the EXIT sign, the safety manual and the tag on the collar of his shirt. After he informs Mr. Johnson that the airplane is out of newspapers and magazines, he sets the fat blue man on his lap and tells him to read his lips as he recites a story.
(First: Episode 3487)

Cartoon
A chorus of 5s come out of a 5 painting.
(EKA: Episode 3300)

Film
Two girls count to 5 as they clap.
(First: Episode 3007)

Cartoon
5s are found in an icy environment.
Artist: Joey Ahlbum
(EKA: Episode 3300)

Film
The floating kids form a triangle.
(EKA: Episode 3122)

SCENE 4
Tarah now has permission to stay over. Big Bird wonders what they should do before they go to bed. Tarah says she must do her arm exercises to give her energy to move her wheelchair. Maria happens to know the "Workout in a Chair" song, so they stretch their arms as they each sit in a chair. After their workout, they decide it's time for bed.

Animation
Ten masked dancers are counted.
Artist: Karen Aqua
(First: Episode 3102)

Muppets
Ernie sings "Dance Myself to Sleep."
(First: Episode 1705)

Film
Letter O hoist
Music: Joe Raposo
(EKA: Episode 0894)

Cartoon
The O falls off a man's grocery store sign; he tries replacing it with a donut, then a pizza, neither of which work. Finally, the sign man paints it on.
(EKA: Episode 1460)

Cartoon
O for open, off, owl, ocean
(EKA: Episode 3091)

Animation
"We Are Kids From Far and Wide" - Colombia
(First: Episode 2769)

Muppets / Celebrity
On a rainy night, the Count brings Susan Sarandon to a locked castle. He knocks on the door just for the sake of counting the knocks, until it's revealed that the castle is his own. He then proceeds to unlock the numerous locks.
(First: Episode 2528)

Cartoon
A story of a cat who hated rain, wished for it to stop, and witnessed the disastrous effects of no rain.
Artist: ArtistMike
(EKA: Episode 2755)




SCENE 5
Maria lays out a bed on the floor for Tarah, which is one of the many times she can get out of her chair for. Luis helps her out of her chair and Maria sets up a blanket for Big Bird to sleep on. As the kids sleep, Maria quietly announces the sponsors.

COMING SOON
Coming soon on Sesame Street: Ray Charles plays "Believe in Yourself" with the cast.