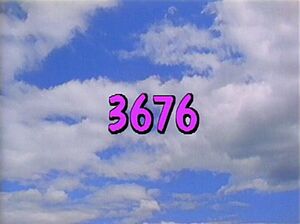 Picture
Segment
Description

SCENE 1
Elmo greets Maria and Gabi and wonders why they are carrying lots of things. Maria is about to tell him, but Gabi would rather have him guess. They have big bowls, a big bone, and a big box of dog food. Elmo figures out that they're going to feed a dog, and asks if he can help them out, but first he wants to guess which dog it is.

SCENE 1
cont'd
As it turns out, Luis has agreed to take care of Barkley while Linda is out of town for the night.

Cartoon
The word DOG is spelled out over a weiner dog.
(First: Episode 3326)

Song
"One of These Things" (with Fay Ray)
(First: Episode 2604)

Muppets
Big Bird describes (and acts out) a time when he lost Radar. "Having a good memory will sure come in handy sometimes!"
(First: Episode 3410)

Film
A girl draws a picture of her friend Amelia.
(First: Episode 2784)

Cartoon
Two girls sing a reggae rendition of the alphabet.
(First: Episode 3269)

Film
A child in a classroom draws a picture of her dog Puck, and goes over the care required to keep a pet. A Bert and Baby Fozzie plush can be seen in the little girl's bedroom.
(First: Episode 2853)

Cartoon
A little girl tries to figure out why a dog is crying.
(First: Episode 0862)




SCENE 2
Luis tells Maria to feed Barkley, and Gabi and Elmo watch. Barkley is restless and Maria can't fill his bowl with food. Gabi remembers that Linda uses sign language to tell Barkley to sit, and it works—but not for long. She tries again, showing him the signs for both "sit" and "stay", and Maria is finally able to feed Barkley.

Film
How to say "turtle" in sign language
(First: Episode 3339)

Muppets
Kermit and some Anything Muppets sing "I Wonder 'Bout the World Above."
(First: Episode 2679)

Cartoon
Z for Zebu (new music added)
Artist: Bud Luckey
(First: Episode 1185)

Animation
The letter Z in various typefaces.
(First: Episode 2855)

Cartoon
Z – Zoo: The Typewriter and wildlife.
(First: Episode 0776)

Muppets
Monsterpiece Theater
Alistair Cookie displays an embarrassed Prairie Dawn with a little house on her head. Cookie then displays "Little House UNDER Prairie," but then when he announces "Little House IN Prairie," she comes into the studio and tells him that would be impossible. He proves her wrong when he eats the little house, calling it 'Little House in Alistair Cookie'! Coming up next week: "The House of Seven Gobbles".
(First: Episode 3207)

Cartoon
A photographic couple ballroom-dances on, in and under a plane.
Artist: Fred Garbers
(First: Episode 3155)

SCENE 3
Every night to get ready for bed, Maria brushes Gabi's hair. Elmo asks Luis to brush his fur. Barkley gets restless, and Maria remembers that Linda brushes Barkley's fur every night, too, so Gabi brushes Barkley's fur while Maria brushes Gabi's hair.

Song
"Washin' the Dog"
(First: Episode 3020)

Cartoon
Abstract count to 14
(First: Episode 2811)

Film
Kid mural painting #14
(First: Episode 3613)

Cartoon
"Sing a Song of Fourteen"
(First: Episode 2670)

Muppets
Mr. Johnson is at home when he calls for pizza delivery. Naturally, the delivery comes by way of Grover who keeps messing up the order because he's not listening to the order. He brings a carpenter's saw and a potted flower attached to his head as a result of cutting Mr. Johnson off mid-sentence.
(First: Episode 2971)

Cartoon
A poem about dogs of different sizes, feelings, and colors.
Artist: Deanna Morse
(First: Episode 2924)

SCENE 4
Gabi and Elmo are in bed, but Barkley doesn't seem ready for bed. Maria wonders why, and Gabi points out that Barkley's trying to tell her why. Maria realizes that Barkley is holding his leash in his mouth because he wants to go out for a walk before bed. Gabi and Elmo insist on accompanying Maria and Barkley on the walk, so she lets them.

Cartoon
"In and Out Crowd"
Artist: Sally Cruikshank
(First: Episode 2612)

Muppets
Ernie & Bert — Ernie brings a surprise home, and he tells Bert to guess what it is. The surprise turns out to be a puppy. Bert wants to call the puppy "Norman"; Ernie suggests "Godzilla the Wonder-Dog".
(First: Episode 1956)

Animation
Luxo Sr. examines a box. Luxo Jr. pops out of the box, demonstrating "surprise."
(First: Episode 2851)

Song
"Explore With Me" (reggae)
(First: Episode 3531)

Cartoon
Z doesn't like its sleepy Z image -- Z can also be zany, and zip and zoom.
Artist: Fred Garbers
(First: Episode 3607)

Muppets
Over the Top, a ZZ Top-like band, sings "ZZ Blues.
(First: Episode 2317)

Animation
Z in space
(First: Episode 0509)

SCENE 5
Luis, Maria, Gabi, and Elmo take Barkley for a walk and sing a song about "Walkin' the Dog". They are soon followed by other dog owners.

Cartoon
Gerald's dog Sparky likes to pretend he's an alligator.
(First: Episode 1519)

Song
Joe Raposo sings "Everybody Sleeps" (re-filmed version)
(First: Episode 3026)

Muppets
Big Bird wakes up from his nap, "Everybody wha —?" then goes back to sleep.
(First: Episode 3207)

Cartoon
A girl thinks about what might happen if she popped a balloon behind her friend Donald.
(First: Episode 1312)

Muppets / Celebrity
Laurence Fishburne, along with Rosita and Telly Monster, demonstrates how one brushes their teeth. Since Telly and Rosita do not have teeth, they plug their mouths with ears of corn, and brush those instead.
(First: Episode 3471)

Cartoon
Jerry Nelson sings "Moonshine."
(First: Episode 2775)




SCENE 6
Gabi, Elmo, and Barkley are in bed...but there isn't enough room. Gabi tells Barkley to get down, and Maria thanks her for all her help in taking care of Barkley. Maria reads them a bedtime story called "As I Lay Sleeping" (which has the same plot as the song "I Heard My Dog Bark") and Gabi, Elmo, and Barkley make the animal sounds.

SCENE 6
cont'd
Once Maria tucks them into bed, she and Luis announce the sponsors.

COMING SOON
Coming soon on Sesame Street: On a hiking trip, Telly realizes he's forgotten to pack a lunch.
Community content is available under
CC-BY-SA
unless otherwise noted.