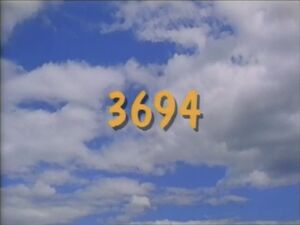 Picture
Segment
Description




SCENE 1
Elmo and Ruthie welcome the viewer to Sesame Street. Ruthie explains to Elmo that she sells old stuff that people don't need anymore (hence the name "Finders Keepers"). She displays some of her "new old" stuff, including a toy fire engine, and a lemonade pitcher with lemons painted on it. Linda comes by, and seems to really like the pitcher. Elmo tries to get her attention, but Ruthie reminds Elmo that Linda is deaf, and communicates with sign language.




SCENE 1
cont'd
Ruthie knows a little sign language, so she asks Linda if she likes the pitcher, and Linda does love it so. Linda says something else, but Ruthie isn't clear on it, so Linda writes it down. Linda says she doesn't know if she wants to buy the pitcher yet, and will let Ruthie know after she walks Barkley. Linda leaves, and Elmo now understands how to communicate with Linda. He knows how to write a little, but he doesn't know sign language. Ruthie points to the screen and tells him to "watch this ..."
Cartoon
"Signing Alphabet," an animated film by Steve Finkin. Music for voice and electronics by Joan La Barbara.
(EKA: Episode 1056)

SCENE 1
cont'd
After watching the previous segment, Elmo looks forward to learning sign language. Ruthie goes inside to gather some more treasures to put on display, and Elmo decides to look at what's already outside.




SCENE 1
cont'd
Barkley and Linda come back to Finders Keepers, so Linda can give the pitcher a second look. Suddenly, Barkley hears a cat, and wants to chase it. Linda tries to hold the big dog steady, and as Barkley pulls her away, she accidentally drops the pitcher, and it shatters on the concrete. Elmo doesn't understand why Linda broke the pitcher she wanted to buy, and ran off without telling Ruthie.

Film
A boy signs the word cat, and morphs into one.
(First: Episode 3323)

Cartoon
Suzie Kabloozie announces that her cat Feff will jump ON a box and say meow, but he keeps jumping OFF when she puts him on, so Suzie does it instead.
Artist: Mo Willems
(First: Episode 3455)

Muppets
"Baby Blankie Blues"
(First: Episode 3608)

Animation
Planting Letters: E
(First: Episode 3009)

Cartoon
A man saws a letter E through the wall.
(EKA: Episode 0409)

Film
Jaws spoof presenting the letter E.
(First: Episode 3300)

Muppets
Cookie Monster and Herry Monster sing "Up and Down."
(First: Episode 3532)

Cartoon
A baby and father illustrate up and down.
(First: Episode 2687)

Animation
Shapes sort themselves in different ways, and eventually make a quilt.
(First: Episode 3103)

Cartoon
In the "Land of No Shoelaces," people find it difficult to play basketball, swing and run, until Edna Lovelace comes along.
Artist: ArtistMike
(First: Episode 3102)

SCENE 2
Elmo looks at the broken pitcher on the ground, and still ponders the cause of Linda's actions.

SCENE 2
cont'd
Ruthie comes outside, just as Linda returns to buy the pitcher. They both find it shattered on the ground, and are both clueless as to why it is broken. In Elmo's mind, Linda is hiding the truth from Ruthie.

SCENE 2
cont'd
Ruthie asks Elmo if he knows how the pitcher got broken, and Elmo stammers. This causes Ruthie to wonder if Elmo broke the pitcher.

Cartoon
The story of Tommy LaPlaid, the painter so sad until he discovered the joys of kicking his paints on the canvas.
Artist: Mo Willems
(First: Episode 3208)

Muppets
Big Bird and Baby Bear visit the Museum of Modern Art in New York City, and interpret a painting by Jackson Pollock.
(First: Episode 3631)

Animation
Amelia likes to pretend she can fly.
(First: Episode 2902)

Cartoon
The Alligator King
Artist: Bud Luckey
(First: Episode 0411)




Cast
In a spoof of the famous Mean Joe Green Coke commercial, football player Big Murray (Gordon) accepts a number 7 from a young fan, whom he rewards with a towel that also has a 7 on it.
(First: Episode 1535)

Cartoon
Seven animals in a tree.
Artist: Owe Gustafson
(EKA: Episode 2059)

Muppets / Celebrity
Little Richard sings "Rosita," a song about feelings, to Rosita.
(First: Episode 3225)

Animation
A girl dances her way into a family portrait.
(First: Episode 3134)

SCENE 3
Elmo is put on the spot: he wonders if he should tell Ruthie the truth about the broken pitcher. He assumes Linda doesn't want Ruthie to get angry at her for breaking the pitcher.

SCENE 3
cont'd
Elmo asks Ruthie what if, hypothetically, someone she knew happened to accidentally break something that belonged to her, and what that person should do. Ruthie tells him a story of the time she broke her uncle's favorite lamp, and felt really bad about it. She eventually told him the truth while holding her breath, and he was proud of her for being honest about the accident.

SCENE 3
cont'd
Now that Elmo's question has been answered, he goes off to find Linda, leaving Ruthie baffled.

Cartoon
A girl tries to play catch with her lazy cat, and accidentally breaks the window. She considers blaming the cat, but realizes it's her responsibility to confess.
Artist: ArtistMike
(First: Episode 3519)

Film
The sign flashes WALK and DON'T WALK as kids read the indications out loud, and people wait and cross the street in fast-motion.
(First: Episode 3272)




Muppets
The Oinker Sisters sing "A New Way to Walk."
(EKA: Episode 2303)

Cartoon
An old man recites a poem about the time he had the flu. (new music added)
Artist: Bruce Cayard
(EKA: Episode 1448)

Film
D.J. goes to the doctor, gets weighed and measured, and gets a shot.
(First: Episode 3595)

Cartoon
A satelite view of the earth is shown on television, while a group of geese decide to fly south.
Artist: Paul Fierlinger
(EKA: Episode 2710)

SCENE 4
Elmo looks for Linda, to tell her not to be afraid to tell Ruthie about the broken pitcher. He doesn't see Linda pass by him.

Cartoon
A boy gets lost in a mall, and a security guard shows him how to use a map.
Artist: ArtistMike
(EKA: Episode 2874)

Muppets
Muppet & Kid Moment — Morgan and Grover count in English and Spanish.
(First: Episode 3138)

Animation
Counting to 10 (Latin rhythm)
(First: Episode 3045)

Song
"The Braid-y Bunch"
(First: Episode 3357)

Animation
New Ball in Town: Three striped balls encounter a polka-dotted ball.
(First: Episode 0777)

Film
How Crayons are Made
Music: "Water Course A" and "Exchange" by Richard Harvey
(First: Episode 1590)

Animation
Writing utensils form the upper and lowercase letter E.
(First: Episode 2880)

Film
Wegman's dogs form a letter E.
(First: Episode 3267)

Cartoon
The Typewriter: E-Ear
Artist: Jeff Hale
(EKA: Episode 1198)

Muppets
Sesame Street News Flash
Kermit the Frog talks to people waiting in line for a football game being held at the SuperGame Stadium. A woman explains why she is last in line, and points out that Kermit is actually last, although Kermit insists that he is not in line. He goes to the front of the line and finds out that the first two people in the line are in a disagreement over which of them is first in line. The gate opens, and everyone walks all over Kermit.
(First: Episode 1327)

Cartoon
Jasper and Julius: Jasper describes an apple as he eats it.
Artist: Cliff Roberts
(EKA: Episode 0833)




SCENE 5
Elmo spots Linda talking to Ruthie about the pitcher. Linda denies any knowledge of what happened to it, so Elmo explains what he witnessed. Ruthie explains to Elmo that since Linda is deaf, she didn't hear the pitcher break as Barkley pulled her away.

SCENE 5
cont'd
Linda apologizes, and Ruthie offers to take her to Hooper's for an ice cream sundae. Ruthie takes Elmo along with them, as Benny announces the sponsors.

COMING SOON
Coming soon on Sesame Street: Grundgetta and some Grouches open a beauty salon and sing about it, a la "The Wizard of Oz."