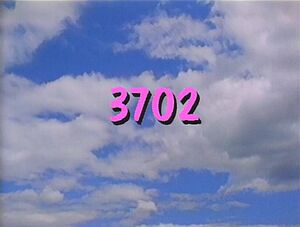 Picture
Segment
Description




SCENE 1
Ingrid takes Natasha out for a stroll, and welcomes the viewer to Sesame Street. She has brought everything for Natasha: her bottle, her rattle, her squeak-toy, and her blanket. Everyone passes by and says hello to Natasha, including Snuffy. However, when he tries to leave, he notices that Natasha has grabbed ahold of his snuffle, and won't let go. This means that Snuffy will probably be late for his play date with Stinky today ...

Cartoon
A family goes over their camping checklist before they leave for the woods.
(First: Episode 3411)

Muppets
Telly sings "Everything Goes" as he packs his backpack for a day in the park.
(First: Episode 3461)

Cartoon
Letter F words are found on the street.
(First: Episode 3353)

Muppets
Big Bird displays a letter F for FAST, then moves around fast.
(First: Episode 3215)

Cartoon
F is for Fly and Frog
(First: Episode 0034)

Video
Kids demonstrate surprise by winding a jack-in-the-box, as "Pop Goes the Weasel" plays.
(First: Episode 3624)

SCENE 2
Outside the Furry Arms Hotel, Stinky waits for Snuffy to come play cowboy with him.

SCENE 2
cont'd
Meanwhile, Natasha still won't let go of Snuffy's snuffle, but Ingrid isn't sure what to do - she doesn't want Snuffy or Natasha to be sad. Ruthie learns about the situation, and she suggests to Ingrid that Natasha might like her squeak-toy or her rattle. However, none of those things appeal to Natasha as much as Snuffy's snuffle does. Ruthie thinks some more ...

Animation
Stop-motion: The word TOY is spelled in blocks.
(First: Episode 3394)

Song
Joe Raposo sings "Everybody Sleeps" (re-filmed version)
(First: Episode 3026)

Cartoon
7 Starfish
Artist: Owe Gustafson
(First: Episode 1473)

Muppets
Elmo and Seven Goldfish sing.
(First: Episode 2734)

Cartoon
Pinball Number Count #7
Artist: Jeff Hale
(First: Episode 0989)

Film
Miles lives in Kuwait, and sometimes plays taiko drums at the park.
(First: Episode 3196)

Cartoon
"Tall Short Texans"
Artist: Joey Ahlbum
(First: Episode 3135)

SCENE 3
Stinky still wonders where Snuffy is.

SCENE 3
cont'd
Meanwhile, Ruthie gets the idea to sing a hand-clapping song ("If You're Happy and You Know It"), which she is sure will get Natasha to let go of Snuffy's snuffle and clap her hands. It doesn't work, not even when she changes it to "If You're Natasha and You're a Baby." Ruthie is still determined to find a solution ...

Film
A group of girls do a playground cheer ("One step forward, one step back").
(First: Episode 3031)

Cartoon
A family of snakes makes shapes, and rolls away.
(First: Episode 1506)

Muppets
Monsterpiece Theater: "Guys and Dolls"
Herry Monster sings about how he likes to play with dolls, and Ruby sings about how she likes to play with trucks.
(First: Episode 2591)

Cartoon
Esme's wooden clown breaks, and she is about to throw it away, when it suggests she use glue to fix it.
Artist: Lisa Crafts
(First: Episode 2843)

Film
In a village in Africa, people catch fish, and celebrate afterwards.
(First: Episode 2669)

Cartoon
"Alphabet Imagination": A female voice quickly recites the alphabet followed by a male voice narrating each letter in a series of psychedelic vignettes. (re-recorded soundtrack)
(First: Episode 0345)

SCENE 4
Stinky continues to wait for Snuffy, and tries playing cowboy by himself, but quickly becomes bored.

SCENE 4
cont'd
Meanwhile, Ruthie points out that Snuffy is bigger than Natasha, so he could conceivably back away from her and set himself free. When he tries to do so, he sees just how strong a grip she has on his snuffle, and Ingrid panics when Snuffy swings Natasha around. Snuffy wishes that he had another snuffle, which gives Ruthie another idea ...

Song
"Some Things Are Little, Some Things Are Big"
(First: Episode 3537)

Cartoon
A dog has a discussion with his master about where to go.
Artist: Dan Haskett
(First: Episode 2392)

Muppets
Moe Cocker sings "With a Little Yelp from My Friends."
(First: Episode 3108)

Animation
F / f (space paint)
(First: Episode 3215)

Film
The letter F appears, Jaws-like, out of a swimming pool.
(First: Episode 3353)

Cartoon
F - Face (new sound effects added)
Artist: Jeff Hale
(First: Episode 1162)

Song
"Beautiful Baby" (remake)
(First: Episode 3549)

SCENE 5
Stinky vows to keep waiting for Snuffy, and gets the idea to write a play about waiting. Ruthie passes by him and says hi.




SCENE 5
cont'd
Ruthie approaches Natasha, with something to give her: a snuffle of her own, so she can let go of Snuffy's. Snuffy, finally free, goes off to play with Stinky. He tells Ruthie, "You are almost as smart as Bird!"

Animation
A chicken lays 20 eggs, which hatch.
(First: Episode 3122)

Muppets
Big Bird and Baby Bear visit the Museum of Modern Art, and look at a sculpture by Pablo Picasso.
(First: Episode 3655)

Cartoon
Campers don't want to play ring toss with Zork, until their counselor reminds them about being judgmental.
(First: Episode 2761)

Muppets / Celebrity
Tracy Chapman sings with the Muppets about asking questions.

Animation
Today's Secret Drawing will be a nurse.
(First: Episode 0239)

Film
Bethany visits the doctor.
(First: Episode 3585)

Cartoon
Two groups of mountain goats try to pass each other on a mountain road. (new music added)
(First: Episode 0780)

Muppets
Muppet & Kid Moment — Grover and Samantha demonstrate what people look like when they're happy and sad.
(First: Episode 3562)

Cartoon
A boy demonstrates why his dog's name is Happy.
(First: Episode 0537)

SCENE 6
Snuffy and Stinky sing a cowboy song as they walk off into the distance.




SCENE 6
cont'd
Meanwhile, Natasha grabs onto Ingrid's nose, and won't let go. Ruthie announces the sponsors, and reports on the status of Slimey's spaceship.

COMING SOON
Coming soon on Sesame Street: Telly tells his cousin, Tammy, to calm down while she panics about not having any ideas of what game to play with Telly.
Community content is available under
CC-BY-SA
unless otherwise noted.