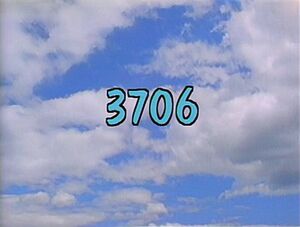 Picture
Segment
Description




SCENE 1
Gabi runs into an upset Rosita, who has been invited to a Teddy Bear Tea Party, where all those attending must bring a teddy bear. She doesn't have one, so Gabi suggests she borrow someone's. Big Bird passes by with Radar, but he can't part with him; he needs him for an overnight trip he's taking to Granny Bird's. Baby Bear then passes by (singing "P is for Porridge" to himself), giving Rosita an idea...

Animation
Teddy bears demonstrate opposites.
(First: Episode 3655)

Film
A trip to an African dance school.
(First: Episode 3266)

Cartoon
Anansi the Spider tells the story of a sad mouse.
Aritst: Fred Garbers
(First: Episode 3367)

Muppets
In song, a boy wanders into the Animal Lost and Found, looking for his pet named Homer. The shopkeeper says, "Describe Your Pet to Me."
(First: Episode 2967)

Cartoon
A purple elephant tries to get 10 peanuts in his trunk at once, but can't, so he smushes them into peanut butter instead.
(First: Episode 2987)

SCENE 2
Gabi and Rosita catch up with Baby Bear and tell him their idea: to use him as a teddy bear, since they're so alike. Baby Bear counters, stating unlike a normal teddy bear, he's alive. Rosita is disappointed and Baby Bear, seeing how much this means to her, agrees to be her teddy bear. But first, he needs to learn how to be one.

Song
"They're Not Alive"
(First: Episode 3661)

Animation
Fred the fish needs water to swim in, and Betty the bird needs air to fly in. Vanessa the vacuum cleaner sucks up all the air and water, but can't hold it all in. (narration by Jim Thurman)
(First: Episode 2564)

Muppets
Mr. Johnson comes to Grover's photo studio to have his portrait taken. However, Grover photographs his foot and hand instead, and has to be reminded to capture the face.
(First: Episode 3232)

Cartoon
A girl dances with a tiger.
Artist: Karen Aqua
(First: Episode 3387)

Cartoon
Kids see animals in their alphabet soup. (new sound effects added)
Artist: Michael Sporn
(First: Episode 1976)

SCENE 3
The girls slap a goofy bow tie on Baby Bear and take to calling him "Mr. Bobo." They teach him how to behave like a teddy bear: sit still and don't react to anything. Baby Bear gets the hang of it, so Rosita carries him off to the park for the party (with Gabi following to keep an eye on the situation).

Song
"I Know How to Swing"
(First: Episode 3403)

Cartoon
Picnic with P foods (carried away by ants) (new music and sound effects added)
Artist: Cliff Roberts
(First: Episode 0764)

Celebrity
John Moschitta, Jr. plays Porter Pepper of Peter Piper's P Products, which produces products that begin with the letter "P". He mentions that two of his clients were Peter Pan and Pablo Picasso until Peter Piper, the boss, gives him a phone call. Pepper now presents a new problem: Peter Piper's "P" Products has been purchased, and is now Sam Singer's "S" Stuff Store. Pepper, without stalling, summons his staff to stand by, switches his products to stuff, and searches for snacks and saucers.
(First: Episode 2061)

Film
Alphaquest: P
A pack of painted purple penguins practicing a pop song in a pine tree park, and a pink pig with a parachute.
(First: Episode 2711)

SCENE 4
Rosita reaches Elizabeth's tea party and everything seems fine, but the feathers in Rosita's hat start tickling "Mr. Bobo's" nose and he feels like sneezing.

Film
Joe Raposo sings "Dressed Up."
(First: Episode 0302)

Muppets
Ernie & Bert — Ernie plays house while Bert tries to guess who he's pretending to be.
(First: Episode 3529)

Film
P for party, picture and puzzle.
(First: Episode 3267)

Animation
A clay-animated man uses a palette and a paintbrush to paint the letter P.
(First: Episode 3400)

Film
Wegman's dogs form a letter P.
(First: Episode 3330)

Cartoon
A chicken sings "It Ain't Heavy, It's My Feather."
(First: Episode 2979)

SCENE 5
Gabi and Rosita create a diversion and cover for Baby Bear as he lets out a sneeze. The guests start brining out their pretend cookies and a boy reveals his are porridge-raisin cookies. Baby Bear breaks character, forcing Rosita to come clean about her teddy. Elizabeth doesn't mind, thinking it's cool to have a real bear around and states Rosita would've been welcome without a teddy anyway. They even invite Gabi to join them.

Cartoon
A shy girl wants to join a group bouncing a ball. (audible dialogue)
Artist: Joanna Priestley
(First: Episode 2849)

Film
Two girls count to 5 as they clap.
(First: Episode 3007)

Muppets
The Rainbow Fish counts groups of 5 in the ocean.
(First: Episode 2923)

Cartoon
A girl's mom can dribble 5 balls.
(First: Episode 3448)

Muppets / Celebrity
Count von Count and his team of coaches count how many times David Robinson can dribble the basketball.
(First: Episode 3472)

Animation
Luxo Sr. examines a box. Luxo Jr. pops out of the box, demonstrating "surprise."
(First: Episode 2851)

Muppets
Elmo sings about "Emotion in the Ocean."
(First: Episode 3532)

Cartoon
Different emotions are drawn on a face, until the character grabs the pencil.
(First: Episode 3531)

Film
Kids narrate footage of toddlers learning to walk.
(First: Episode 3025)

Cast
Big Bird winds up Linda, who displays the word TOY.
(First: Episode 2908)

Animation
The word TOY is displayed, followed by a wind-up drum-playing panda.
(First: Episode 3002)

SCENE 6
The kids pretend to be teddy bears at the party as Gabi announces the sponsors.

SCENE 6 cont'd
"And Slimey's spaceship is still on the way to the moon!"

COMING SOON
Coming Soon on Sesame Street: It's Monster Day, hooray hooray!
Community content is available under
CC-BY-SA
unless otherwise noted.