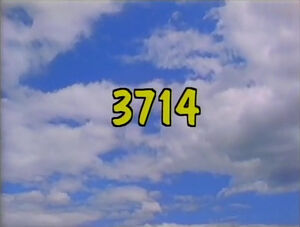 Picture
Segment
Description

COLD OPEN
A yellow ball rolls over to Luis. He picks it up, and calls out to see if it belongs to anyone. No one answers, so he starts playing with it.




SCENE 1
Luis shows Herry Monster the ball he found, and welcomes the viewer to Sesame Street. Gordon compliments his ball, and they briefly play catch. Maria tells him to come in and start working, but he'd rather play catch with her. Elmo shows up, pretending to be The Count (thunder and all!), ready to count the number of times they throw the ball to each other. They toss it back and forth 20 times, then give the ball to Elmo to play with.

Animation
Counting 20 shells
(First: Episode 2994)




Film
Xiao-Mei from northern China describes a festival at the end of every year that her family participates in. Each day of the festival, there is a new show to watch, a series of parades and lots of food like noodles and dumplings. Women prepare floats for the parade while men dress up as river animals. Xiao-Mei's favorite part or the festival is the lion dance. Xiao-Mei also demonstrates how she can walk on stilts which are strapped to her legs, and hopes someday to dance in the big parade.
(First: Episode 3266)

Muppets
Muppet & Kid Moment — Samantha sings The Alphabet Song while Grover dances.
(First: Episode 3579)

Animation
Cecille sings "I'm Gonna Get to You."
(First: Episode 2873)

SCENE 2
Elmo-Count counts the number of balls he has (which is 1), and it thunders.

Animation
A group of 1s chant, "We're the number 1!"
(First: Episode 3238)

Muppets / Celebrity
The Count has difficulty arranging the numbers from 0 to 9 in order, because the number 1 won't keep still. Patrick Stewart helps solve his problem by commanding, "Make it so, number 1!" The line doesn't work when The Count uses it, however.
(First: Episode 3515)

Cartoon
A juggling bear helps a little girl learn to juggle. (new music)
(First: Episode 1834)

Song
"Doing the Family Thing"
(First: Episode 3180)

Cartoon
Flash Gizmo, Space Cadet
Near and far

Film
Kids demonstrate near and far with soccer balls.
(First: Episode 3538)

SCENE 3
Elmo-Count says hello to Mr. Handford and some kids. The kids walk over to the courtyard, where they want to play soccer with Big Bird - but Gabi points out that they don't have a ball. However, The Amazing Mumford says he can make a ball appear by magic. His dietetic magic spell ("A la tofu and sprouts!") brings a boy named Paul, so he tries his regular spell instead (which brings a wall).

SCENE 3
cont'd
Elmo-Count shows up, and gives the ball to the kids. Now they can play soccer!

Cartoon
A Zerkel named Jake demonstrates -ake words.
Artist: Sally Cruikshank
(First: Episode 3522)

Film
A gymnastics team practices tricks for the circus.
(First: Episode 2889)

Cartoon
A woman visits a car dealer, looking for a small car. She will only take a car small enough to fit her clowns.
Artist: ArtistMike
(First: Episode 3079)

Muppets
Muppet & Kid Moment — Ernie, Bert, and Shola demonstrate "big," "small," "smaller, and "smallest" with four balls.
(First: Episode 0544)

Animation
Cecille sings "The Game of Make Believe." (no intro)
(First: Episode 2864)

SCENE 4
As Big Bird and the kids play soccer with the yellow ball, Telly Monster hopes Oscar the Grouch will want to play with him today...

Song
Joe Raposo sings "Somebody Come and Play."
Snow leopards version
(First: Episode 2519)

Cartoon
Alice Kadeezenberry learns how to throw a ball by watching others do it.
Artist: Paul Fierlinger

Muppets
Two-Headed Monster: HAT
(First: Episode 1349)

Film / Animation
Song: AT words
(First: Episode 3291)




SCENE 5
Telly begs Oscar to play something with him today, but Oscar refuses. Meanwhile, Big Bird kicks the ball way high up in the air, and it lands in Telly's hands! He looks up and says "Thank you, Ball Fairy, wherever you are!" He accidentally drops the ball into Oscar's trash can, where it starts bouncing all around. Gabi comes over to him, and he tells her where the ball went. They listen as it hits all of Oscar's animals, and makes even more of a mess inside the can.

SCENE 5
cont'd
Telly worries that Oscar will be mad at him for throwing the ball into his can, but nothing could be further from the truth: the ball has made more of a mess inside Oscar's can than even Oscar could make, which he likes so much, he asks Telly to drop the ball again.

Cartoon
Name That Sound: identify animal sounds.
(First: Episode 3587)

Film
Kids dance with the letter T, which is for triangle.
(First: Episode 3271)

Cartoon
The Typewriter has an electric train.
(First: Episode 0785)

Film
Wegman's dogs form T, which is for train.
(First: Episode 3565)

Muppets
Kermit tries to explain the difference between two balls, but they keep changing to make themselves the same. The balls are large and yellow with colorful stripes and the ability to talk!
(First: Episode 2297)

Animation
Cecille sings "Up Down, In Out, Over and Under." (no intro)
(First: Episode 2746)

SCENE 6
While Oscar has fun with the ball inside his can, Celina and Cookie Monster stop by the can out of curiosity, then shrug, and walk away.

SCENE 6
cont'd
The ball suddenly bounces out of Oscar's can ... where will it end up next?

Song
"Reggae Bounce"
(First: Episode 3609)

Animation
Airplanes carve the capital and lowercase T.
(First: Episode 3230)

Film
The floating kids form a capital T.
(First: Episode 3121)

Cartoon
Ten tiny T's in top hats do the tippy tappy tango and take tea.
Artist: ArtistMike
(First: Episode 3230)

Muppets
The Martians are a "Yip Yip Family."
(First: Episode 2724)

Cartoon
A girl narrates a poem about the sad time when her goldfish died. (new music added)
Artist: Bruce Cayard
(First: Episode 1378)

SCENE 7
Ruthie notices that Humphrey and Ingrid don't know how to get Natasha to cheer up. Just then, the ball lands in her carriage, and she starts playing with it. Her idea of a fun game is repeatedly throwing the ball away, and crying until Ruthie brings it back to her. Finally, she gets sleepy and takes a nap.

Animation
Stop-motion: The word TOY is spelled in blocks.
(First: Episode 3394)




Muppets
Prairie Dawn, Scientist
Prairie Dawn demonstrates how air moves things, with a some leaves, a feather, and her lunch bag - all of which the wind blows away, along with Prairie. "Who's working the wind machine?!" (new title card and voice-over)
(First: Episode 3625)

Cartoon
Dr. Annie Eyeball looks at air.
Artist: Bruce Cayard
(First: Episode 2592)

Film
Kids watch a silent movie with a man resting on the train tracks with an oncoming trolley - DANGER!
(First: Episode 0480)

Animation
Cecille sings "I Wanna Be Me." (no intro)
(First: Episode 2791)

SCENE 8
Ruthie returns to Finders Keepers, relieved that Natasha fell asleep. She leaves the ball outside, and goes inside to get a glass of water. When she's gone, the ball (Matt Vogel) observes how much fun he had today, and thinks he should come back to Sesame Street sometime, but now he's gotta bounce away. He shoots up into the air.




SCENE 8
cont'd
Ruthie comes back outside, and wonders where the ball went, as Luis announces the sponsors (and mentions that Slimey's ship is still moon-bound).

COMING SOON
Coming soon on Sesame Street: Stinky thinks he's in love with Maria ...
Community content is available under
CC-BY-SA
unless otherwise noted.