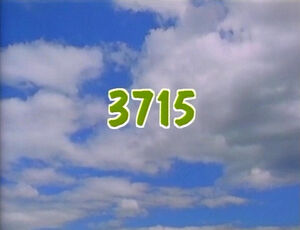 Picture
Segment
Description

SCENE 1
Stinky the Stinkweed mopes outside the Furry Arms, when Maria finds him. He's sad because he's lonely. Maria strikes up a conversation with him, which makes them both happy. He becomes sad knowing she'll have to leave him once it's time for work, so Maria decides to bring him with her.

Cartoon
"Island of Emotion" (new sound effects added)
Artist: Sally Cruikshank
(First: Episode 2822)

Film
Two girls walk on an island together, and a map of the island is shown.
(First: Episode 2650)

Cartoon
A beatnik bat reads poetry at a nightclub, as everything rhymes with the "AT" sound.
Artist: Lisa Crafts
(First: Episode 3396)

Muppets
Kingston Livingston III sings "A Cat Had a Birthday."
(First: Episode 3331)

Film
What sound does a cow make?
(First: Episode 3403)

Cartoon
"Hammer Time with Hammer"
(First: Episode 3179)




SCENE 2
Stinky watches as Maria fixes a picture frame. The Fix-It Shop phone rings and Maria leaves to answer it, making Stinky moan and miss her. She returns and must leave once more to deliver a toaster. Stinky moans of loneliness some more.

Cartoon
Fluffy recalls being a homeless dog, getting taken in to the dog pound, and meeting his new pal Petey.
Artist: ArtistMike
(First: Episode 2981)

Muppets
Big Bird is between what we just saw and what we're about to see ...
(First: Episode 3145)

Film
A boy named Anthony and his parents are trapeze artists in a circus. David Larible, a clown from the Ringling Bros. and Barnum & Bailey Circus, appears in some scenes.
(First: Episode 3579)

Cartoon
A spider refuses to give up spinning a web, no matter how badly injured he becomes.
(First: Episode 1652)

Muppets
Elmo sings a happy "Be Doodle Dee Dum" with help on the chorus from Zoe, Telly Monster, a Honker, and Baby Bear. He explains that the silly song can be sung anywhere and will help cheer up the singer. Mama Bear, Papa Bear, Ernie, Bert, and Rosita also make brief cameos.
(First: Episode 3613)

Cartoon
"L" for "Large" and "l" for "little" (new music and sound effects added)
(First: Episode 1455)

Film
Wegman's dogs form the letter L.
(First: Episode 3270)

Cartoon
A strange poem with L words.

Song
"Reach Your Hand Up High"
(First: Episode 2702)

Cartoon
Sign Sounds: KISS ME
(First: Episode 1136)

SCENE 3
Stinky still waits for Maria to come back, when he stops a passing Susan and Gordon. He asks them some questions about being in love and what one does when feeling it. Stinky realizes he's in love...with Maria!

Cartoon
A man assembles the word LOVE, and a bird pecks the O into the shape of a heart. (new sound effects added)
(First: Episode 0768)

Song
"Family Song" - a rewritten version of "Brothers Song"
(First: Episode 3423)

Animation
Portraits of kids display the alphabet.
Artist: Lisa Crafts
(First: Episode 3203)

Film
Bill Irwin performs a dance called "Body Parts Cooperation," which is commented on by Biff and Roxie Marie.
(First: Episode 3624)

Cartoon
Parts of a face are drawn in black on-screen before forming a picture.
(First: Episode 3320)

SCENE 4
Stinky has grown a flower for Maria, who finally returns. He also sings a love song to her. He then asks her to marry him.

Cartoon
A turtle recalls a time he fell in love with a seashell, before realizing it's not alive.
Artist: Fred Garbers

Muppets
Muppet & Kid Moment — Grover asks Jesse to define marriage. They conclude that married people kiss, hug, live together, and help each other.
(First: Episode 2441)

Cartoon
Number creatures #16
(First: Episode 2755)

Film
Kid mural painting #16
(First: Episode 3625)

Cartoon
I've Got the "Sixteen Blues"
(First: Episode 2755)

Muppets
Cookie Monster and Zoe demonstrate "inside" and "outside"; Cookie takes a cookie outside of the box, and puts it inside his mouth and tummy.
(First: Episode 3593)

Film
Kids walk IN and OUT of a school.
(First: Episode 3561)

Animation
Yellow drops don't want to play with a red ball at first, but they make a good flower together.
(First: Episode 1895)

SCENE 5
Maria declines Stinky's proposal, stating she's already married to Luis and has a daughter, Gabi. "So that's why you're always together," he responds. She tells him they can still love each other, as friends, and sings how much she loves him. Stinky decides to watch her work, to let time pass as he gets over her.

Film
A girl draws a picture of her friend, Dai Xi.
(First: Episode 2791)

Muppets
Telly wants to show how to brush one's teeth, using Big Bird as an example. Big Bird states he doesn't have teeth...but Telly's drawing of him does.
(First: Episode 3441)

Film
Great Moments at the Sink
Timothy brushes his teeth, accompanied by sports narration. A 10.0 sink bowl!
(First: Episode 3689)

Cartoon
Speech Balloon: L--Loud
(First: Episode 0783)

Muppets / Celebrity
Samuel Ramey performs "L Is for Low."
(First: Episode 3337)

Film
The letter L dances at the beach.
(First: Episode 3573)

Muppets
The Two-Headed Monster runs in with cowboy hats that match their cardboard cut-out. Their image falls over and they follow. (only part 3 is shown)
(First: Episode 1880)

Cartoon
A troll draws different faces on herself in front of a mirror. (new music added)
(First: Episode 0800)




SCENE 6
Maria places Stinky back at the Furry Arms, and he thanks her for a wonderful day, even if they won't be getting married. Maria still has some time to visit, so they chat for a while. Gordon and Susan announce the sponsors.

SCENE 6 cont'd
Gordon announces that Slimey's ship is still on it's way to the moon.

COMING SOON
Coming Soon on Sesame Street: Ruthie tries to get Barkley to roll over.