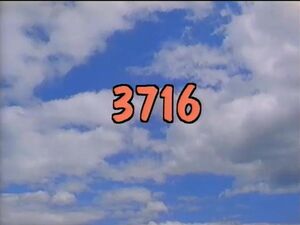 Picture
Segment
Description




SCENE 1
Ruthie welcomes the viewer, adding that she's taking care of Barkley today. Big Bird comes by to talk about the letter of the day - I - but doesn't have any I words. Barkley inadvertently helps when he gets an "itch" in his fur.

Cartoon
Dr. Nancy Einstein shows how the brain works.
Artist: Bruce Cayard
(First: Episode 2607)

Film
A park ranger speaks to a group of kids about trees and the fruits that come from them. Then all the kids hug a tree.
(First: Episode 2891)

Cast
"Between You and Me" (Gina and Savion)
(First: Episode 3133)

Muppets
Elmo, Telly and Zoe want to show "between" by having Elmo appear between the other two. However, the never get in the right order and are forced to run around and switch place.
(First: Episode 3384)

Film
Wegman's dogs: "Jack Be Nimble"
(First: Episode 3526)

Animation
I / i candles
(First: Episode 3107)

Muppets
Monsterpiece Theater: The King and I
(First: Episode 2727)

Cartoon
Shooting stars form the letter I/i.
(First: Episode 2218)

SCENE 2
Next, Big Bird wants to show big and little using dogs. There's no bigger dog than Barkley, but Big Bird doesn't have a little dog...or does he? He convinces Ruthie to pretend to be a dog! She commits to the role so well, she ends up frightening Barkley away.

Cartoon
Things say that other things are small, but then something comes along that's bigger, or smaller, or whatever. (new music and sound effects added)
(First: Episode 0320)

Muppets
Ernie sings "Imagine That" about things that he sometimes imagines to be: first a knight in shining armor who battles a dragon, then a sailor, and finally, himself.
(First: Episode 2142)

Animation
Horses appear in the clouds as Vivaldi music plays.
(First: Episode 3637)

Cartoon
A report on homes around the world.
(First: Episode 1711)

Song
Kevin Clash sings "The Pasta Song."
(First: Episode 3137)

Cartoon
A boy narrates a poem about how he met Eleanor, the monster under his bed. (new music added)
Artist: ArtistMike
(First: Episode 2773)




SCENE 3
Big Bird now wants to talk about heavy and light. Big Bird covers things that are light, such as feathers and ping-pong balls. Ruthie tries to find something heavy, but instead finds herself trapped under something heavy - Barkley.

Animation
Luxo Jr.: Heavy and light
(First: Episode 2860)

Cast
"The Add-ems Family": Gordon, Susan, Carlo, Bob, Maria, Luis and Gabi star in a faux-sitcom about a family who loves to add.
(First: Episode 3391)

Cartoon
Three characters try to watch a baseball game over a fence, then cooperate by stacking their blocks.
(First: Episode 0478)

Film
Kids sing the alphabet on an island.
(First: Episode 3154)

Cartoon
Cap'n Feenie asks, "What is it?" It's the ocean.
Artist: ArtistMike
(First: Episode 2710)

Muppets
Annette Monster and Frankie Monster sing "Love the Ocean" to urge others to "show respect for the sea" and refrain from throwing trash in the water.
(First: Episode 2680)

Cartoon
A girl explains why she likes the poet Grubby Groo.
Artist: Mo Willems
(First: Episode 3225)

Muppets / Celebrity
Denyce Graves sings a bug opera with the Sesame Street Bug Choir (Telly, Elmo, Zoe, Baby Bear, some kids and some bugs).

Cartoon
A group gives a newcomer funny looks, which hurts his feelings, but then they invite him to play marbles with them. He turns out to be a good player. (audible dialogue)
Artist: Joanna Priestley
(First: Episode 2840)

Song
Reggae 'Bounce.'
(First: Episode 3609)

Cartoon
The Bellhop is asked to carry a guest's two small (but heavy) bags to room 14.
(First: Episode 2571)

Film
Girls dance and chant about the number 14.
(First: Episode 3014)

Animation
Number creatures #14
(First: Episode 2712)

Muppets
"I'm a Bookworm, Baby!"
(First: Episode 2994)

Animation
A girl reads a book, a magazine, a newspaper, and a letter.
(First: Episode 3142)

SCENE 4
Big Bird now talks about pride and wants Barkley to learn a new trick, thus making him a proud dog. Ruthie tries getting him to roll over, but he makes her do it instead. Big Bird remarks Barkley should feel proud now; not everyone can get Ruthie to roll over like that.

Cartoon
A little girl sings "There Is Only One Me."
(First: Episode 1942)

Film
A baby messes around (literally) with a chocolate cookie, as Cookie Monster (in voice-over) wishes it were for him.
(First: Episode 0407)

Cartoon
CGI sheep graze out I and i.
(First: Episode 2896)

Animation
Ornate I's swing through the air to a song.
(First: Episode 2921)

Cartoon
Capital I, he's quite a guy (new sound effects added)
(First: Episode 0368)

Song
"Washin' the Dog"
(First: Episode 3020)

Cartoon
A girl has trouble closing her suitcase after she's packed it, but has help from her four-legged friend.
(First: Episode 1469)

Muppets
Herry Monster and a girl sing "A Song for Two."
(First: Episode 3519)

Animation
Looking for shapes on the Aztec Calendar Stone (Maria voiceover in Spanish)
(First: Episode 3049)

Song
"Rollin' on the River"
(First: Episode 2783)

SCENE 5
Big Bird and Ruthie finally get Barkley to roll over now. As he lies down for a nap, Ruthie announces the sponsors.

SCENE 5 cont'd
Ruthie also announces that Slimey's ship is still on its way to the moon.

COMING SOON
Kingston dances the Funky Chicken Alphabet.
Community content is available under
CC-BY-SA
unless otherwise noted.